Singled Out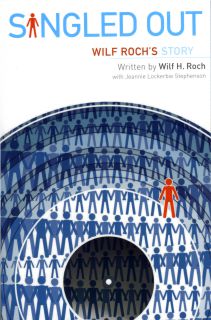 Wilf H. Roch with Jeannie Lockerbie Stephenson Guardian Books, Belleville, 2011, 170 pages, ISBN: 978-1-55452-689-5
Singled Out is an autobiography of the life of Wilf Roch.
Wilf Roch owned the disc-jockey company "Partie Sound Music Services." He began his company in September 1973 with one complete set of disc-jockey equipment and one booking for a dance at the Indian Friendship Centre in Thunder Bay, Ontario. When his company received multiple bookings, he bought more disc-jockey equipment and hired people to help him.
In 1978 Wilf and his wife Carol moved to London, Ontario, so that he could expand his business. He left a friend to run the operation in Thunder Bay. By 1985 his company could supply equipment and disc jockeys for forty-two events on a single night. Since he was so successful, he intended to retire in his mid-forties. Life could not get any better.
But Carol was very unhappy with the worldly direction of Wilf's life. As a believer she felt supplying taped secular music to dances and other functions did not glorify God. "If God doesn't like what I am doing for a living, he'll have to take it away!" Wilf yelled at her.
One year later, on January 15, 1986, RCMP officers marched into his office with a search warrant. They loaded their two cars with the tools of his trade and some of his documents. Afterward they searched his home and ordered him to cancel all present and future business bookings. On April 16, 1986, the Crown laid forty-two criminal charges against Wilf—thirty-nine for copyright infringement and three for the distribution of copyrighted material. At the age of forty-one, he lost his livelihood, his home, and his savings.
With criminal charges hanging over his head for three years, he had difficulty finding permanent employment. Yet God performed a miracle in Wilf's life. Although he had attended church occasionally, he did not understand what it meant to be a Christian. Two nights after the raid, he woke up panic stricken. Turning on the TV, he found himself watching a sermon on "Excess Baggage" by Jerry Falwell. The following Monday he talked to his pastor, Paul Fawcett. Two hours later he admitted his need of a Saviour and surrendered his life to Christ.
Ever since, he has been passionate about evangelism. This book is significant as a part of Canadian history. Fifteen thousand disc jockeys regularly used compilation tapes to make multiple copies of music from one record. Wilf Roch was the only one singled out and charged.
Judges in three courts heard his case and cleared him of any wrongdoing. After his ordeal disc jockeys have been paying yearly license fees for the privilege of duplicating music. More important, however, is the spiritual impact Wilf's testimony has had through the years. He holds no animosity toward those who ordered the RCMP raid. Instead he reminds people of what Joseph said to his brothers, "You intended to harm me, but God intended it for good" (Genesis 50:20, NIV).
Singled Out will encourage those in difficult circumstances and teach them to have faith in God.
Reviewed by Heather Kendall