Steve's Most Excellent Adventure
Visiting The Fellowship Family over the last several months.
Fellowship Churches
I visited a lot of our churches and enjoyed several important anniversaries.

1.  Temple Baptist staff (Sarnia, ON) on their 75th Anniversary.
2. Pastor Daniel Gagne (Saint-Constant, QC) and key supporters.
3. West Highland Baptist (Hamilton, ON) on their 40th Anniversary Sunday.
Pastors and Conferences
4.  With my mentor, Dr. Roy Lawson.
5. Pastor Bryan Gilmore (Crestwicke Baptist, Guelph, ON) runs an amazing hockey outreach.
6.  The youth choir at Pastor Jerome's induction service (Christie Street Baptist, Toronto).
7.  Tim Paquette and Steve Janz at Sunnybrae Bible Camp and Miller College of the Bible (near Salmon Arm, BC).
8.  I attended the Evangelical Fellowship of Canada's Presidents' gathering.
Missionaries Here and Abroad
In recent months, I visited Fellowship International missionaries in Poland, Italy, France, India and Cambodia.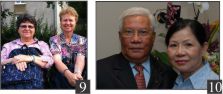 9.  Suzie Frey and Giselle Laplante serving in Bulgaria.
10.  Oeut and Nhep Pech serving in Cambodia.

14.  It's good to be nice to the police in Rome.
15.  Mark Naylor continues work on the Sindhi New Testament.
16.  Eleven new missionary appointees and candidates at Orientation Week.
National Staff
Our Fellowship National Staff serve the constituency.

17.  National Staff spent an entire day in prayer for our Fellowship.
18.  French Mission Director David Dobson visits with Pastor Daniel Gagné en Saint-Constant, QC.
19.  Three Directional Documents were approved by National Council. These clarify the mandate of Fellowship International, French and Chaplaincy ministries.