A Healthy Measure of Missional Unhealthiness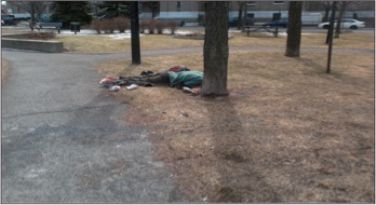 "You see this?" screamed the homeless man at me, tears welling up in his eyes, as he produced a large 'rock' of crack from his inside coat pocket. Fingers trembling, he thrust the cloudy stone in my face, "You make me want to go and 'shoot' all this today. Maybe I should just kill myself with this!" This was no wet-behind-the-ears, drug-experimenting runaway. Those days had passed long ago, even before my friend had found himself on the streets of Halifax. No, this was a hardened user, a 30-plus-year-old veteran of the streets. He knew the darkest of places and had lost more friends than he cared to remember. Life expectancy in Canada for those who end up on our streets is seven years. Seven years before a person living on the street contracts a disease or enters into such a high-risk habit or addiction that will eventually cause death. My friend was no stranger to this reality.
Ever try to be someone's 'Messiah'? I think my missional heart was right; I had prayed lots and often with, and for, my street friend. I laughed with him, listened to him, interacted with, even gave him wise, and Godly (even fatherly) advice on how to change things. I assured him he was more than his past, I told him that his future could be more than the accumulation of his present. I moved him into housing, gave him instructions on how to find work, took him to doctor's appointments and fed him meals.
But that day, with my friend spiraling back into the abyss of addiction and self-loathing and me offering a heavy dose of good old-fashioned pull-up-your-socks moralism, I received a figurative 'punch in the face'. My need to feel good about my missional self, laced with moral platitudes, was only able to point, at best, to some sort of hope. But it was impotent when it came to bringing the depth of redemption my friend needed. He needed the Messiah I was unable to be. Evangelism without missional work is deficient but missional work without the gospel is impotent.
The Spirit of God convicted me that day about my unhealthy need for a kind of missional success that pointed to me rather than to Christ. This revelation continues to haunt my thinking even now as our little church on the edge of Halifax's skid row grows. I wept that day with my friend and asked him for his forgiveness in trying to 'save' him. I assured him that he wasn't my project, but that I was his friend and only God in His great love would ever heal the deep scars of his life. I wept and simply offered him Jesus and the power of His gospel. He was shocked and silenced. He walked away and that weekend got high. But something changed. His reaction to me was no longer caustic. He no longer saw me as an 'up line' to get free things. He stopped asking me to meet his physical needs, although I didn't stop offering help. Two months later he showed up at our church, stayed for about 15 minutes, just long enough to give me the thumbs up from the back while I was preaching Jesus from the front. A year later he sat through an entire service. That week he sat me down to ask me questions and make me swear I'd help him write out his will, so people would one day have something of his to remember him by.
We're learning that the missional church is not about calling 'the least of these' to a healthy lifestyle that looks like ours. It is an ever-deepening understanding and application of the hope of the Gospel of Christ being pressed into the unhealthiness of our own lives that causes us to bring an authentic expression of Jesus into the lives of others. We are learning that "it is the grace of God that leads us to repentance."
—Brad Somers is Lead Pastor at the PAXnorth Church in Halifax, Nova Scotia. www.paxnorth.ca