Highly Favoured and Blessed
Gordon Smith Celebrates 25 years of Chaplaincy ministry at the Calgary International Airport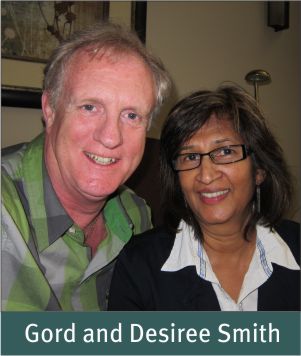 When people ask me how I am doing, I answer: "Highly favoured and blessed." I am a child of the King and He has appointed me to be an ambassador for Him. As His ambassador He has already (past tense) provided all that I need to do what He wants me to do. The verse that has changed my outlook and carried me over the past 25 years is this one: "Without faith it is impossible to please God" (Hebrews 11:6). My appointment to the ministry at the airport was by faith. My heavenly Father has promised to provide the resources. Times of testing and doing without are designed for my benefit and develop character. The reality that the job is bigger than I am able to do on my own keeps me in a posture of humility and prayer. Humility is often viewed as weakness, but God says: "I dwell in the presence of those with a broken and contrite spirit" (Psalm 34:18). To agree with God that I am indeed broken and to allow Him to put the pieces back together involves trust and faith. I bask in the presence of the living God who poured His love out to mankind through His son Jesus Christ. God gives joy and peace that this world cannot grasp as I enjoy the presence of the Holy Spirit who guides and directs me into all Truth. I am truly highly favoured and blessed.
Over the past twenty-five years, God has sent hundreds, if not more, to meet me at the Calgary Airport, both in the chapel and throughout the airport. Treating encounters as divine appointments has opened up conversations in directions that always lead to a testimony of God's work in my life. Sometimes it is a word about His provision, or at times His deliverance or protection, and often clarification of the gospel or insight into the many promises made for our benefit. God develops faith and trust by authoring into our lives the challenges we need in order to learn how to respond to Him. At this point laughter often comes and in my mind I am sure that people are thinking, "You are one brick short of a full load. Do you actually believe that if my Father took away my son or daughter, or my house, or any number of possessions, or even my health I could thank Him for that?"
But Christians cannot lose because they are children of the king. For the Christian it's always win-win.
There are so many stories to tell. I was walking back to the Chapel one day when the thought popped into my head that I needed to go and say thank you to some people for what they had done for me. As I touched the door handle, another voice prompted me to stop. When I am in doubt I go back to the chapel and pray. Seconds after I sat down in the airport chapel I heard a voice say: "I am so glad you are here in the chapel. I was praying that someone would be here because I really need to talk to someone." Neat, I thought, I am in the right place at the right time. The in-flight agent said that he had just been diagnosed with terminal cancer and had only weeks to live. Then he asked me how he could become a born again Christian and what exactly being born-again was all about.
As chaplains I/we are excited to help anyone grow spiritually and understand the power that is ours to conquer sin and death.
I would like to thank all the people who have given to Aviation Interfaith Ministry (Calgary Society) through their prayers or by volunteering or donating money to make it possible for Chaplains to be available to minister to the people travelling through, and working in, our country's airports.
Gord and his wife, Desiree, have two biological children with six grandchildren and two adopted boys. He holds inter provincial license as a journeyman auto technician. Currently he is training in Rapid Response and Victim Chaplaincy and developing a Pastoral Response Team that is training in Critical Incident Stress management. You can contact Gord at chaplain@yyc.com