Just Between You and Me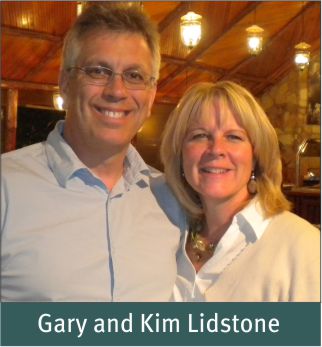 Gary and Kim Lidstone have a wealth of personal and professional experience in the importance of healthy leadership both in the pastorate and on the mission field. This article, Just Between You and Me, is part of an intimate conversation between Gary and Kim shared during their workshop at Fellowship 48, 2011.
I have had the experience of living and breathing ministry every day for over 25 years, tasting the thrills and spills, ups and downs, wins and wounds. Over the last six years I have worked with pastors, churches and missionaries, viewing ministry from the perspective of one not submerged in the daily pressures of one ministry. God has taught my wife, Kim, and me, many things. My journey has brought me to grips with how God designed me, taught me how to celebrate the gifts He has entrusted to me and how to come to terms with my weaknesses and limitations. Through my own painful burnout experience God has given Kim and me opportunities to come alongside others who are not walking in health and strength, and to encourage and to share some thoughts about being healthy in ministry.
1. Take Responsibility for Your Ministry (1 Timothy 1:3-5)
-Keep the main thing the main thing. Teach truth, refute falsehood, trust God for the ministry.
-God's work is evidenced by love. The maintenance and growth of love comes from:
∙ A pure heart – not from pride.
∙ A good conscience – not deception.
∙ Authentic faith (relationship with Christ) – promoting Jesus, not controversies.
Paul reminds Timothy that his call is to passionate love for Christ and his people, not passive and fearful tolerance of men and women who seek to derail the ministry. Those in ministry need to exercise decisive but loving leadership.
2. Celebrate your Call (1 Timothy 1:12-17)
God delights to take pots of clay, deposit in them the treasure of the gospel and let it be leaked out everywhere.
There are times when our humanness would discourage us from pressing on. Paul reminds us that God appoints broken vessels to His service. Our brokenness qualifies us to touch people with the grace we have received. Celebrate that God has called you to serve Him.
3. Remember the Prophesies over your life (1 Timothy 1:18)
-Be faithful to what God has called you to do.
-Boldly and without shame, point out error. (4:6)
-Pour truth into your life; train yourself in godliness.
-Be faithful to the message. (4:11)
-Be faithful to the walk of Christ.
-Be faithful to your gift(s).
-Major on, and be diligent in, the above. (4:15)
Be faithful to who you are and to what God has called you to do (2 Timothy 1:6, 13, 14). Paul calls us to Authenticity.
Paul highlights:
1. The Imperative of Knowing Yourself
Why?
-God loves you and people have many plans for your life.
-God formed you and many people want to reshape you.
-God has gifted you and many people want you to excel outside of your giftedness or ignore your gift.
-God has crafted you to be unique, yet many pastors and missionaries are trying to fit where they do not belong, where they cannot thrive.
We should not be in ministries that are consistently robbing us of our vitality by insisting we be less than faithful to who we are.
It is neither fair to you nor to the people you serve to stay in a ministry because of the financial security it provides. Pastors and missionaries who bend to fit expectations soon find themselves empty, defeated and burned out.
2. The Power of Growth Relationships
We NEED people in our lives we can be honest with, and who will be honest with us. We need a Paul holding up the mirror to help us know ourselves and to call us out when we are not being faithful to our call, gifting, message and walk with Christ.
There are at least three kinds of relationships we need in our lives:
1. A Skilled Debriefer: A person with the gift of listening, probing the issues that touch our lives. The exercise of debriefing can help us reframe experiences so that we see them for what they are. It can expose false beliefs we have, areas of confusion, and can help us express what is deep within our souls. Seek out a counsellor skilled in listening.
2. A Learning Cohort: A group that we are intentionally engaged with in learning. For example, CREST Leadership (http://crestleadership.ca/) offers a unique kind of sabbatical that spans two years. In this model a person spends eight weekends over a two-year period with the same group of fellow leaders.
3. A Safe Community: Health in ministry demands that we have a few safe people in our lives. We hope to find that within our own team but sometimes that is not the case. Sometimes it is good to discover such a group completely outside of our faith community. We will not be honest about ourselves if we don't feel safe and we will not grow if we cannot be honest. There is power in being part of a safe community where we can wrestle with real issues and be authentic.
There is power in giving language to what we are experiencing but lack words and concepts to express.
There is relief in knowing that we are not losing it. Circumstances can raise confusing emotions and thoughts that need to be expressed and understood.
The power of hope and a good friend cannot be overstated. (i.e. Onesiphorus in 2 Timothy 1:16ff)
The Importance of Appreciating Your Value
There are times in ministry when we need to be reminded of our value and worth. We are sons of God and called, gifted and loved undershepherds. While we all have room for improvement and growth, we must humbly accept the mantle that Christ has thrown over our shoulders. Some implications may be:
-To increasingly serve in our sweet spot and staff for our deficiencies.
-To terminate abusive relationships. That may mean that we move on to a different ministry, or cease giving time to those who would tear us down.
-To honour our call and gifts, with humility and confidence in the One who has called and gifted us.
-To stop fearing man or money. You decide to be where you can thrive and where your family can be blessed. God knows how to care for His servants. There are times when we need to be released to find a ministry that fits us and where we can grow. Your opportunity in ministry to be you is just as important a consideration as a good percentage vote.
You are valuable, pastor/worker, so take care of yourselves. Live out your calling, be who God designed you to be, preach the message He has given you to proclaim, celebrate and exercise your gifts fully and be faithful to the One who called you and to yourself.
—Gary and Kim Lidstone serve as the Member Care Coordinators for Fellowship International.