Heart for Home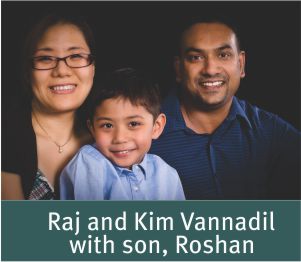 Rajrajakumar Vannadil knows about the cost of becoming a Christian. Within three months of his conversion, Raj was forced to leave home. The family was devoutly Hindu, the family home filled with idols and altars, the Indian community mainly Hindu and Muslim, but with no Christian households. It was through his older brother, who had been converted in university and had left home to become a missionary with Operation Mobilization, that Raj was introduced to Jesus Christ in 1986. Raj writes: "I had walked hundreds of miles in pilgrimages to please the Hindu gods in order to get rid of my sins, but here the loving, caring and compassionate God came to seek me and died on the cross of Calvary for my sins." Sharing that new-found faith was as natural as breathing. When Raj left home he joined his brother as a cross-cultural missionary with OM as a part of a team privileged to see many come to faith as a result of their ministry. Many of the young Hindus he worked with as a youth pastor were saved and went on to serve the Lord.
When Raj and Kim came to Canada, God took them to Parkland Fellowship Baptist Church on Vancouver Island where Raj did a three-year internship. He also enrolled in Northwest Baptist Seminary. His close association with Kent Anderson, Vern Middleton and Mark Naylor marked his life and provided direction for his future. Raj's heart's desire was to return to India to work among the Hindu people and Mark encouraged him to check out Fellowship International.
"I know the culture, languages, and the people of India. I know what Hinduism is and the lifestyles of the people living in Hinduism. As I already know the culture, I can effectively reach out to the Hindu community." Though Raj and Kim are Canadian citizens, Raj has a special passport that allows him and his family to live and work in India without the restriction currently applied to foreign nationals.
Kim was born and raised in South Korea. As a six-year-old she "happened" to attend a Presbyterian church and fell in love with Sunday School. Her enthusiasm brought the rest of her family to church and eventually to Christ. But it was later, through an evangelical student movement at the Christian college where she was studying dental hygiene, that Kim came to know Christ as her personal Saviour.
While at college, Kim promised the Lord that she would work for six years in her profession and then go to the mission field. When she went away to Seoul to work, Kim became involved as a youth leader in a local church and was influential in the lives of many of those young people, but the commitment to go to the mission field was forgotten. Then, for no apparent reason, she began to lose every job that she took as a dental hygienist. As she prayed about the situation she realized that God was speaking to her about the promise she had neglected to keep. Kim began to investigate the opportunities that might be available to her in missions. She joined OM and subsequently spent two years on the MV Doulos ministering in many countries throughout Asia, the Middle East, Europe and Africa. It was during her service with OM that she met Raj.
Kim is looking forward to being able to reach out to the Korean students at the International School where their oldest child, Roshan, will attend. "We want to work as a team. Our roles might be different but our purpose is the same — to reach out to people for Christ. I want to open our house to people to come and have fellowship. I want to become involved with women's ministries like care groups to support and encourage women. I also want to use my medical training to treat people."
Raj will be working with LeadersFor, in training and equipping national leaders using the BILD curriculum (Biblical Institute of Leadership Development). The Vannadils anticipate being able to leave for India in late 2012 or early 2013.
If you or your church are interested in supporting this dedicated couple, check out Fellowship International's secure donor site at: http://www.fellowship.ca/qry/page.taf?id=446 , or contact the Fellowship Ministry Centre at: 519-821-4830 for more information on how you can help get the Vannadils to India.