Northern Quebec's Call for Prayer
"Dave, what's happening at Chibougamau?" That's the kind of question that I get asked by people like David Jones, prayer partner, donor, faithful member of Central Baptist Church, Victoria, BC. David actually knows where Chibougamau is, and is praying earnestly for the small church there. I'd love to inspire others to follow David's example, to become well informed, and to start praying earnestly for some needy church in northern Quebec.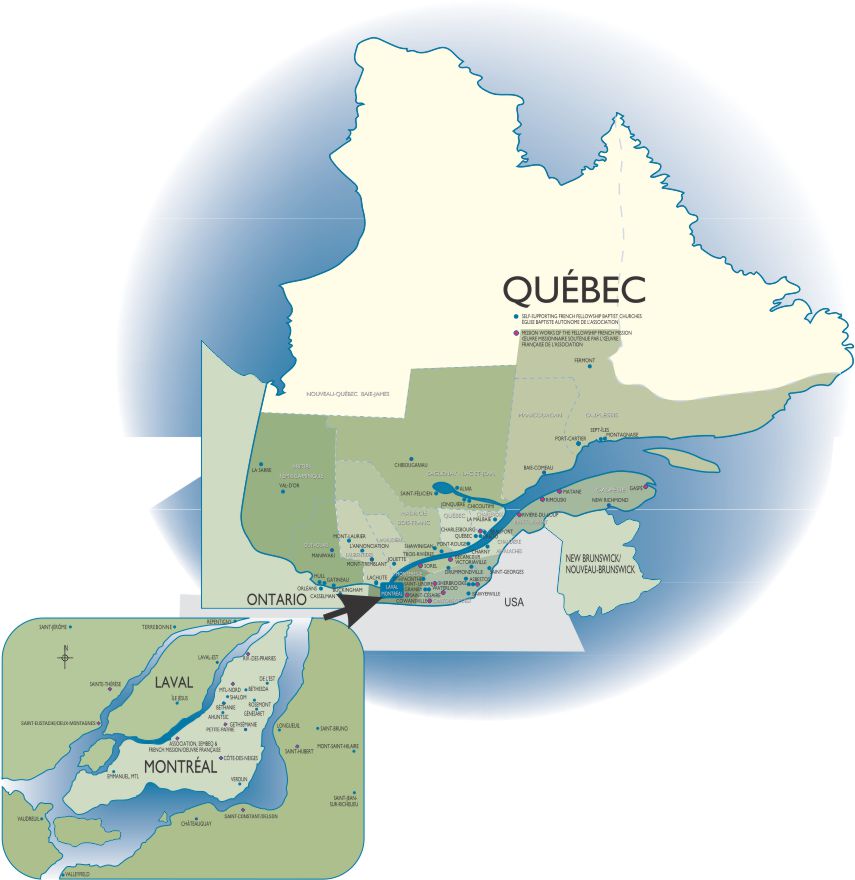 To say that Northern Quebec is vast is an understatement. Quebec is Canada's largest province in terms of landmass. It stretches 2,000 kilometers from the well-populated south to the Arctic tundra in the north. Within its more than 1.542 million square kilometers four Germanys would easily fit, with room to spare. However, more than 80% of that vast land mass is very sparsely populated. Out of a population of 7.8 million, only 125,000 live more than 300 kilometers north of the St. Lawrence River Valley. But they need the Lord too. And they need people to pray for them.
There are currently four French-speaking Fellowship churches (plus a new work on Anticosti Island) that are seeking to reach these "northerners" with the gospel. However, every one of those churches is facing serious challenges. Not one of them has a full-time pastor, even though Quebec's north, so rich in natural resources, is expanding economically. Let me tell you about these northern churches. As I do, I trust God will stir the hearts of some of you to partner with them in prayer for the sake of the gospel.
La Sarre (Population: 8,000) is a lumber/mining town situated in Northwestern Quebec, not far from the Ontario border. This work, of about 20 people, was founded more than 60 years ago during a time of tremendous persecution of evangelicals. Lay leader Michel Mongrain ably leads the church. He has a burden to see the francophone population in Northwestern Quebec and nearby Northern Ontario reached with the gospel.
Val d'Or (Population: 31,000) is also a work born out of persecution. Pioneer missionary Lorne Heron spent more than one year in prison in the early 50s for preaching the Gospel. The work currently numbers about 30-35 and is led by interim pastor/lay leader Patrick Samuel. Val d'Or (Valley of Gold) is a mining town that is expected to grow to 50,000 in coming years. This strategic ministry needs a renewed vision for evangelism and an evangelist.
Chibougamau (Population: 7,500) is also a mining town situated in north/central Quebec. The work there was founded back in the 70s, and has definitely had some challenges over the years. The current attendance is in the teens. This work, led by lay leader, Willy Bascunan, also needs a part-time missionary/evangelist.
Fermont (Population 3,000) is a company town in Northeastern Quebec. The name Fermont means "Iron Mountain." Jacques Plante leads this isolated congregation of about 30 believers. The transitory nature of the work force in a company town puts a lot of pressure on the congregation. It needs stability and solid growth.
Anticosti Island (Population: 1,500) is a huge island about 240 kilometers long. It is known as the "Graveyard of the Gulf" because of the hundreds of shipwrecks that have happened off its treacherous coast. The ministry there is only a couple of years old, and now numbers about five believers. Missionary/evangelist Claude Beaulieu is trusting that as the Anticosti work develops it will become the staging point to reach other remote towns, accessible only by boat or plane, scattered along the north shore of the Gulf of St. Lawrence.
Can you understand the need for prayer? Can you see the challenges? Can you visualize the harvest? Will you join David Jones and become a partner in prayer? Will you say: "Here am I Lord, send me?"
—David Dobson is Director of Fellowship Ministries and the Fellowship French Mission.