Who Speaks for the Children?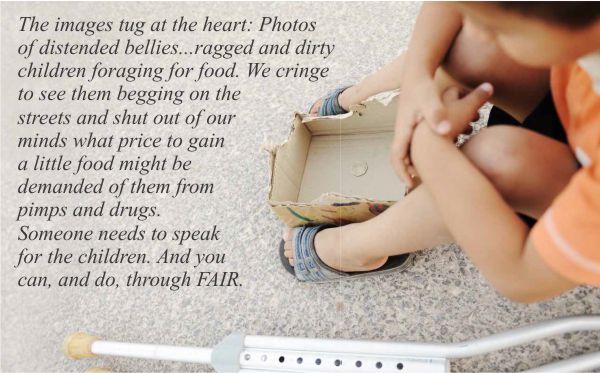 Honduras—A Childhood Without Cake*
Anthony lived in a plastic grocery bag covered in his own excrement for the first month and a half of his life until his frail grandmother took him to the state children's home. From there he came into the care of Vida y Libertad (Life and Freedom), a Christian NGO (Non-Government Organization) where Fellowship missionary, Melodie Francis, is ministering. He could have been one of the 50,000 children under the age of five who die every year of malnutrition.
Melodie and her colleagues provide food, lodging, clothing, education, spiritual input and medical help for some of the 8,000 street children abandoned and abused in one of the poorest countries in Central America. At Vida y Libertad, these children find family, security, dignity and opportunity. Many have been turned away from their low-income families because there isn't enough money to provide for them. Vida y Libertad works with families seeking the means to restore children to their parents by easing the financial burden through the provision of food and clothing. Other children have escaped abusive homes. Living on the streets is a deadly game as children often become victims of sexual abuse and drug addicts—many dying prematurely.
As well, 180 children are provided with the means to go to school and take advantage of the opportunities that education can bring because of a scholarship program initiated by Vida y Libertad.
Property has been purchased that boasts fruit trees, a garden and a small stand of coffee. As funding comes in new housing will be constructed so that the home can provide for more needy children. There are also plans for a medical/dental clinic, a kindergarten, recreation facilities and an agricultural project that will not only provide food for the home but will be a training ground for the children.
Through FAIR, you can help provide a scholarship for a child, support a resident of the home for only $30 a month, or contribute to the capital projects planned by Vida y Libertad that will make room for more children and enhance the lives and opportunities of those being cared for. The present capital project is constructing a security wall around the entire property. $15,000 is needed to complete this huge undertaking.
*A Childhood Without Cake is a video presentation prepared by Vida Y Libertad and is available through The Fellowship.
Haiti—Joining Hands to Make a Difference
Haiti was poor before the devastating 7.0 earthquake ripped through the country in January 2010. The most reliable estimates report that over 200,000 people died as a result of that catastrophic event and almost two million homeless. Billions poured into relief and rebuilding since then have barely scratched the surface because of the extent of the damage and collapsed infrastructure within the country. Later that year, a cholera epidemic killed almost 200 more, and a hurricane tore through the country further complicating the already horrendous situation.
Your donations through FAIR contributed over $600,000 to relief and rebuilding after the earthquake and stand as the largest amount of funding received through FAIR for any one emergency project. Through FAIR you helped to restore a church and school destroyed by the quake. Our Fellowship family in Quebec has a special tie to the overwhelming needs of the people of Haiti since Haitians make up a significant percentage of our churches in that province. Salem Baptist Church in Dondon, Haiti, celebrated its 160th Anniversary in 2012. During these years the church has faithfully ministered to the spiritual needs of Haitians within its sphere of influence. One of our Quebec churches has partnered with Salem Baptist Church in leadership training, evangelism and literacy. But Salem church has also initiated a program, Grace In Action, through which it can meet the physical needs of those within its reach.
FAIR, through the Grace in Action project, provides, among other things, a feeding program for children. Since September 2009, almost 174,000 meals have been served, a kitchen and nutrition center have been constructed, and more than 580 students and their teachers are fed on a daily basis. Haiti is considered the poorest country in the Western Hemisphere. It cannot sustain the life of its citizens or pay teachers to train its youth. Grace In Action through FAIR is seeking to meet some of that huge need.
You can partner with FAIR and join hands with Salem Baptist Church in providing food for students and teachers in Dondon, Haiti, and make a difference in a country where a small difference means a great deal.
FAIR is in Honduras and in Haiti. You can be there too—for the children. For more information, visit the Fellowship website at www.fellowship.ca and be a voice for those whose cries are seldom heard.