Broken Rocks and Bare Feet
This isn't where I expected to be. My version of myself, my life, didn't have this. —Ram Dass (after his stroke)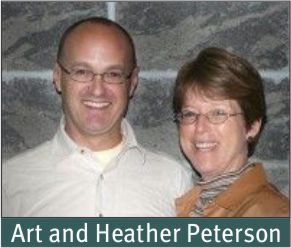 I am the chaplain at The Salvation Army Addiction and Residential Centre, Edmonton, Alberta, where I have been working for the last three and a half years.

The woman I have known and loved for 38 years, my wife for 33 of those years, started developing "something" that seemed to begin with the onset of Bell's Palsy at the end of May 2012. We took the nine-month journey (aka - trek on broken rocks in bare feet) to try to discover what was going on. We endured tests, procedures, assessments, appointments and plenty of time waiting. I have watched Heather change physically, emotionally, cognitively and relationally. I have to help her down the stairs. I have to cue and remind her of every small thing, watch and listen to her struggle for words and see confusion and fear wash across her face. We received huge prayer support from various churches, individuals and organizations but nothing could seemingly change the fact that my wife was fading. So, feeling sorry for myself, the quote from Ram Dass fit.

One weekend, our daughter, Kait, and family descended on our home. While they went skiing, Heather and I were left with four-year-old Cora. I was cleaning up in the kitchen and Cora wanted stories. I told her that I would read her stories as soon as I finished, but she then asked Nana to read instead. I listened to Heather's slurred speech making even that simple story almost unintelligible and I stood at the sink and cried. Once I had composed myself, I looked in to see Cora snuggled up close to her Nana, listening intently, watching the pictures, soaking up the time. I was reminded of what I had read earlier that day from Mark 10:15: "I tell you the truth, anyone who will not receive the kingdom of God like a little child will never enter it." Cora was receiving whatever she could from Nana. She could not really understand all of what Heather was saying, but she did not need to. She just needed to accept it, knowing that Nana loved her.

As I considered the lesson that Cora taught me, I looked at the other things that have happened that I did not have in my version of life. I did not see myself working with addicts and alcoholics, and loving it. I did not see the numerous men I have talked to, counselled, taught, prayed for and led to Christ. I did not see the 50+ men who completed the six-month addiction program, or the good number who still maintain contact and give credence to the continuing impact of the changes taking place in their lives. God has been there: causing my sisters to question, in a good way, their views of God; drawing various churches and individuals together to pray; encouraging growth in me.
We finally have a diagnosis. Heather has frontotemporal dementia. She is 52. I do not know what God's version of our lives will be from day to day, but maybe, just maybe, I will be able to echo with Job "shall we accept good from God and not trouble?" In recent days, I have read about Jesus in the garden. "My soul is overwhelmed with sorrow to the point of death." "Abba Father … everything is possible for you. Take this cup from me. Yet not what I will but what you will" (Mark 14:34,36).

No, I do not know what is ahead, but I am counting on the continuing faithfulness of God to see us both through.


—Art Peterson was a heavy-duty mechanic for 24 years before entering into a Master of Divinity program in Pastoral Counselling at Taylor Seminary. After completing an "apprenticeship" in chaplaincy at the Royal Alexandra Hospital he took a position at the Salvation Army Addiction and Residential Centre in Edmonton, AB. Heather and Art have two adult children and five grandchildren.