Present with the Lord
Marion Grace Pickering (nee Harris) went home to be with her Lord on May 5th, 2013 in her 90th year. Marion was predeceased by her husband of 61 years, Frank, in 2012.
Marion's parents and grandparents had been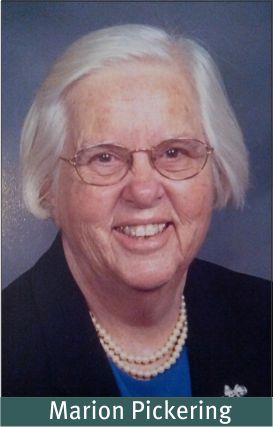 missionaries in China for many years and had been locked up in a prisoner of war camp by the Japanese during their invasion of that country. They were not liberated until after Hiroshima. Despite the adverse circumstances it remained the desire of her heart to return to the Far East to share the Gospel as they had done. Marion graduated from university with degrees in mathematics and physics. Both she and Frank joined the Navy during World War II and though they had met before, their interest in each other didn't gain momentum until they both ended up stationed in Nova Scotia. But the call of God was on both their lives. They married in 1950, shortly after graduating from seminary. By 1952, with a six-month old babe-in-arms, they were in Japan serving with The Japan Regular Baptist Mission, the overseas arm of the Regular Baptist Churches of British Columbia. When that organization joined The Fellowship in 1965, the Pickerings were "adopted" and became part of the trans-Canada Fellowship family.
Marion partnered with her husband in church planting on the western side of Japan in Toyama Province where together they founded the Takaoka Baptist Church and were instrumental in the beginning of several other congregations. Upon retirement from ministry in Japan, Marion served with her husband as the Western Representative of Fellowship International. After two years in that capacity, Frank and Marion returned to Ontario and settled in Tottenham. They were active members of Victory Baptist Church in Newmarket. A celebration of Marion's life was held in Victory on May 11, 2013.
Commenting on his connection with Marion, Eric Wright wrote: "Marion helped immeasurably to prepare the quarterly LINK magazine. Indeed her cheerful countenance, firm faith, editorial skill, and fount of ideas anchored the committee and contributed for years to the success of the magazine…. My life was enriched by her steady faith and my body refreshed by the coffee-times she prepared." Indeed her intelligence, her gentle spirit, her godly character, her faithfulness, and her engaging smile were just a few of the qualities that Marion will be remembered for.
Marion and Frank were the parents of mother of Nancy (Abel), Joyce (Antoine), Dorothy (Russell), and John (Peggy) and the much loved grandparents to Dan (Megan), David, Carolyn, Jordan, Nathan, Stephen, Greg, Rob, Tristan, Alexandra, and Valenda.
Heaven is richer even though we are poorer for Marion's absence.