Oh, Could We Tell You Stories!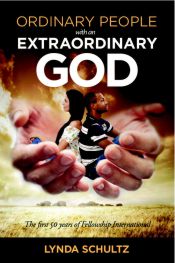 Ordinary People with an Extraordinary God recounts some of the adventures of the Fellowship International family over its first 50 years. This small tidbit is from the early years of Richard and Brenda Flemming as they travelled down East with their young children.
"It was over fish and chips that my wife and I decided to purchase the Gravol. Now you need to understand that our kids seldom sleep in the car. Gravol, we were told, was one way to induce drowsiness (there are other ways, but we wanted to stay within the law), and with at least four more hours of travel ahead, the prospect of having two sleeping children in the back seat was too tempting to pass up. We quickly made the $4.59 purchase. At the cash register of the drug store, however, a new challenge faced us (by now everything was a challenge). Having bought the Gravol, I realized we were broke. Well, actually, between my wife and myself, we found 30 cents (all in pennies, of course).…

"We were actually enjoying ourselves, already forgetting the past few hours and their difficulties, when one last hurdle loomed before us. Now I should have known better. I had spent a summer in Cape Breton after my second year in seminary and had made a number of trips on and off the island. I shouldn't have been surprised when I saw the sign that read TOLL — $1.50. But I was.

"Well, what do you do when it's 7 p.m. on Saturday night, you have 30 cents to your name and you've got to come up with another $1.20 fast? I learned a valuable lesson about credit cards. You can rent a car with them, fly around the world with them, stay in the best hotels with them, but you try to get $1.20 in cash on a Saturday night in the middle of nowhere! That's another story.

"Then I learned my second valuable lesson, this time on humility. It is very humbling to write a cheque for $1.50. What was even more humbling was being asked for three pieces of identification to ensure my credit was good. I'm sure the agent felt sorry for me, seeing me with two kids in the car and no wife—Brenda was conveniently searching for something on the floor."
Want more? Ordinary People with an Extraordinary God will be launched at our 2013 Fellowship National Conference in Vancouver, BC in November.