Well-loved pastor takes the reins at Heritage College and Seminary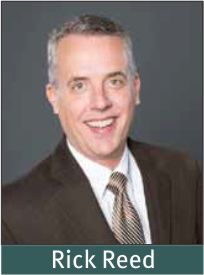 CAMBRIDGE, ON—Two years ago, Rick Reed, the senior pastor of Metropolitan Bible Church (MET) in Ottawa, learned he had prostate cancer. Little did he know that God would use his illness to begin leading him to a new calling as the president of Heritage College and Seminary in Cambridge, Ontario. "I was praying and pouring out my heart, and saying, 'Lord, if you have more for me to do on Earth, I just want to give you my life,'" Reed says. "It was a very tender, private moment. And into my head and into my heart came the words: 'pastors' college.'"
Reed was already an adjunct professor at Heritage. He concluded God wanted him to be more intentional in training future church leaders and missionaries—but not at the cost of leaving the church he had led successfully since 1998. He was wrong.
Some months later, following his full recovery from cancer, Heritage's board of directors approached Reed about becoming the school's new president. He resigned from the MET in October, and joined Heritage as of January 1.
Reed believes it is a role that God spent 30 years preparing him for.
"When I graduated from seminary, I was going to be in Brazil teaching in a seminary training pastors and missionaries," he says. "But God in His providence knew I needed a lot more exposure and experience before I could be useful in that."
"One reason that Rick's gone to Heritage," says pastor Randy Jost, who served with Reed at the MET, "is he always felt that God was calling him to be more involved in hands-on training. He always had things to pass on to his staff to hone our own skills as ministers."
Reed says in order for Canada's "spiritual temperature" to rise, Bible schools and seminaries must be training people who understand and can model effectively what it really means to follow Christ. "Things in our world are getting more complex," he says. "So I see a heightened need for biblical discernment and theological grounding."
A priority for Reed is to help churches become more proactive in identifying men and women of gifting, character, and competency, and encourage them to see if God might be calling them to enroll in a school like Heritage.
"So often, schools leave it up to individuals to get that inner sense of calling, and then they sign up for classes," he says. "That can be good, but I would just like to see churches much more involved in that whole conversation and process."
Three hundred students currently study on campus at Heritage, up eight per cent from a year ago. About 200 more are enrolled in multi-modal and distance learning.
Jost does not minimize what it means for the MET to lose Reed. He credits Reed's preaching skills with growing the church from 800 when he started to 2,400 today.
"Rick," he says, "is likely one of Canada's top-five [Christian] communicators in terms of really being able to deliver a message in a skillful, winsome, heartfelt, applicable way—just an incredible communicator."
—Reprinted with permission from ChristianWeek News