Transitions
On June 13, 2013, a momentous occasion was celebrated at Pearson International Airport in Toronto. The torch of ministry was passed from Chaplain Bryan Fox to Chaplain Peter King. Peter will now serve as Senior Chaplain. But like Caleb, Bryan isn't finished just because he's supposedly reached retirement age. Here are their stories.
"Caleb"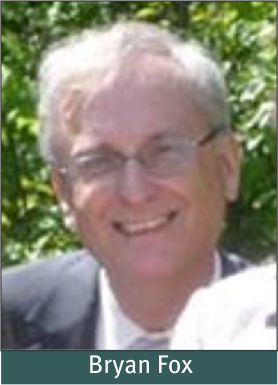 I had just started a new job in June 1997 for a large IBM affiliate company as the manager for Information Technology. It was tough. I wasn't over my head but I felt I was at least treading water. All my adult life I had been counselling somebody, someplace. In my twenties it had been as a pastor. In my thirties it was back in business as a manager, where I somehow acquired the title "Baptist Bryan." Whenever someone was going through tough times I would encourage them to keep a journal, so that when God had brought them through their difficulties, they would be able to look back, shake their heads, and give thanks with a sincere attitude of gratitude. Now it was my time.
By October of that same year the tough treading was fast becoming tough sledding and I decided to take my own journal-keeping advice. "Lord, I'm Yours to use however and whenever you please, but I would love to get out of the business world and back into full-time work for You. Seems impossible - credentials, money, debt, opportunity, but You are the God of the impossible. Could You please give me the privilege?" He made me wait six years and four months before He opened the door and I started ministry as an airport chaplain. I gave my head a shake. I still do every time I look back. With God nothing shall be impossible.
For the past seven years I have served as the senior chaplain. It has been a privilege and I am grateful. However, when I turned 65 some months ago I felt it was time to step aside—but not away. I will still be continuing as an airport chaplain, and still shaking my head in wonder every day!
—Bryan Fox continues to work in airport Chaplaincy ministry. As well he is chaplain at three seniors' residences in Brampton and Mississauga, Ontario.
No Experience Wasted
"Have you thought about airport chaplaincy?" That question, posed by a lady in my home church, served to launch me on a journey into full-time Christian ministry that I could never have imagined. Fifteen years later, I could only look back and marvel at the way God worked out His sovereign plan and purpose in my life (Ephesians 2:10). He did it in three significant ways:
Preparation: "In God's economy, no experience in life is wasted," wrote an insightful author. I agree. My upbringing in the multicultural country of Guyana, for example, coupled with twenty-six years employment at Air Canada, served a purpose—to prepare me for ministry at Canada's largest and busiest international airport. What's more, the Lord brought godly men and women into my life, not only to point me to Christ, but to mentor me along the way so that I could do the same for others.
Participation: Serving on a mission field that includes over forty thousand airport workers and an annual passenger flow of thirty million has been an awesome privilege. From caring for stranded travellers in the aftermath of 9/11, to seeing precious lives transformed by the Gospel of Jesus Christ—my role as an airport chaplain has been truly a story of God's amazing grace.
Anticipation: As I step into my new role as Senior Evangelical Chaplain at Pearson Airport, not only am I grateful for the promise of God's faithfulness (1 Thessalonians 5:24), but I'm excited to see how God will use our team of chaplains to reach the global lost for Christ—yes, right in the backyard of the Greater Toronto Area!
—After 15 years in Chaplaincy ministry at Pearson International Airport in Toronto, ON, Peter King now assumes the role of Senior Chaplain at that same facility.