Workers Together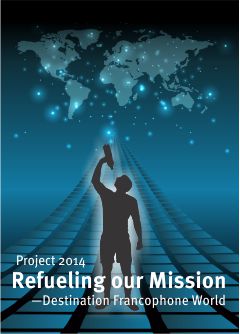 Project 2014

Refueling our Mission
—Destination: Francophone World
Independence. Teenagers can hardly wait for it. Countries go to war over it. Baptists are known for it. When it comes to our relationship with Him, Jesus warned against it (John 15:1-8). He taught us to value body-life (1 Corinthians 12-30). When it comes to church planting, independence only makes a hard job more difficult. No church planter can go it alone. No church plant succeeds without the collaboration of many. We need each other. That's why Project 2014, Refueling our Mission—Destination: Francophone World, needs YOU!
To reach Francophones in Quebec and France, Fellowship churches from west to east, north to south, English-speaking, French-speaking, Spanish-speaking, Mandarin-speaking, Arabic-speaking, must do more than simply "fellowship." They must work together to establish communities of faith that will make the Gospel of Grace available to those least reached. Be encouraged as you read how Project 2014 will impact francophones for Christ.
Greater Montreal
LASALLE
Richard and Janice Houle are building bridges to people in their suburban neighbourhood of LaSalle, situated in the south/central sector of the Island of Montreal.
LaSalle (pop. 75,000) is a multi-ethnic city with 41% of the population Francophone, 27% English and 32% representing other ethnicities. And this is precisely the mix the Houles would like to see in their future church.
The La Salle church plant is a daughter work of the Chateauguay church, located on the south shore of Montreal. There are evangelical churches for the English population, but only two French Evangelical Churches.
 
 A core group of believers is currently being formed to assist in the launch of this new church. The plan is to launch the work in September 2014 as a house church.
There is a great spiritual need. But with your help this experienced couple, and their core group, will see their dream realized: a church-planting movement in Montreal. 
                                                    —Project goal: $30,000
                                                       Donate towards the LaSalle church plant

Project 2014 will help to launch these two church plants in Le Plateau and LaSalle.

ST-JÉRÔME
Saint-Jérôme is the last stop for commuter trains traveling north from Montreal. Nearly 170,000 people live in the greater St-Jérôme region, and very few have heard the gospel of Christ. Less than 0.5% claim any evangelical affiliation.
Jacob and Marie-Paul Mathieu, along with Rob and Martine Karch, were sent out to lead the new church plant. Worship services started in January 2008.
The young church outgrew the art center, then the school gym. They were considering moving to two services when the opportunity to buy an old theater presented itself. God did miracles to get them the building at less than the original asking price. You can build on those miracles.
Project 2014 will assist with renovation costs. When completely renovated, the building will have a seating capacity for 400-500 people, areas for classrooms, plus a ministry center, situated in the heart of the downtown area. 
                                                    —Project goal: $30,000
                                                       Donate towards the St-Jérôme project

Northwestern Quebec
ROUYN-NORANDA/VAL-D'OR
Rouyn-Noranda has a population of over 41,000 people and the nearby town of Val-d'Or numbers almost 32,000.  Another 23,000 people live in smaller communities around these two hubs. Two small churches, both without pastors, are faced with a seemingly impossible task.
The vision of Project 2014 is to send an evangelist to the Northwest to encourage these struggling churches, to see them flourish, to build again on the foundation that was laid several generations ago and to reach out to the surrounding towns and villages. You can help strengthen and multiply these congregations through your financial support, which will enable this evangelist to bring the Gospel to the northwestern region of Quebec.
                                                    —Project goal: $30,000
                                                       Donate towards the evangelist portion of Project

International
VAL D'EUROPE, FRANCE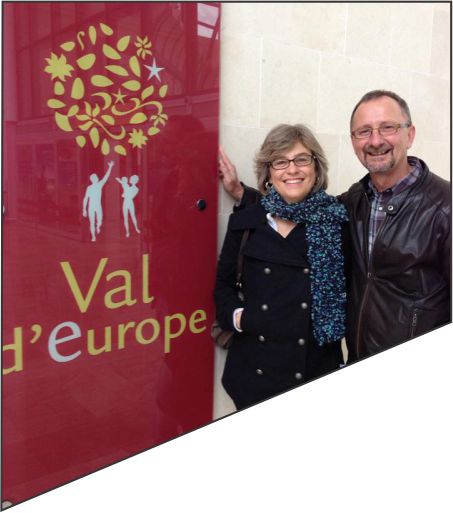 Less than 1% of the population in France lives within a reasonable distance from an evangelical church.
Val d'Europe is famous as the site of a Disney Theme Park. Hundreds of thousands of people are entertained there, thousands of support workers have moved to the area, and business is booming. The second largest mall in Europe is in Val d'Europe. Construction projects are everywhere. But there is no established evangelical church reaching out to meet the spiritual needs of all these people.
Fellowship missionaries Pierre and Jeannine Bolduc are working with a team to build networks as people are being reached and to train lay-people to support the church-plant and to be part of the networking process.
Three house groups are meeting presently. Funding is necessary to continue to rent public space, to train the potential church-planters, and to get them started as they seek to bring Christ to a community presently more focused on Mickey Mouse than Jesus.
                                                    —Project goal: $30,000
                                                       Donate towards the Val d'Europe church plant

The value of interdependence is a proven one. We are a Fellowship. We are a team. We are united by Christ, in Christ and for Christ. To reach Francophones effectively demands our collaborative effort. You can help through your generous donations to Project 2014 Refueling our Mission—Destination: Francophone World.  
Thank you for joining us in seeing Francophones impacted with the Gospel of Jesus Christ.
For more information on how you can participate, visit Project 2014 on the Fellowship website.