A Safe Haven
The village of Nabeih (Bsalim) is located approximately 167 km (100 miles) from Homs, Syria, where the fighting has devastated that city. Just over 60 km (40 miles) away in the Bekaa Valley, thousands of Syrian refugees have settled in makeshift camps in an attempt to escape the conflict. A report from the Associated Press dated November 13, 2013, describes U.N. Secretary-General Ban Ki-moon's opinion: "The conflict in Syria is having a serious impact on neighbouring Lebanon, citing increased cross-border violence, broader threats to stability and security and deeper polarization in the country. Ban said the spillover of the two-and-a-half-year Syrian conflict, which has caused more than 800,000 Syrians to flee to Lebanon, is also straining the country's finances and creating economic and social pressures."
The volatile nature of the Middle East, where children are vulnerable to tragic consequences caused by the actions of others, serves to highlight the need for safe havens for children. The war in Syria and its effect on Lebanon has left thousands of children displaced. They easily become targets for human traffickers and victims of many other forms of abuse.


Cedar Home is an orphanage established to care for abandoned and orphaned girls as well as those at-risk, regardless of their race, colour or religion. This includes helping them to develop spiritually, physically, mentally, emotionally and socially and to provide them with the skills to enter society, to work, to marry, as mature individuals capable of looking after themselves. In the 60 years since its inception, Cedar Home has helped approximately 500 girls.

Because Cedar Home does not discriminate, it also can be, as Fellowship International missionary and Director of the Home, Karim Anayssi, writes: "…the yeast that will affect the whole social and religious fabric in Lebanon." Cedar Home is located in the village of Nabeih, near Bsalim, and currently provides for 40 girls, both Christian and Muslim. Living together in harmony and as a family provides a powerful testimony of love to a society fractured by tensions based on religious beliefs.

THE IMPACT
Every humanitarian effort made under FAIR's banner has the salvation of those to whom the help is given as its "bottom line". That is true for Cedar Home as well. God is at work through the generosity of those who give to provide for these vulnerable people in our society. The following story is one of many shared on the Cedar Home website (www.cedarhomelb.org).

"Sister Amal, Director of Care, was in the apartment checking on the girls when she heard Ava, aged 13, crying. She went in and asked what was wrong. Ava replied, 'I was reading the Bible and a verse in the book of Job in the Old Testament touched my heart.' Ava continued to cry as she asked, 'Is it possible that the Lord loves me this much and that I am a sinner?'"

Yes, Ava, it is not only possible, but true, that the Lord loves you that much and that forgiveness is yours for the asking. As well, it is true that people whom you may never meet on this side of heaven care enough about you and others like you, to provide a safe haven for you in places like Cedar Home.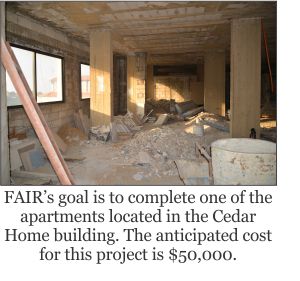 THE FAIR RESPONSE

The Cedar Home building consists of six-floors, including four floors designated for apartment spaces for girls living in the Home. Several of these floors are unfinished and consist of only a concrete floor, external walls and concrete pillars. FAIR's goal is to complete one of these apartments at a cost of $50,000. The funding will cover internal walls that will divide the space into bedrooms, washrooms, kitchen and living room. It also includes heating, plumbing, electrical, woodwork, cabinetry, flooring, and paint. When completed (within four months once the funding is available), the apartment will house eight girls. There are orphans and girls-at-risk on Cedar Home's waiting list, making the need urgent to complete these apartments.

What a unique opportunity we have to partner together and make an impact on these young lives. Will you partner with FAIR by providing a safe haven for abandoned and orphaned girls in Lebanon? CLICK to donate to this life-impacting project.


---
The following is an electronic interview between Norman Nielsen, Director of FAIR (Fellowship Aid and International Relief) and Karim Anayssi, Director of Cedar Home in Lebanon.
In the course of gathering information for this project, Norman Nielsen asked Karim Anayssi a series of questions. Here is a summary of those answers and some additional information that will help you to pray more effectively for Cedar Home and the girls who have found refuge there.


NN: Provide a detailed description of what completing the apartment includes.
KA: Cedar Home is a six-floor building that includes:
· The basement that is made up of a furnace room, kitchen, a warehouse and a tool room (finished).
· The first floor contains offices, meeting hall, playground and resident staff living space (finished).
· The second floor consists of two finished apartments, where 15 girls currently live.
· The third floor has resident staff/volunteer living quarters and another unfinished apartment.
· The fourth and fifth floors are unfinished, but are designed to be four separate apartments that will house eight girls each.
---
NN: Why is the additional space needed, and how will having this additional space positively impact Cedar Home?
KA: Additional space is needed in order to take in additional orphaned girls who are at-risk that are on our waiting list. By having this extra space, Cedar Home will better fulfil its mission, which is to provide a Christian home to care for—with compassion—abandoned, orphaned and at-risk girls in Lebanese society regardless of their race, colour, or religion.
---
NN: What work still remains to be done in order to complete the apartments?
KA: By unfinished apartments, we mean that they consist of a concrete floor, external walls, and concrete pillars. To finish the rooms, we need:

· Internal brick walls for the bedrooms, washrooms, kitchen and living room.
· Four washrooms, each including a toilet, sink, shower and ceiling fan.
· A kitchen, including countertop, cabinets, hot and cold piping installation and an electric water heater.
· Heating-system pipes installed to all parts of the apartment.
· Electrical, lighting fixtures, plugs and one switchbox for all systems in the apartment.
· Woodwork, including one main door and nine internal doors.
· Flooring, including ceramic floor tiles for all living areas as well as the kitchen and washrooms.
· Paints for the walls, ceiling and doors.
· Heating system, including one radiator in every room.
---
NN: Does the project include furnishings?
KA: No.
---
NN: What else will the funds be used for?
KA: If there are more funds available they will be used to furnish the apartment(s) once they are finished.
---
NN: How quickly will the apartment be completed if the funds are available?
KA: Within four months.
---
NN: What correlation is there, if any, between the present political upheaval in Syria/Lebanon and the need to finish the apartment?
KA: The first age group to be affected by war is children, specifically females. The war in Syria and its direct effect on Lebanon has left thousands of children displaced, as victims of human trafficking, etc. There are currently over 1.5 million Syrian refugees in Lebanon living in miserable conditions. Syrian women in Lebanon, as per the UNHR and the U.S. Department of State, are forced to engage in street prostitution, and an unknown number of Syrian girls are reportedly brought to Lebanon for the purpose of prostitution, sometimes through the guise of early marriage. We at Cedar Home feel the responsibility to save as many girls as we can, restoring their lives and, later on, releasing them to be what God intended for them to be. We can only do this if we have more space.
Furthermore, since Cedar Home is a ministry of word and deed as we introduce girls to Christ and care for their every need, it sends out a strong message to Lebanese girls as to what their priorities should be. Last Valentine's Day, myself and a senior girl in Cedar Home participated in a live talk show on a private Lebanese TV station. When the girl was asked by our host, "What message do you give to girls your age in Lebanon?" she replied, "Know your priorities. Look not at what's shallow like clothing or a funky iPhone, but at knowing Christ and by being a blessing to another human being." The work God is doing in Cedar Home is amazing; our graduating girls know Him and know their priorities. They are the ones who will positively impact their generation, because God's work is so clear in their lives. They transform from a scarred orphan to a happy and hopeful female leader who loves Christ.
---
NN: What other information will help us get a better understanding of Cedar Home's ministry and kingdom impact, why you are present there, and how is the Fellowship's financial assistance valuable to you?
KA: Hope.
In Lebanon, there are many needs, but I'd say that faith, love and hope, as the Bible says, are the most pressing. Some people would argue differently. Food and shelter are definitely a need, especially in our current day, but feeding someone and providing shelter when hope is dim and faith is not spoken of and love is nonexistent, is done in vain.
Lebanese society is a multi-denominational one: there are 28 religious groups in a country of 4,036 square miles, still unable to live in peace! I believe that Cedar Home can be the yeast that will affect the whole social and religious fabric in Lebanon because it does not discriminate. On the contrary—it's built on equality and unity. Cedar Home adheres to the Biblical view of the value of every child and the dignity of every human being.
At Cedar Home we have Christian and Muslim girls living together as a family, and that by itself is a very powerful message in Lebanon. Our message is the same as the Bible's: love the Lord your God with all your heart and with all your soul and with all your mind. Love your neighbour as yourself.
With the growth of fundamentalism in the Middle East, especially in Lebanon and Syria, this message of love is being challenged by radicalism. But as people are witnessing and experiencing both love and radicalism, they choose love. Make no mistake; children know who loves them and who does not. We can see that and hear it from their mouths as we rescue them from hunger, abuse, neglect and war.
So far the 500 lives that have been saved by Cedar Home are a living testimony of God's message of Love.
Unfortunately, divisions in Lebanese society have touched churches, and fellowship is broken between many Christians. Since our arrival at Cedar Home, we have visited various churches in Lebanon, offering our help as an orphanage and our love as Christians. The relationships we made have helped reconnect churches together and we thank God for using us that way. The peacemaking opportunities that God has allowed have opened new horizons, and pastors that did not want to have anything to do with others are now willing to connect. Congregations that separated themselves from others are revising their thinking and no longer afraid of others who are different than them.
Coming from Canada, unknown to many, not taking sides, and always on the side of love, motivated by God's clear calling, and blended by the great Canadian culture, has enabled us to bring people and churches together, and we pray to bring Lebanon together.
As we constantly work to create a culture of love in Cedar Home and in the lives of the people we meet, our aim as well is to disciple girls at Cedar Home to do the same. Financial help will greatly contribute to that vision by allowing us to take in more girls who we pray and hope will become new disciples. That's how the work will multiply.
The key addition to Cedar Home's strategic plan is to have the Cedar Home girls go out in the community and be God's voice. The more messengers, the wider the blessing.
---