How Do You Spell Relief?
I might not win any spelling bee, but in my role as coordinator of the Fellowship Aid and International Relief (FAIR), I spell relief this way: L-O-V-E. I know, that sounds mushy, and I'm not really a mushy kind of guy. However, love is more than a feeling: it's an integral part of the fabric of faith. Humanitarian relief is only as effective as its foundation is, and FAIR's foundation is, first of all, the love of Christ, which impels us to follow His example of caring for those who cannot care for themselves. No believer, true to the new nature imparted in them when they accepted Christ, can turn and walk away from the poor, the hungry, the destitute, the suffering.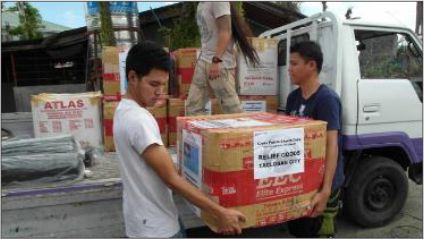 Take, for example, one of the latest relief efforts that FAIR has been involved in through your generous donations. Typhoon Haiyan hit the Philippines in late 2013, leaving millions affected by its path of devastation and destruction and thousands dead. Where FAIR doesn't have its own personnel on the ground, we look for reliable partners through whom to work. In this case we chose Across Borders for World Evangelism (ABWE) and Emmanuel International (EI). Funds were immediately released to help in relief efforts. As of the end of January 2014, more than $214,000 has been raised through our Fellowship churches and FAIR donors. The present focus is now shifting to rebuilding church facilities, pastoral houses, and homes damaged or destroyed by the typhoon. FAIR reported to the Canadian government $159,787 to be included in the matching dollar program to—double the love for those who have suffered such great loss.
It's easy to count money but impossible to calculate the spiritual impact of those dollars as they are used to help needy people rebuild their lives. But, then, real love doesn't count the cost at all.
—Norman Nielsen is Associate Director of Fellowship International and FAIR Coordinator for The Fellowship. Donations designated, "FAIR Philippines Typhoon" can be forwarded to FAIR, Box 457, Guelph ON, NIH 6K9, or they can be given via our secure ONLINE WEBSITE.