Project 2013 Back to the Future Update
Snapshot — Colombia, South America: Missions Full Circle
Amount raised: $ 20,000
In September 2013 I had the privilege of travelling to Colombia, South America. It is thrilling to see this mature association of churches taking practical steps to join God on mission. For years they have been on the receiving end and now, prompted by God and enabled with funds, they are taking the Good News to other cities and countries.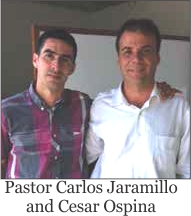 I met with Pastor Carlos Jaramillo and his protégé, Cesar Ospina, at the El Redil del Oriente church in La Grande, Colombia. Pastor Carlos has provided excellent training and mentoring for this young leader. Cesar now is holding Bible studies in the two neighboring towns of La Ceja and El Retiro. There are about 18-20 people in each group. La Ceja has historically been a training center for Catholic priests; both towns are deeply steeped in Catholicism.
Over lunch at the El Redil Envigado church in Medellín, Pastor Juan Carlos revealed his vision of sharing the Gospel in four coastal villages that trail along the country's northwest Pacific coastline. Tears filled his eyes as he poured out his church's burden to reach these unreached people. His dream is to partner with Fellowship churches in Canada in order to take mission teams to these needy people.
During a break time at a Pastors' and wives' retreat, Pastor Carlos Mendivelso from the El Poblado church in Medellín excitedly shared how his church has sensed God's specific direction to take the Gospel to Africa.
Please pray that the Spirit of God would work powerfully, saving many as Colombian Christians obey God's call to be missionaries.
—Dan Shurr is Director of Fellowship Communications.