Snow and Shopping Trips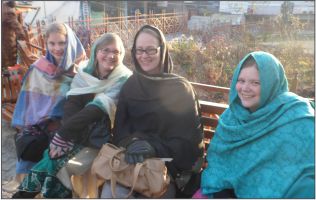 "It is February 2014 and it is snowing outside. It shouldn't surprise me, I am in the mountains after all, but I was hoping for more sunshine and less wet boots! But the kids are happy, as well as one beloved boarding director who has been praying for snow since October I think."
No, it's not Canada in winter; it's Pakistan in winter. Emma Black has returned to Murree, in the foothills of the Himalayan mountains, as a teacher and house parent. She knows Murree well, having studied there while her parents, Rod and Donna Black, were working in the country.
Emma also knows just how scary Pakistan, and living this close to the Afghan border, can be. The school was closed for a year after a terrorist attack in 2002 during which six people were killed. Other threats followed, including a serious one in November 2013. But Emma makes little reference to any of that except to say in a recent newsletter: "…the animosity towards foreigners has calmed down a bit….the school had changed to our Orange level, which meant that our travel was restricted. This was downgraded again in the middle of November. We all celebrated by going off campus and shopping, naturally! Praise God for his continued protection over this school!"
The rest of the world may be anxious about her, but Emma is focused on enjoying chocolates with "her" girls, getting ready for Open House, teaching her classes, adapting to the different learning styles of her international students, and praying for much-needed staff members for the coming year.
She closes her newsletter with: "We are going into a period of wet and cold weather, probably just so I will stop laughing at those in colder climates (Yes, I was sitting outside for lunch just last week!). It does get cold in the hostel (our dorms), so send me lots of warm thoughts! Thank you for your continued prayers and support; it means so much to me! Yours in the cold, Emma."
Who talks about ordinary things in the middle of a life that is anything but ordinary, or even necessarily secure? What compels a young woman to return to such a difficult place when there are other options for the bright and talented?
It's called love. Not just the ordinary garden-variety love, but the love of Christ that "compels" (2 Corinthians 5:14). Because Emma knows how much Christ loves her and trusts in Him, she can talk about snow and shopping trips—even in Pakistan.