An Update on Project 2014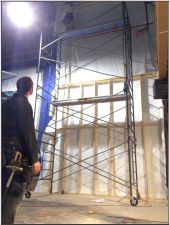 Jacob Mathieu and Rob Karch have every reason to be grateful to the Lord. They, and the congregation of Ecclesia in Saint Jérôme, QC, have the joy of receiving financial support from our Fellowship churches across Canada as part of Project 2014. They have also been privileged to have some "hands-on" help from other believers across the border in the United States.
In October 2013, the congregation was not looking forward to winter. Over the summer they had created space in the old theatre the church had purchased; that space was earmarked for children's ministries. The problem was that it was not heated. Added to that, the thirty-foot walls in the worship area were not insulated and the heating system was limited.
With the confirmation in November 2014 that the church would be part of Project 2014, the congregation was able to hire a company to install a heating system in the children's classrooms, but there was still the issue of the worship area.
In December 2013, Pastor Rob Karch visited one of his supporting churches in Oregon (Rob and Martine Karch are missionaries with WorldVenture who have partnered with Fellowship International since 2002). As he shared the vision of the church plant in Saint-Jérôme, eight people from Skyline Baptist Church, Coos Bay, OR, stepped forward to volunteer to help out. They bought plane tickets and spent a week in mid-December working on insulating the walls under the guiding hand of a general contractor.
Pastor Mathieu writes: "A very intense week that was!" He added: "…we were able to serve supper and preach the Gospel to a full room [with] 50% [being] visitors from the neighbourhood. It was their first experience with Ecclesia. It was Jesus-centered, and everyone was warm. Thank you so much!"
Sainte-Jérôme is one of the five projects that form part of Project 2014, Refueling Our Mission, Destination: Francophone World. For more information on all the parts of Project 2014 and to find out how you can help, visit our website.