Pastor Search 411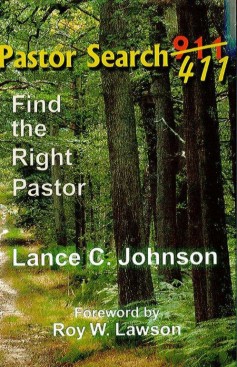 Author: Lance Johnson
Createspace, 2010
ISBN: 1449507786
Available through lance.johnson@emmanuelbarrie.org.
Every church office and church library should have a copy of Lance Johnson's new book, Pastor Search 411. It may seem unlikely that you will be looking for a pastor in the near future, but this book is excellent preparation for such a time. It is a practical guide pointing the way when your church faces the departure of one pastor and begins the search for a new one. This book is indispensible in your search.
It is easy to read and clearly written in a step-by-step approach. Lance will lead you from the resignation of your current pastor to the installation of your new pastor. Follow his steps to avoid the pitfalls that present themselves when the void is created by the departure of your pastor. You will discover how to honour the past while moving into the future.
Lance has drawn on his experiences within the context as pastor of a local church and also as former Regional Director of FEB CENTRAL Ministries. In the latter capacity, he worked with churches in all stages of the pastoral search. His fund of wisdom garnered over the years is available to you in his book.
What do you do when your beloved pastor delivers his resignation in a morning service? Once the tears are dried and the accolades have all been spoken, it's time to get down to practical business.
From Pastor Search 411 learn how to put a search committee together, how to find potential candidates, how to arrange a candidating event, and many more how to's. This book can be used as a manual. A quick survey of the Table of Contents reveals such topics as Managing the Waiting Period, Continuing Sunday Nurturing, Revisiting Mission and Vision, Finding Potential Candidates, Gathering Profiles and Resumes, Contacting References, Arranging for the Candidating Event, and many more pertinent themes.
Lance stresses the spiritual aspect of the church as it goes through this transitional process. It is very important not only to maintain the spiritual level in the church, but even to deepen it. Many scripture references are used to support the points being made.
In the Preface to his book, Lance states, "It is my desire to help you avoid pitfalls. Over the years I have watched many slips along the way. But the good news is that almost all bad experiences in selecting pastors could have been avoided if the church was in tune with the process and gathered all the information that was available to them. Your best years are ahead of you since you will take care to walk in faith and stay united in the pursuit of the Kingdom of God."
Don't wait until you 'need' this book. Get it now and have it on hand when the inevitable happens. Pastor Search 411 is a very worthwhile tool.
Reviewed by Sharon Dow