Introducing the Fellowship Direction Document (FDD)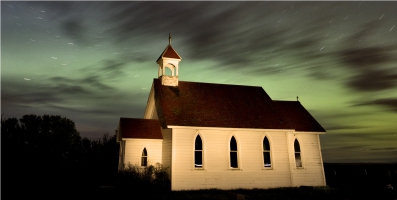 Our local churches, Regions, and National ministry all have mission statements that identify the reason for their existence. However, our Fellowship Movement has never had an umbrella "Statement of Mission" covering our entire association of churches.
Our churches have been committed to common values and connected by an "Affirmation of Faith" and By-laws. Membership as a Fellowship Baptist Church has always been equally a membership with both a Fellowship Region and Fellowship National.
Only recently have all Fellowship Regional Councils and our National Council approved a singular "Statement of Mission" that simply identifies who we are and what we do. This statement completes a two-year process that involved, in one way or another, more than 600 Fellowship people. Input was received through one of our four minisurveys, our 20 focus groups, email solicitation, Congress gatherings of leaders, National and Regional Councils and through the delegates at our Fellowship National Conference. In conversations with two former Fellowship Presidents, the significance of this historic document has been highlighted. This one-page document is not a Regional, National, or even local church document; it is an all-pervasive Fellowship Movement document. There is a new spirit of cooperation and collaboration among our association of churches that has enabled us to finally create such an "identity" document. We all own it.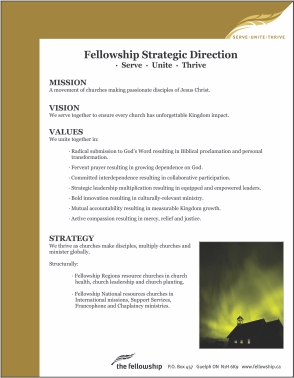 My prayer is that it will ring true and feel warmly familiar as we read it. So true that a Fellowship missionary in Pakistan, a deacon in Calgary, a pastor in Montreal, a Sunday school teacher in Lunenburg, an elder in Whitehorse, or a chaplain in Toronto can read it and say together: "Yes, that's who we are, the FDD nails us!"
Why is a Statement of Mission Important?
A Statement of Mission helps to keep our "identity" clear. There are so many distractions that can take us off-mission. A church could endorse our "Affirmation of Faith" and agree wholeheartedly with what we believe as Fellowship Baptists, but that same church may not have baptized a new believer in 10 years. Our new Statement of Mission clearly indicates that this is not our desired outcome; that this is neither who we are nor what we do. It reminds us that such a church needs our love and support and needs us to come alongside in a spirit of interdependence and help it move toward health as a local church.
Take a moment with me to thank the Lord for His guidance and confirmation in the process. Now that we have a Fellowship Direction Document (or "Statement of Mission"), the next question is: "What are we going to do with it?" Each of us must answer that question.