For the Love of French-Canadians
"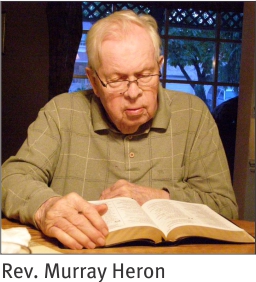 I was 22 years old and single when I was put in jail for preaching the gospel in Quebec. I was ready to spend my whole life in jail, if that was what it would take to bring the gospel to French Canadians." These words, spoken by Rev. Murray Heron at a regional conference many years later, reflected the passion that characterized a lifetime of ministry dedicated to presenting the good news of God's saving grace to Quebecers.
On July 12, 2014, Murray, in his 90th year, went home to be with the Lord he had so faithfully served. A celebration of his life took place on July 25th at Église Baptiste Évangélique Emmanuel in Pierrefonds, Quebec. His sacrifice, his influence, his dedication to the Lord will be long remembered and honoured. Many of his experiences during over 50 years of ministry, including the early years in northwestern Quebec, are told in Murray's autobiography, Footprints Across Quebec. 

Fellowship President, Steve Jones, having heard Murray speak at a regional convention, shared these remembrances:
Murray told of being invited by W.J. Wellington to visit Val d'Or while still a seminary student. Upon arrival this fledgling preacher learned he was to preach in English in Val d'Or the next morning and then in French in Malartic that evening. He almost panicked, especially because of his very limited French. Murray said, "That night I preached the worst sermon that had ever been preached in Quebec. It was amazing that Mr. Wellington insisted I return."
In 1947, Murray became pastor of the English-language church in Rouyn-Noranda. Shortly after his arrival, he began to preach in the open air in French and to visit French-speaking contacts gained through literature distribution and radio. He started French meetings and the church soon became officially bilingual. There was much open hostility and persecution but Murray carried on because of his deep burden for French Canadians and his assurance of God's calling on his life. He had the full support of his congregation and was aided by a deacon, Leslie Barnhart, a successful Rouyn businessman, who later sold his store and used the assets to support himself in ministry in Rouyn and La Sarre.
Murray married Georgia Dalzell from Noranda in 1952 and they had five children.
Murray will be remembered by many people. His dedication to the service of the Lord no matter what the cost will continue to be an example to all those who follow him. Janice Burdon, writing for the Montreal Times, shared these recollections:
"I was so distressed about the Charter of Values after hearing about it that I couldn't sleep one night.  How could it have come to this?  How can people be so intolerant of one another?  How far does one have to go to protect the right of religious expression, whether verbal or symbolic?  It brought to mind a book I read.  It was about a man, who against all odds, suffered greatly, even going to prison to express his beliefs in a province desperate to hear words of love and tolerance.  Here is his story:
"…Murray Heron grew up during the time of the Great Depression in the small town of Pickering near Toronto.  Life with eight siblings on a farm was a challenge to say the least.  Labour began at 5:30 in the morning milking cows and feeding the animals.  His home was a Christian one where the Bible was taught, memorized and practiced.  "I found church boring," said Heron who had little concern for spiritual matters.  Leaving his rural town, Heron struck out for business school in Toronto where he met Tom Delaney who invited him to a church meeting.  Heron's heart was stirred as he found a new faith in God he never discovered in his younger years.  He would later find out how his mother had been praying faithfully that he would become a preacher.   Although Heron's faith was strong, he had his hesitations about public speaking and lost his breath on many occasions when it came to sharing his faith.  Would he continue working at General Motors with a guarantee of a good salary or would he do the unthinkable and become a preacher?  He felt such a strong pull to go to seminary school, where he finally made the decision to become a preacher.
"His mission was to share his faith in Quebec where people were hungry to hear about the love of God.  His opportunity came when he was asked to preach in the small rural mining town of Rouyn-Noranda, 430 miles from Toronto.  Here he was shocked to learn that many French Canadians had never heard of the New Testament.  His burden began to grow.  It grew to the point where he held open-air meetings proclaiming the love of God by performing skits, songs and giving a message.  Hundreds of willing people who wanted to listen, flocked to these meetings eager to hear the message this man and his helpers had to communicate.  The message was about grace and not fear.  Heron along with his friends were stopped on many occasions because they had not received a permit to speak.  Receiving permission was almost next to impossible but they kept preaching regardless.  People had the right to hear and Heron had the right of expression.
"'In the spring of 1947, the Quebec political scene was dominated by the firmly entrenched Union National party led by the strong-willed Maurice Duplessis.  The Duplessis years were a dark, repressive period.  Violent opposition to the gospel in Quebec was nothing new.'(1)  Mobs broke into church buildings, tearing up Bibles and hymn-books.  It was at this time that Heron's faith would be tested.  One Saturday night while they were congregating with over 100 people present, two police cars arrived with six police officers.  The police told them to step down, telling them they were not permitted to hold meetings and that the penalty would be two months in jail!  The crowd waited with baited breath to see what Heron would do.  He knew that the mayor of Rouyn would refuse a permit even though many people enjoyed hearing the message.  Being a law-abiding citizen, Heron had to make a difficult choice but felt strongly that he should continue to preach, regardless of the consequences.  Sure enough, the cops cuffed him and threw him into a filthy prison with the others where all they had to eat were pig's feet and grey porridge.
"…Press coverage and the pressure of public opinion worked in Heron's favour.  Time and time again, through numerous jail sentences, beatings, harassment like being spit on and being set on fire, Heron and his group persisted in sharing their faith, yet without violence.  They became so popular that they had a regular radio broadcast, entitled 'Sur les ailes de la foi', where Heron preached his message of God's love.  'Heron and his group went from being the despised Protestants, who deserved to go to jail for their beliefs, to T.V. personalities with a message of hope and life.'(2) Why even Sister Superior at the convent in Rouyn invited them for lunch!  Murray Heron had become a pioneer missionary in Quebec where people today can go and worship God freely without penalty.  His example of bravery and attitude of not backing down serve as a challenge to our government.  Freedom of religious expression is a gift.  A gift, that once given, should never be taken away and must always be respected." 
Murray and Georgina Heron went on to serve other congregations in Quebec and have faithfully shared the Gospel to French-Canadians over the course of more than 50 years. Murray has also mentored, and provided the example for, many other young men eager to walk in his footsteps and carry the Word of God throughout Quebec and abroad. It is significant to note that this year, the Fellowship returns to northwestern Quebec in the person of Noël Morissette, who has been commissioned by the French Ministries Department to encourage the works that the Heron brothers invested their lives in, and to do evangelism in the area. Murray would have been pleased.
(1, 2) Footprints across Quebec, 1999,  Joshua Press