Project Abitibi: A Return to Our Roots in Quebec
Over the last eight decades, we have seen God working in francophone Quebec. Many churches have been established and francophone leadership has been developed. We can trace our movement's history back to the early pioneer missionaries who sacrificially came to Quebec to announce the Gospel of grace to French Canadians. In1930, Stanley Wellington arrived in Noranda, a town in the region of Abitibi in northwestern Quebec. There he established an English-language ministry as well as another work in the town of Val-d'Or.
These early pioneers immediately recognized the need for a French-language work in northwestern Quebec. The mining communities were booming and people were moving into the area. In 1937, God sent Wilfrid and Edna Wellington to Val-d'Or to begin a ministry among the francophone population. Wilf began churches in Malartic and La Sarre as well, and later branched out into northeastern Ontario. At 70 years of age, he went overseas to plant a church in France. Such was the spirit of the early missionary pioneers to the region: Yvon and Marion Hurtubise, Murray and Georgia Heron, Lorne and Margaret Heron and others. There was open persecution. Missionaries were arrested and Bibles were burned.
But they persevered and the Gospel took root, spreading from the northwest to the rest of Quebec.
Fast forward to today where the current population of the Abitibi region sits at just under 150,000. Rouyn-Noranda is the largest town with a population of 41,000 people. Val-d'Or is 90 minutes down the road and is the next largest town, numbering 32,000. Amos, an hour north of Val-d'Or, is composed of almost 13,000 while La Sarre, another 90 minutes away, has almost 8,000 inhabitants. There are another five communities in the region ranging in population between 2,500 and 3,500 with no Gospel witness.
Although our francophone Evangelical Baptist movement got its start in the Abitibi region in the 1930s, it has become the region in Quebec with the least presence of the Gospel. Today we have only two small struggling congregations in the area, one at Val-d'Or with a stable group of 30 under lay pastoral leadership, and another at La Sarre with a dozen participants, also under lay leadership. There is room in this region for at least four healthy churches in the main towns, with functioning missional communities in the many smaller towns and villages still unreached by the Gospel.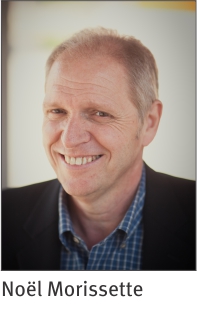 Recently, I had the privilege of visiting our churches in the Abitibi region on an exploratory trip with Regional Director, Gilles Lapierre, and evangelist, Noël Morissette. For the past five years, Noël has served as the equipping evangelist at Terrebonne-Mascouche Baptist Church, specializing in the intentional contact with, and follow-up of, those attending the worship service for the first time, a system that Noël calls "The Net." He has also trained teams in four other francophone churches to implement "The Net." This summer, Noël and his wife Marie, moved back to their hometown of Victoriaville, where Noël will work as a part-time evangelist in the church there. This frees him up to be involved in other projects.
And so, I introduce you to Project Abitibi—a return to our roots! God is leading us to once again invest in the cradle of the francophone expression of our family of churches. Noël has accepted the challenge of revitalizing this region through monthly visits of six days each starting in February 2015, in anticipation of God raising up a fulltime missionary couple for the region in the next three years who will develop and multiply the churches. Noël will spend two weekends this fall in the region, getting to know the believers in the two congregations and becoming familiar with the communities God is calling them to reach.
Project 2014 funds will cover the cost of food and travel for Noël on these evangelistic trips. He will be staying in the church buildings of Val-d'Or and La Sarre to facilitate ministry and cut costs. His goal is to encourage these struggling churches, to see them flourish, to build again on the foundation that was laid several generations ago, and to help them reach out to the surrounding towns and villages. As a church or individual, you may want to intentionally partner with us to see this project become a reality.
Pray that the Lord will go before us and prepare receptive hearts for the Gospel. Pray for the sacrificial commitment of those believers in the region as well as the raising up of ministry partners across Canada to get behind this initiative to the glory of God!
—Terry Cuthbert is Director of Church Planting (AÉBÉQ); Fellowship Ministries Associate Director (National)