George Whitefield: A Man Of Focus From The Eighteenth Century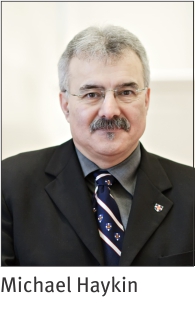 During the course of the twentieth century one of the most extraordinary things that happened among evangelical Baptists in Central Canada was tucked away in the small village of Cottam, down in southwestern Ontario, near Windsor. The Baptist pastor in this village, Arnold Dallimore, wrote what was for the twentieth century the definitive life of one of the most iconic Christians of the eighteenth century, the renowned evangelist George Whitefield (1714–1770). Year in, year out, Dallimore taught himself to be a historian and toiled away at his project of writing Whitefield's life till eventually it appeared in two volumes in the 1970s and 1980s. It turned out to be not only an exhaustive study of Whitefield, but life-changing for many who read it (including this author!). Dallimore's subject was a man who was above all focused: focused on winning the lost, focused on the glory of Christ. And in this year, the tercentenary of Whitefield's birth, Dallimore would certainly want us to remember Whitefield's focus and follow in his footsteps.
The Spiritual and Moral Mess of the Eighteenth Century
Summing up the characteristics of English-speaking societies on both sides of the Atlantic in the opening decades of the eighteenth century, Oxford historian John Walsh has listed the following:
1) A noticeable decay of ministerial authority;
2) The growth of rationalism and a massive intellectual assault on supernatural Christianity;
3) The spread of material wealth and "luxury";
4) The frivolity of the young and an indifference on their part to spiritual matters; and
5) A sense of spiritual powerlessness among godly believers.
Attestation of this description is found in both public documents and private testimonies. Here is the witness of one early eighteenth-century author, the London Baptist theologian Benjamin Keach (1640–1704), writing in 1701 about the city of London:
Was ever sodomy so common in a Christian nation, or so notoriously and frequently committed, as by too palpable evidences it appears to be, in and about this city, notwithstanding the clear light of the Gospel which shines therein, and the great pains taken to reform the abominable profaneness that abounds? Is it not a wonder the patience of God hath not consumed us in his wrath, before this time? Was ever swearing, blasphemy, whoring, drunkenness, gluttony, self-love, and covetousness, at such a height, as at this time here?
Despite the presence of a number of Gospel-centred ministries like that of Keach and various societies which had been created to bring about moral reform, homosexuality, profanity, sexual immorality, drunkenness and gluttony were widespread. And the next three decades saw little improvement. The early eighteenth century in Britain was, as Selina Hastings put it well in the 1990s, "an age when atheism was fashionable, sexual morals lax, and drinking and gambling at a pitch of profligacy that have never since been equalled."
The state church, the Church of England, was basically helpless when it came to dealing with this dire situation. By and large the bishops in the Church of England of this era were, in the words of English historian J.H. Plumb, "first and foremost politicians," not men of the Spirit. "There is a worldliness," Plumb continues, "about eighteenth-century [bishops] which no amount of apologetics can conceal." They undertook their clerical duties "only as political duties allowed." The worldliness of these bishops showed in other ways as well. Jonathan Trelawny (1650-1721), Bishop of Winchester, used to "excuse himself for his much swearing by saying he swore as a baronet, and not as a bishop"! Such bishops had neither the time nor the interest to promote church renewal. Of course, the decadence of church leadership was by no means absolute; but the net effect of worldly bishops was to squash effective reform.
Moreover, the attention of far too many of the clergy under these bishops was taken up with such avocations as philosophy, biology, agriculture, chemistry, literature, law, politics, fox-hunting, drinking—anything but pastoral ministry and spiritual nurture. There were, of course, a goodly number of Church of England ministers who did not have the resources to indulge themselves in such pursuits, since they barely eked out a living. But few of them—wealthy or poor—preached anything but dry, unaffecting moralistic sermons.
Even among many of the churches of the Dissenters, the children of the Puritans (those who are our theological forebears), things were little better. One knowledgeable observer of these churches bemoaned the fact that "the distinguished doctrines of the Gospel—Christ crucified, the only ground of hope for fallen man—salvation through his atoning blood—the sanctification by his eternal Spirit, are old-fashioned things now seldom heard in our churches." The Christian life was basically defined in terms of a moral life of good works. Spiritual ardour was regarded with horror as "enthusiasm" or fanaticism. The ideal of the era is well summed up by an inscription on a tombstone from the period: "pious without enthusiasm"!
It was the Eighteenth-century Evangelical Revival and its message of the new birth and justification by faith alone that brought positive changes and hope to this bleak scene. And at the centre of that revival was George Whitefield.
George Whitefield: Early Years and Conversion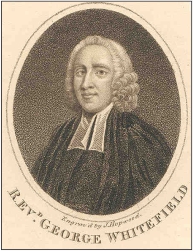 George Whitefield was the youngest son of Thomas Whitefield (1681–1716), the proprietor of the Bell Inn, at the time the finest hotel in Gloucester. George's father died when he was two and he was raised by his mother, Elizabeth (c.1681–1751). His school record was unremarkable, save for a noticeable talent for acting. For a while during his teen years, when his older brother Richard took over the running of the inn, he worked as one of the servants. But his mother longed for something better for her son. Her persistence and the kindness of friends enabled him in November 1732 to enter Pembroke College, Oxford University. It was here in the following summer that he first met John Wesley (1703–1791) and his younger brother Charles (1707–1788), who were regularly meeting with a group of men known to history as "the Holy Club." This was a company of ten or so men who were ardently trying to live religious lives in an extremely dissolute age.
Whitefield, like-minded and longing for spiritual companionship ever since coming up to Oxford, joined them. He engaged in numerous religious exercises such as fasting, praying regularly, attending public worship, and seeking to abstain from what were deemed worldly pleasures. Despite the evident zeal he brought to these religious activities he had no sense of peace with God or that God was satisfied with what he was doing.
Conversion came in the spring of 1735 after Charles Wesley had given him a copy of The Life of God in the Soul of Man (1677) by Henry Scougal (1650–1678), a Puritan and former Professor of Divinity at Aberdeen. This book was a frontal challenge to Whitefield's ardent endeavour to create a righteous life that would merit God's favour. Here is the way Whitefield recalled it many years later in a sermon that he preached in 1769:
I must bear testimony to my old friend Mr. Charles Wesley, he put a book into my hands, called, The Life of God in the Soul of Man, whereby God shewed me, that I must be born again, or be damned. …As a good writer [i.e. Scougal] says, a man may go to church, say his prayers, receive the Sacrament, and yet, my brethren, not be a Christian. How did my heart rise, how did my heart shudder, like a poor man that is afraid to look into his account-books, lest he should find himself a bankrupt: yet shall I burn that book, shall I throw it down, shall I put it by, or shall I search into it? I did [search it], and, holding the book in my hand, thus addressed the God of heaven and earth: Lord, if I am not a Christian, if I am not a real one, for Jesus Christ's sake, shew me what Christianity is, that I may not be damned at last. I read a little further, and the cheat was discovered; O, says the author, they that know any thing of religion know it is a vital union with the Son of God, Christ formed in the heart; O what a ray of divine life did then break in upon my poor soul…
Awakened by this book to his need for the new birth, Whitefield passionately struggled to find salvation along the pathway of extreme asceticism but to no avail. Finally, when he had come to an end of his resources as a human being, God enabled him, in his words, "to lay hold on His dear Son by a living faith, and, by giving me the Spirit of adoption, to seal me, as I humbly hope, even to the day of everlasting redemption." And, he went on, "oh! with what joy—joy unspeakable—even joy that was full of, and big with glory, was my soul filled…"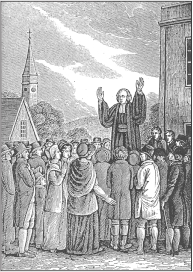 Preaching in the Open Air
Soon Whitefield was preaching. When churches began to be barred to him because of his focus on the new birth and the need for regeneration—morality alone, he stressed, could not save anyone—he was not deterred. On Saturday, February 17, 1739, he made the decision to take to the open air and preach to a group of colliers in Kingswood, a coal-mining district on the outskirts of Bristol. These men with their families lived in squalor and utter degradation, squandering their lives in drink and violence. With no church nearby, they were quite ignorant of Christianity and its leading tenets. It was a key turning-point in not only his life but also in the history of the Church. From this point on Whitefield would relish and delight in his calling as an open-air preacher. He would preach in fields and foundries, in ships, cemeteries, and pubs, atop horses and even coffins, from stone walls and balconies, staircases and windmills. For instance, referring to his calling in a letter dated December 14, 1768, he wrote, "I love the open bracing air." And the following year he could state: "It is good to go into the high-ways and hedges. Field-preaching, field-preaching for ever!"
Whitefield never confined his witnessing about Christ to preaching occasions. He took every opportunity to share his faith. "God forbid," he once remarked, "I should travel with anybody a quarter of an hour without speaking of Christ to them." On another occasion, during his sixth preaching tour of America, he happened to stay with a wealthy, though worldly, family in Southold on Long Island. The family discovered after the evangelist had left their home that he had written with a diamond ring on one of the windowpanes in the bedroom where he had slept, "One thing is needful"!
At that first open-air service in February of 1739 there were 200. Within six weeks or so, Whitefield was preaching numerous times a week to crowds sometimes numbering in the thousands! Whitefield's description of his ministry at this time is a classic one. To visualize the scene at the Kingswood collieries, we need to picture the green countryside, the piles of coal, the squalid huts, and the deep semi-circle of unwashed faces as we read his words:  
Having no righteousness of their own to renounce, they were glad to hear of a Jesus who was a friend of publicans, and came not to call the righteous, but sinners to repentance. The first discovery of their being affected was to see the white gutters made by their tears which plentifully fell down their black cheeks, as they came out of their coal pits. Hundreds and hundreds of them were soon brought under deep convictions, which, as the event proved, happily ended in a sound and thorough conversion. The change was visible to all, though numbers chose to impute it to anything, rather than the finger of God.
Here is another description from this same period of time, when others besides the miners of Bristol were flocking to hear Whitefield preach:
As…I had just begun to be an extempore preacher, it often occasioned many inward conflicts. Sometimes, when twenty thousand people were before me, I had not, in my own apprehension, a word to say either to God or them. But I never was totally deserted, and frequently…so assisted, that I knew by happy experience what our Lord meant by saying, "Out of his belly shall flow rivers of living water" [John 7:38]. The open firmament above me, the prospect of the adjacent fields, with the sight of thousands and thousands, some in coaches, some on horseback, and some in the trees, and at times all affected and drenched in tears together, to which sometimes was added the solemnity of the approaching evening, was almost too much for, and quite overcame me.
Revival and Whitefield's Ministry
Revival had come to England! And to that revival, and its confluent streams in Wales, Scotland, and North America no man contributed more than Whitefield. Over the 34 years between his conversion and death in 1770 in Newburyport, Massachusetts, Dallimore calculated that he preached around 18,000 sermons. Moreover, many of his sermons were delivered to massive congregations that numbered 10,000 or so, some to audiences possibly as large as 15,000.
In addition to his preaching throughout the length and breadth of England, he regularly itinerated throughout Wales, visited Ireland twice, and journeyed fourteen times to Scotland. He crossed the Atlantic thirteen times, stopping once in Bermuda for eleven weeks, and preached in virtually every major town on the Atlantic seaboard. What is so remarkable about all of this is Whitefield lived at a time when travel to a town but twenty miles away was a significant undertaking.
In journeying to Scotland and to America he was going to what many perceived as the fringes of transatlantic British society and culture. And yet some of God's richest blessings on his ministry was in these very regions. For example, Harry Stout, commenting on Whitefield's impact on America, writes:
So pervasive was Whitefield's impact in America that he can justly be styled America's first cultural hero. Before Whitefield, there was no unifying intercolonial person or event. Indeed, before Whitefield, it is doubtful any name other than royalty was known equally from Boston to Charleston. But by 1750 virtually every American loved and admired Whitefield and saw him as their champion.
Whitefield's ministry—insisting, as it did, on the vital necessity of conversion and the work of the Holy Spirit in the heart—was not without its critics, many of whom castigated him for what they regarded as fanaticism. And it needs to be admitted that in his early ministry Whitefield did make some unguarded statements and adopted certain attitudes that helped fuel this opposition. On his second preaching tour of America, for instance, Whitefield appears to have maintained that assurance belonged to the essence of saving faith and that a mature Christian could discern the marks of conversion in another individual. To his credit, Whitefield would later admit his injudiciousness and that he had been far "too rash and hasty" in his speech and published writings. "Wild-fire has been mixed with it," he wrote in 1748, "and I find that I frequently wrote and spoke in my own spirit, when I thought I was writing and speaking by the assistance of the Spirit of God." 
A Word of Application
In the early years of the revival Whitefield's itinerant, open-air preaching was often paraded as evidence of his "enthusiasm," or fanaticism. Part of Whitefield's response to this criticism was to go back to the example of the Apostle Paul as found in the Book of Acts. "Was he not filled," he asked his opponents, "with a holy restless impatience and insatiable thirst of travelling, and undertaking dangerous voyages for the conversion of infidels…?" Here Whitefield lays before us the spiritual passion that spurred his own incessant travelling over land and sea—and needs to grip our churches as well—the focused longing to see the lost embrace Christ as Lord and Saviour and find their deepest spiritual thirst and hunger satisfied in Christ.
—Dr. Michael Haykin is Professor of Church History & Biblical Spirituality, and Director of The Andrew Fuller Center for Baptist Studies at The Southern Baptist Theological Seminary, Louisville, Kentucky.