The Bridge Builder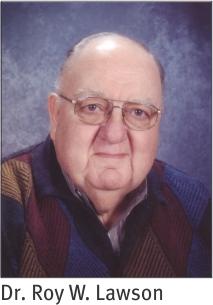 Roy W. Lawson
1932-2014
Roy Lawson once said that life is made up of appointments, not accidents. One of his divine appointments took place in 1932 when Roy and Elsie Lawson adopted a baby boy from an orphanage in Toronto. As a child of the manse, Roy Wilfred Lawson spent his youth growing up in a series of communities throughout Ontario where his father pastored. While the Lawsons were ministering in Cobalt, Ontario, Roy accepted Christ as his Saviour. But it was not until later, as a teenager at Muskoka Bible Conference (MBC), that this "one man wrecking crew" had another appointment with God and surrendered his life to the Lord.
From that time onward, Dr. Roy never looked back. Following graduation from London Bible Institute, Roy began ministry as a youth pastor in Toronto. He married his Bible college sweetheart, Joan, in June 1955 after taking on a full time position in a four church circuit in Grey County. Roy did not forget his own rebellious youth. One of the trademarks of his ministry is seen in this quote from A Glorious Fellowship of Churches,  as this first pastoral experience is described: "… not surprisingly, he developed a vibrant youth work."_
In 1972, after serving in several Baptist churches in Ontario and working with FBYPA (The Fellowship Baptist Young People's Association), Roy was invited to become the National Director of that agency. During this period he initiated the SWIFT (Summer Workers In Fellowship Thrust), which gave young people the opportunity to experience missions firsthand both at home and abroad. His keen interest in missions extended even beyond The Fellowship through his participation as Canadian Chairman of A.B.W.E and as an advisory board member of other mission agencies.
In 1977 Roy became the General Secretary of the Fellowship of Evangelical Baptist Churches in Canada. As General Secretary, Roy gave faithful and excellent service to the churches and pastors of the Fellowship movement. His wisdom, passion and compassion were noteworthy as he travelled among the churches, often dealing with churches in crisis. He skillfully guided The Fellowship through significant change during his tenure.
At the age of 60 Roy left the position with the Fellowship and returned to MBC as Director to shepherd it through some difficult times and to continue to invest in youth who needed a divine appointment with God as he had once needed himself.  At 67 Roy left MBC to work with churches in crisis, a task he was both familiar with, and skilled at doing.
After that assignment, Dr. Roy and Joan "retired" to Sarnia where Roy served first as interim pastor and then associate pastor at Temple Baptist Church, as well as wise mentor to the church's senior pastor.  In 2009, the Lawsons finally REALLY retired.
Roy Lawson will be remembered for many things: as an encourager, a listener, a leader's leader; as insightful, loyal, witty, inspirational; as a bridge-builder. Heaven is now sweeter for his presence.