Operation Kick Start in Review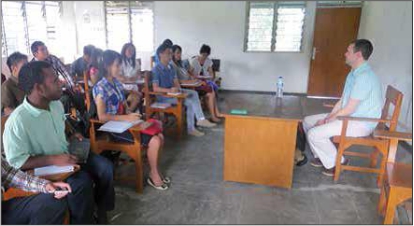 Yearly Canada-wide projects have had a long history in the Fellowship. They represent a partnership between Canadian churches and fellow believers overseas in countries where our Fellowship International staff are serving the Lord. Itís important for you to know what happened to the funds you so faithfully gave in your desire to have hands-on ministry in places you may never have the opportunity to visit.
In 2011 Operation Kick Start was launched in order to raise funds to help twelve church plants get off the ground.† One of those church plants was really more of a church-planting idea out of a seminary on the island of Sulawesi, Indonesia.† Fellowship International missionaries Edwin and Helmi Karwur had been serving at Indonesian Theological Seminary for seven years and had a vision to see seminary students and established churches work together to plant many more churches in the under-serviced area of North Sulawesi and beyond.
At the end of 2011 funds from this successful national fundraising project reached Indonesia and helped to launch four new churches.† In February 2014, I visited Edwin and Helmi in Manado and had the opportunity to connect with two of these churches.
I first visited pastor Jerry and his wife Daisy who had planted a church in Bitung, a city on the northern coast of Sulawesi.† They started this church plant in September of 2010 and as they have reached out with the Gospel, the church has grown slowly, but steadily.† The church still meets in their home, but they have purchased a piece of land with some of the funds from the project. The remaining funds have been designated to start construction on the building.† Jerry and Daisy have already begun to develop relationships with neighbours, predominantly Muslim, around the property.†
My second visit brought me to the outskirts of Manado to a developing area called Aer Trang.† The church being planted in this sprawling new region is pastored by Hebry, a graduate from the seminary.† Along with his wife, Dita, and their son, Hudson, Hebry is joined in this plant by Oral and Evie.† The church meets outside Oralís home each Sunday.† This is just the beginning. The Gospel is making break through in the community as evidenced by the over 30 youth/young adults who gather together every Friday and Saturday night.† This group is comprised of students from both nominal Christian and Muslim families.† †A number of those coming out have come to Christ and are being discipled.† With help from Operation Kick Start, this church plant is being established as a lighthouse in Aer Trang.† The church has most recently purchased a piece of land with project funds and will hopefully start building this year.
Edwin and Helmi, as well as the pastors and families involved in these church plants in Indonesia, have been encouraged and blessed by the contributions of our Fellowship churches through Operation Kick Start.† Please pray for the Karwurs and these church plants as they continue to reach out in this country where the light of the Gospel has yet to truly break through.
óChris Middleton is STM Connexion Coordinator with Fellowship International and Coordinator of Heritageís SERVE.experience.