Loving Our Neighbour
The Everyday Co-Mission
W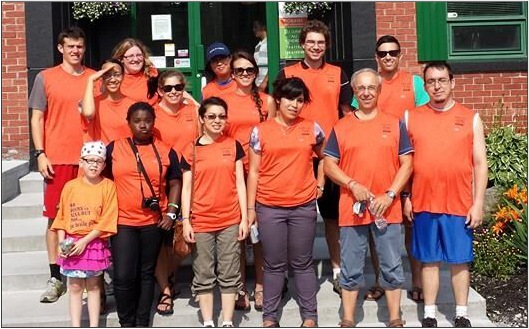 hen Jesus, the second person of the Godhead, came to earth, He came in the form of a servant. He served us through His life, death, and resurrection, which made possible an eternal relationship with the Father. Servanthood most reflects who God is. In a similar way, it is when we serve others that we most reflect the character of our Heavenly Father.1
Many of our francophone churches are struggling to connect to our rapidly secularizing culture in a meaningful and productive way. Those who have a passion to have an impact on their world are not sitting idly watching the train go by, but are making an effort to reconnect their members with the communities around them. I have often said that congregations naturally turn inward and then need to be led out. We as church leaders need to set the pace and the direction. We need to intentionally, yet graciously, challenge each other to move out of our comfort zones and back out into the community around us. 
We, as the church, are realizing that we need to see people as more than a means to an end, more than a target for our witness. Those of us who have been around for a while are encouraged by our younger generation who are living out kingdom values before a watching world, building authentic relationships, and "letting witness grow out of life together."2
Early in June at our regional convention, we presented to our messengers the vision that will propel us forward toward the year 2020:  twenty Antioch churches, (healthy missional training centres willing to multiply), who are engaged in planting 30 new congregations with the help of 200 partners, both within the region and from across Canada. In the spirit of equal sacrifice, we are challenging our churches to either become Antioch churches or partner with a church that is. We are

challenging English churches to partner with us to see this vision become reality. We are grateful to God for the almost 100 partners from across Canada who, in light of this challenging vision, have formally committed to working with specific church planting projects, Antioch churches, or regional projects.
This past summer several partner churches sent teams to assist plants to reach out to their communities. One partner sent a team to help Axe21, Sherbrooke, to meet the needs of those who need to move on July 1st but do not have the means to do so. This is a recurrent need in the community and Axe21 is being helped by their partner church to meet it. Several partners sent teams to the Plessisville and LaSalle church plants, to be involved in a soccer camp, as well as in a unique community initiative called "J'aime mon voisin3 (JMV)" or "I love my neighbour." This ministry started in Plessisville, QC, back in 2011. In 2014, three more churches began their own JMV project in their communities. This summer ten churches were involved in JMV across the province. My church in Terrebonne-Mascouche participated in the project this summer. Our municipal council voted to back it and put it on the official calendar of activities in our municipality.
Project JMV consists in "freely and concretely loving our neighbours by helping one another." In order to attract the greatest participation from the community, the project, although initiated and resourced by the church, does not directly affiliate itself with the church. Increasingly popular since its inception in 2011, the project in Plessisville has been extended from two to three weeks. Persons or organizations with particular needs sign up on the website. The local press, either radio or newspaper, encourages volunteers to get involved. Although the tasks performed are physical, the goal is to impact lives. In 2014, around 50 volunteers, including the mayor, helped 30 families and two charitable organizations.
Although the impact in the community is palpable, the goal of the church leaders is to help members develop compassion for their neighbours as well as a servant attitude. The genius of JMV is the invitation extended by the church members to the community to join them in doing deeds of kindness for their neighbours. One of the objectives of the Christian volunteers is to have the opportunity to share Christ naturally, as the occasion presents itself, not only with the people they are serving but also with those with whom they are serving. With or without these significant spiritual conversations, relationships are being built and people in the community get to see the love of God in action.
—Terry Cuthbert is Director of Church Planting (AÉBÉQ) and Francophone Mobilizer Coordinator for Fellowship National.
1 Duane Elmer, Cross-Cultural Servanthood (Downers Grove, Ill: InterVarsity Press, 2006),  p.21
2 Ibid., p.56
3 For those who read French, consult their website: www.jaimemonvoisin.org