A Fifty Year Legacy in Colombia
In 1966, when the first Canadian missionaries, with extreme patience and facing great resistance, shared the Gospel with my parents, I was still in my mother's womb. My dad, being a classic paisa (the descriptive nickname for the people of that region of Colombia), was a traditionalist, as stubborn and proud as anyone. So it was no surprise that Don and Rachel Whiteside, the first Fellowship missionaries in Colombia, had to wait more than a year to get my dad to just open the Bible for the first time, to see for himself that all the paraphernalia attached to Roman Catholicism was far from the revelation of God and His Gospel of salvation in and through Christ. For me to look back fifty years is a privilege, since I am a direct beneficiary of these missionary efforts and one of the few Christians in Colombia who grew up in a Christian home. Now, by the grace of God, I am also a second generation pastor and missionary in my own country. To analyze the past is not easy. One tends to forget some things and highlight others depending on one's personal feelings and opinions. But our sovereign God knows everything that happened during these fifty years and how He has took us in new directions in advancing the Kingdom of God in Colombia. However, it is imperative that we look back to celebrate the greatness of our God and His holy power to save His chosen people. "Praise the Lord, my soul, and forget not all His benefits—He made known His ways to Moses, His deeds to the people of Israel."  Psalm 103:2, 7

Legacy

God's grace comes "at the right time." It is not a coincidence or an act of "luck" (as those who don't know the Lord might say). Grace comes as a "God-incidence" (events directed by God). That happened when the Fellowship sent their first missionaries to Colombia in the middle of the challenging '60s. There is no other way to explain the great impact that missionaries have had in Colombia during these fifty years unless it is seen as the sovereign Hand of God orchestrating and enabling political, economic, and social events to come together to establish and extend the work of the Fellowship in Latin America. The word "legacy" is connected to the idea of inheritance. In the beginning, Fellowship missionaries focused on reaching families in the poorest stratas of society. Building a legacy to pass down through generations requires not only enormous patience but, above all, love. I can testify to this. We were only a few families in Itagui, the first church planted in Colombia by the Fellowship. But the love we received from the missionaries was outstanding. We were witnesses to the enormous sacrifices made as these missionary families deprived themselves of country, family, and culture, and lived through the persecution suffered by the early Colombian Christians. This love was also demonstrated as these missionaries valued Colombian friendships and Colombian culture and traditions. They became "Colombians," enjoying the food, celebrations, climate, and people. But the foundation these missionaries patiently instilled in the minds and hearts of the first disciples must be highlighted as a spiritual heritage. These include:
Training in the understanding and study of the Word of God that responded to the big questions Colombians asked about salvation by works and affiliation with the Church of Rome. A great effort was made to seek methods and programs that would ensure that believers had a solid understanding of the whole Bible and the doctrines of God's grace, which led to efforts to train national pastors.
Evangelistic zeal in sharing the Word of God in other towns and neighbourhoods. It was common in those days for the missionaries to invite converted Colombian families to go with them to other villages to preach the Gospel. I remember how excited I was when Dan and Judy Chapman invited our family to visit Fredonia, a village in the middle of the coffee growing mountains in the province of Antioquia and four hours (in those days) over rough roads from Medellín. To draw the attention of the local people we Colombians sang in English! We had no idea what we were singing! In fact the only song we learned was, "If you are happy and you know it ..." accompanied by the worst pronunciation you can imagine. We had the opportunity to share our life stories and explain how God had rescued our family out of alcoholism and self-destruction to be saved through faith in Christ. As I write this I remember the public ridicule and sometimes violent persecution and stone throwing we suffered because, for many people, we had betrayed the most deeply rooted traditions of our land.
The conviction of the need to reach the unreached. Over the years, the missionaries understood they were called to plant churches in remote places where there was no Christian congregation. In the '80s this principle was foundational as efforts were redirected to meet the growing population of academics and middle class in the country. This focus has oriented church planting up to today.
Then, the drugs came.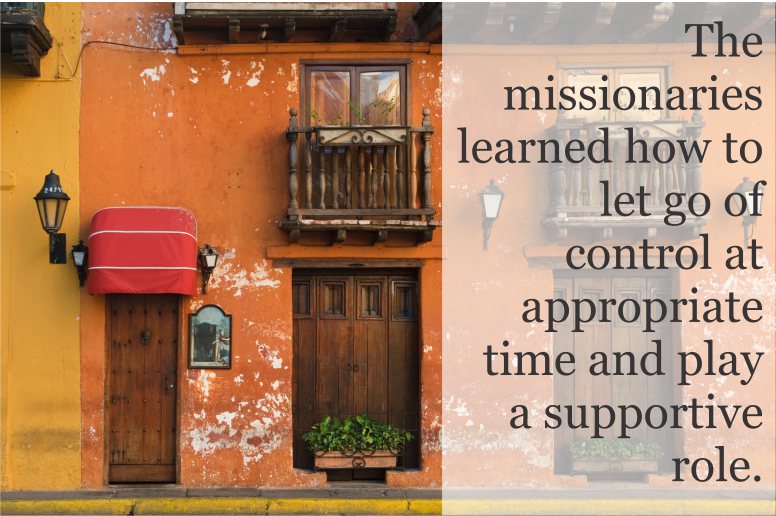 The illegal drug trade, coupled with corruption, turned this beautiful nation into hell during the '80s and '90s. This led Christian organizations to withdraw their missionary personnel. Some subsequently returned when things improved. However, Colombia, today considered the best corner of Latin America, never regained the missionary force it had enjoyed in the '70s.  In our case, the lack of missionaries fuelled a new direction. By the late '80s, our major efforts were directed to evangelizing the university, professional, and middle class, among whom there was a greater potential for leadership development and new church plants. The emergence of drug trafficking, that was certainly a great tragedy for Colombia, used by God to lay the foundations during the first twenty-five years of missionary work in Colombia, would result in a vibrant autonomous church planting movement of twenty-five churches. In fact, the seven El Redil congregations have created a model for church planting. The Fellowship in Colombia today has only one missionary unit on the field (my wife and I), but God is opening new ways of partnering with Canadians to plant new churches, train leadership, engage in efforts to bring about social justice, and missions.


Receiving missionaries to sending missionaries

Missionary work is never done. We should not think that the work is completed in Colombia just because there are fewer missionaries. Fellowship International's goal is to bring national pastors and workers to a level where they become our partners in fulfilling the Great Commission. To this end our contribution in church planting, theological education, and social justice over these past four years has been directed toward helping Colombian churches mature in their missionary commitment. Our Fellowship supports five Baptist churches in Colombia that have taken on the challenge of reaching several indigenous groups. These churches invest financial resources, send short-term mission teams, and constantly pray for these unreached peoples. Colombia has more than 70 indigenous groups living in remote regions of the country. Most of them do not have the complete Bible translated into their native language.

As well, we have identified unreached urban populations, as is the case of the deaf. There are more than 25,000 deaf people in the province of Antioquia alone. The El Redil Estadio church is taking this group on as its missionary focus. During the past year there have been various activities to reach the deaf in our community through acts of love and service and through the preaching of the Word. There are challenges, such as the need to simultaneously translate Sunday services. There are dreams, such as having their own meeting place where they can serve the deaf population not only with the Gospel, but with a whole psychological and social support network for a community vulnerable to abuse and rejection. But our missionary commitment does not stop there. We dream of supporting Fellowship efforts undertaken in other parts of the world, such as in western Spain where the Fellowship has begun the work of evangelization and church planting.

The Great Commission is a cycle of planting and harvesting. The first twenty-five years of missionary work in Colombia were planting, sometimes just learning to sow! The following twenty-five years have been reaping what is sown and in some cases learning to reap what God has grown by grace. We are challenged to be united together humbly witnessing God's work in Colombia, and from Colombia, as we mobilize the Colombian church and its leaders towards the challenges of church planting, social justice, and missions.

"LORD, I have heard of your fame; I stand in awe of your deeds, LORD. Repeat them in our day, in our time make them known; in wrath remember mercy."  Habakkuk 3:2


—Diego Cardona, along with his wife, Claudia, have served in Colombia as associate missionaries with Fellowship International since 1998.