New Fellowship International Associate Director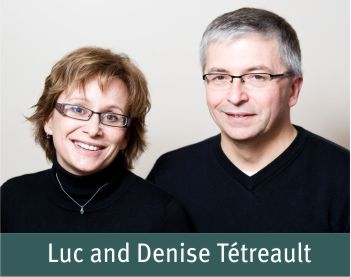 Luc was born into a close-knit, Catholic, Franco-Ontarian family, the eldest of three brothers. His grandfather's example as a man of the Word provided the foundation for Luc's conversion in 1979. It was his friend, Denise, who shared the Gospel with him and shattered his idea that a heavier percentage of good works over bad, would pave his way to Heaven. In 1982, he and Denise were married.
They are founding members of Bon Berger Church in Orléans, Ontario. In 1983, Luc became a member of the church council and served as primary worship leader, Sunday School teacher and eventually as lay pastor-elder.
Since 1981, Luc has been working in the area of healthcare, initially as a pathologist assistant in Ottawa but also in Kosovo and Bosnia with the United Nations, assisting with the investigation of war crimes and training local professionals in forensic medicine. From 2003 to 2013, he held several healthcare leadership positions in the Ottawa region.
In 2009 he felt God calling him to serve in a different capacity. It was then that he was introduced to the challenge of Pakistan and the ministry of Shikarpur Christian Hospital (SCH).
Denise grew up in Chelmsford, near Sudbury, Ontario, the eighth of nine children. She was raised in a devout Catholic home. During her first year at the University of Ottawa she was exposed to the Bible for the first time, and in 1979 was led to the Lord by a Christian girlfriend.
Luc and Denise have been serving at Shikarpur Christian Hospital since 2013, where Luc was Chief Executive Officer.
As of July 1, 2016, Luc will become Associate Director of Fellowship International.