Celebrating God's Work in Quebec

The Association des Églises Baptistes Évangélique au Québec (AÉBÉQ) ministers to Québec (population 8,000,000) and francophone Ontario (population 535,000). French Canadians represent 23% of all Canadians. Eighty-five percent live in Québec. Only 0.6% of French Canadians (Approximately 55,000) attend an evangelical church.
The total attendance in AÉBÉQ Churches is 8,000. Clearly, the mission is enormous. AÉBÉQ has a variety of ministries to accomplish this great mission:
FLAMME: Women's ministry
Hommes En Marche: Men's ministry
PAX: Street ministry led by Duane and Miriam Mansveld • JBEQ: Youth evangelism ministry
OASIS: Muslim ministry
SEMBEQ: Séminaire Baptiste Évangélique au Québec (leadership development)
Church Planting ministry (Terry Cuthbert)
Church Growth (Michel Habib)
AÉBÉQ has been in existence for 39 years and represents 85 Churches (1 in New Brunswick and 2 in Ontario). Most of the churches have an attendance of 100 or less. But since 2003, they have planted 16 new churches. Also since 2003, SEMBEQ has had 7 cohorts and trained more than 70 new leaders.
Celebrating God's Work
The AÉBÉQ team is excited about what God is doing in their Region right now. The leadership development strategies through SEMBEQ have already produced around 15 new pastors. In the last year, the Region planted two new churches, and they have three other projects in the works. They have begun to decentralize their ministry toward churches by hiring part time regional coordinators in 3 regions.
Another exciting development is the partnership between JBEQ and Fellowship International for the beginning of French short-term missionary trips with Fellowship missionaries. This summer, 3 teams will minister in France, Poland and Congo.
Also this year, AÉBÉQ will be involved in the Sola Conference (November 17 to 19) with John MacArthur, Kevin Deyoung, David Platt, Daniel Mattioli, Matthieu Giguère and Daniel Henderson. The theme of this conference will be developing relevant and strategic biblical thinking in order to enjoy the transformation of lives, churches and their province.
Acknowledging the Challenges
The greatest challenge for the year ahead is to keep up the momentum with leadership training through SEMBEQ and church planting. They want to be sure to have clear communication of their vision and develop their structure for future growth. Healthy churches and healthy youth ministries also bring great challenges, and to meet the demands of ministry, financial support is a must.
Please pray for AÉBÉQ
Partner with AÉBÉQ by praying for:
• Many conversions of French Canadians.
• New churches (3 per year).
• 10 new pastors per year.
• Wisdom for AÉBÉQ's leaders.
• The Sola Conference in November (2011).
About Gilles Lapierre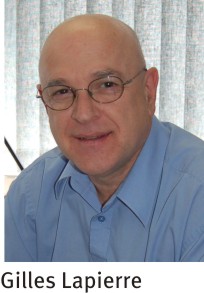 Gilles Lapierre was born in 1952 and saved by God's grace in 1972. He married Irene in 1974. Irene and Gilles moved to Chibougameau, where they helped to plant a Baptist Church. For 9 years, Gilles worked as head nurse at Chibougameau Hospital and in a local health service centre.
Gilles began full time pastoral ministry in 1983. During the following 7 years, he completed his theological Bachelor degree with SEMBEQ. In 1993, the Lapierres moved to Montreal to serve at Église Évangélique Baptiste Agapé. In November 2002, Gilles began to work with SEMBEQ and the Fellowship French Mission as coordinator of coaching and training.
Since January 2009, Gilles has served as Regional director of AÉBÉQ. Gilles and Irene have two boys and two girls and fifteen grandchildren. All four children are married and faithfully walking with the Lord. Their two boys are full-time pastors in churches in Québec (Trois-Rivières and Alma).