Refugee Sponsorship Update
Our God is a missionary God. He came to Earth in humble human form to speak to us on our terms, in
our way, to do what we couldn't do for ourselves — save us. For many of us the thought of searching out the lost and hurting peoples of the world to meet them where they are is unfathomable. In reality, many of us aren't called to pick up our lives and go to a different country; we're called to stay right where we already are and be missionaries to our own communities.
However, for some of our Fellowship churches, God's call to bring His love and justice to the world has meant reaching out across borders, cultures, and sometimes religion, all while never leaving their homes and loved ones. At its core, refugee sponsorship means bringing these families into our communities — being the hands and feet of the Lord as He ministers to the physically and spiritually lost.
The picture of the young refugee boy washed up on the shores of Greece in September 2015 shocked me, as it did the rest of the Western world. Somehow I had forgotten that children are refugees too; urgently seeking hope and safety alongside their families. The image of that small body on the sand took the plight of millions of refugees from a whimper to a roar. It spoke to many, including myself, saying, "What are  you waiting for!? DO something!"
For the past year and a half, I've been blessed to be able to witness God moving powerfully through those churches who are reaching out to refugees. Through FAIR's partnership with Christian and Missionary  Alliance (C&MA), families from Syria, Iraq, Eritrea, Pakistan, and other nations have been matched with churches seeking to sponsor. The enemy will sow doubt and there are indeed challenges, but I see so
much of God's goodness and grace in the relationships being built through this partnership. The need continues to be great, and it is my fervent prayer that I would see more churches reaching out to refugees
— pulling them into their communities, into their hearts, and into their homes. 
This is how the team from Calvary Baptist Church, Edmonton, describes their experience with refugee sponsorship: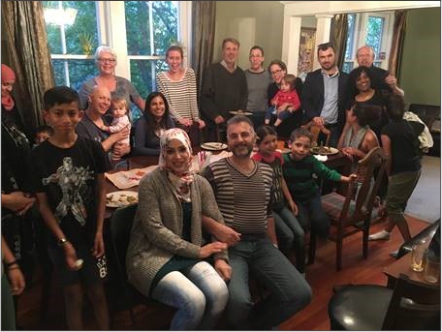 "The photo of three-year-old Aylan Kurdi laying lifeless on the shore was disturbing. It disturbed enough of us at Calvary Baptist Church, Edmonton, to gather 36 like-minded people to see what we could do to sponsor a Syrian refugee family. It was unprecedented, and we were faced with counting the costs of money, time, and emotional commitment. It took about nine months to receive our family: Ali and Majidah, along with their three school-aged boys. We struggle through language (thank goodness for Google Translate and smart phones), but when you don't have words, you still have actions, gestures, and smiles... and you have time — unhurried, welcoming time. They are not our project, they are our adopted family and we are growing in friendship. I'm not sure where this ends, but we're delighted to share our lives in Christ as practically as we are able." 
— Dan Shurr is Director of FAIR (Fellowship Aid and International Relief).