Which "Mission" of God: Exploring Canadian Evangelicals' understanding of Mission
In his book, The Mission of God: Unlocking the Bible's Grand Narrative, Chris Wright argues that God's mission is at the very center of any biblical understanding of the church.
"Mission is not ours; mission is God's. Certainly, the mission of God is the prior reality out of which flows any mission that we get involved in. Or, as has been nicely put, it is not so much the case that God has a mission for His church in the world but that God has a church for His mission in the world. Mission was not made for the church; the church was made for mission—God's mission."
Most Canadian Evangelicals would agree on the centrality to the church of the mission of God, but the diverse use of the word "mission", "missions", or "missional" might understandably leave an observer wondering to which "mission" of God they are committed.
The Evangelical Fellowship of Canada, in partnership with the Canadian Missions Research Forum (made up of mission sending agencies and denominations across Canada) has just completed a two-year research project looking at how Canadian Evangelicals and their churches engage with missions. The Canadian Evangelical Mission Engagement Study (CEMES) is the largest survey ever done of Evangelicals in Canada, with responses from 2,000 lay Evangelicals, and 1,400 Evangelical pastors. The survey was supported by two rounds of interviews, which were used to form and test the survey questions. The strong response to the study, particularly from pastors, is an encouraging sign that Canadian Evangelicals remain engaged with mission, but the study also raised some questions for further discussion.
Both lay and pastor respondents expressed an interest in mission that included a strong engagement with Canada as well as overseas. While 80% of churches indicated that their missions budget included long-term missionaries, 75% of those churches' budgets also included some engagement with mission in Canada, including some of those long-term missionaries. Anecdotally, some of the interview respondents expressed a concern for "balance" in mission focus on "overseas" and "local" mission, although there was quite a bit of diversity about what that balance should be. Canadian Evangelicals clearly have a concern for mission on our doorstep, but at the same time, 82% of lay respondents strongly or moderately disagreed with the statement that, "The world has come to us; there is no need to send missionaries outside of Canada."
Short-term missions is still considered a high priority for Canadian Evangelicals with 79% of lay respondents and 85% of pastors strongly or moderately agreeing with the statement that, "All Christians should have an opportunity to go on a short-term mission trip." The majority (51%) of short-term mission trips are either in Canada or within North America, and last less than two weeks. The study showed that the primary motivation for these trips is not the needs in the context being visited, with 64% of pastors and just under 50% of lay people agreeing with the statement, "The spiritual growth of short-term team members is the primary purpose of short-term mission trips." While it is encouraging to see this strong emphasis on spiritual growth, the study underlined the importance of good orientation and training for short-term teams, to ensure that these teams also are a blessing to the context they visit. This is one of a number of areas where the survey suggested the importance of meaningful partnership between the church and traditional mission agencies.
Canadian Evangelicals believe strongly in the role of the local church in mission with 85% of pastors and 63% of lay people strongly or moderately agreeing with the statement, "The local church has the primary responsibility for obeying the Great Commission, not mission agencies or denominations." At the same time, 76% of pastors and 50% of lay people strongly or moderately agreed that, "Mission agencies or denominations are better equipped to care for and supervise missionaries than local churches." (In both those questions, over 15% of lay people indicated they didn'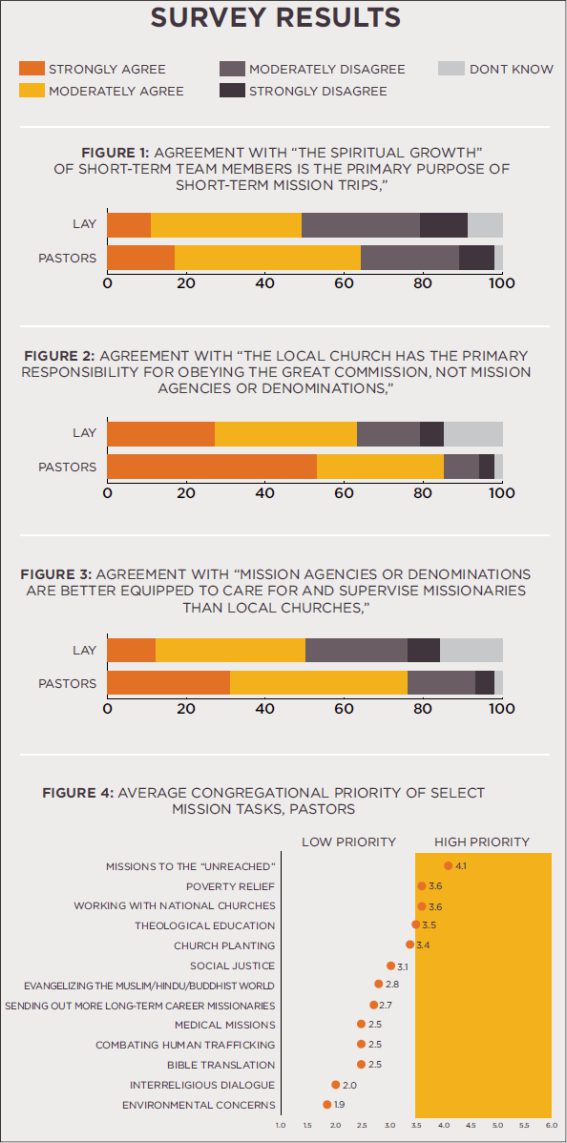 t know the answer.) While most Canadian Evangelicals see mission as the responsibility of the local church, they also see a meaningful and significant role for mission agencies and denominations. More work needs to be done rethinking and strengthening these partnerships.
One of the survey questions asked pastors to indicate the priority for their congregation, of a list of "mission tasks". Respondents selected "mission to the 'unreached' as the highest priority, with "poverty relief" and "working with national church" as second and third priority. The response to this question generated some discussion amongst mission agency leaders about Canadian Evangelical pastors' definition of "unreached", particularly since "evangelizing the Muslim / Hindu / Buddhist world", "sending out more long-term career missionaries," and "bible translation" were seventh, eighth, and eleventh priority respectively. Those mission tasks have usually been closely associated with reaching the "unreached."
So how do Canadian Evangelicals understand the mission of God? The survey asked respondents to write their definition of mission, and there were nearly 1,000 responses to this free text question. Some respondents wrote paragraphs on this question. EFC's Rick Hiemstra, the lead researcher on the project commented, "There are divergent views among Evangelicals about what missions are that extends to the language used (missions, mission or missional), to geography (international, domestic or both), to mission activities ("classic missions" or other activities)." One thing that the survey did show though was that regular church attendance and Bible reading were significant indicators of greater mission engagement. Whatever your definition of mission, spending time in God's Word and with His people will probably mean you end up more engaged in His mission.
If you would like more information on the CEME study, four of five planned reports can be found on the Evanglical Fellowship of Canada's website.
Canadian Evangelicals and Short-Term Missions
Canadian Evangelicals and Long-Term, Career Missions: Calling, Sending and Training
Canadian Evangelicals and Mission Priorities
Canadian Evangelicals and Missions Promotion in the Local Church
A fifth and final report on missions definitions is forthcoming. Following the publication of the final report, anonymized datasets will be made available to Canadian Christian higher education institutions for further research.
— Jon Fuller is the National Director of OMF Canada and is a member of Melrose Baptist Church, Toronto. He will be hosting a workshop on this subject at Fellowship National Conference 2017 in November.
Save