In Jesus' Name—The Realities of Political-Correctness in the Marketplace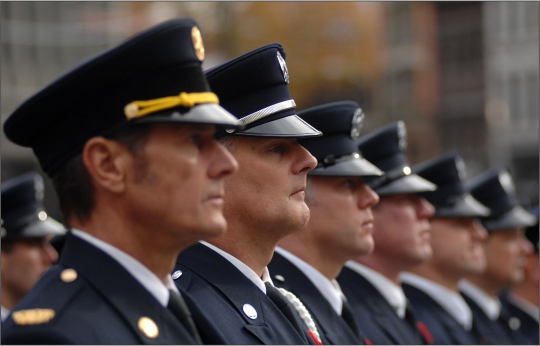 FIRST RESPONDERS
The expectation of political-correctness is alive and well in law enforcement, just like most public organizations today. We are required to abide by its rules and taboos. However, as a law enforcement chaplain I want the officers to feel at ease when I'm in their presence. This means being able to deal with political "un-correctness" at times. As representatives of Christ in our environments, when any officer feels truly comfortable with a chaplain, it demonstrates to them that God is accessible, caring, and understands their unique situations. Relationship-building that leads to disciples of Jesus is our ultimate goal — dealing with the confines of political-correctness is simply an unavoidable part of our ministry environment!
— Garry Francis is a Fellowship Chaplain serving with the Toronto Police Service.
AIRPORT
"Do not be overcome by evil, but overcome evil with good." Romans 12:21
Political-correctness comes in many shapes and sizes. Whether as an objection to a piece of Christian literature or an attempt to stifle the mention of the name "Jesus Christ," this insidious intruder has managed to weave its way into the fabric of our society. Yet in my role as an evangelical airport chaplain, I've discovered that the secret to overcoming such an obstacle lies in building meaningful relationships through Christ-like love, compassion, and care. What's more, such an approach has led to incredible opportunities for ministry within the airport community — whether officiating a wedding, counselling a troubled soul, or sharing the Gospel with the lost!
— Peter King is a Fellowship Chaplain serving Senior Chaplain at the Pearson International Airport in Toronto, ON.
MILITARY
The Canadian Military is not the only unique area where chaplains receive invitation to serve — other sectors of Government service may call as well. One such opportunity I received was to bring "compassion fatigue" counsel and encouragement to a staff office of the Parole Board of Canada. What a great challenge it was to bring a mixture of Biblical truths without speaking "Biblish" or spiritual language. By the end of a half-day session many of those present requested copies of my notes. Mission accomplished!
— Jim Drennan is a Fellowship Chaplain serving with the Veterans' Affairs Canada Pastoral Outreach Program in Cornwall, ON.