Quick Build: Ten Years in the Making
A

n excited group of people — those closely involved, curious onlookers, and community supporters — gathered at an empty piece of land in Madoc, Ontario on a perfect sunny April 29th as local MPP Todd Smith and the Municipality Mayor Tom Deline shoveled the first bit of dirt from the ground and the project was officially declared underway.
Folks came from as far away as St. Catherines and Simcoe. Fellowship Baptist Pastors from Napanee, Belleville, and Trenton were joined by those from Methodist and Pentecostal churches in Campbellford and Madoc. Local press were there to cover this unusual story. A catered dinner fed their bodies, while music from "My Journey Calls", a skit, "Here and Now," written and directed by member Lisa McEwen and performed by the church youth, Scripture and prayer filled their souls.
"I had my doubts at first if we'd ever build. Years ago we owned a piece of property to build on but had to sell to keep our small congregation going. Now it has actually materialized. I'm so excited!" Jean Scott (longest serving member — since 1970)
Madoc Baptist Church (congregation just over 100), located in this small community (pop. 1,350) north of Belleville, Ontario, was celebrating the unfolding of a God-given dream and the faithfulness of God.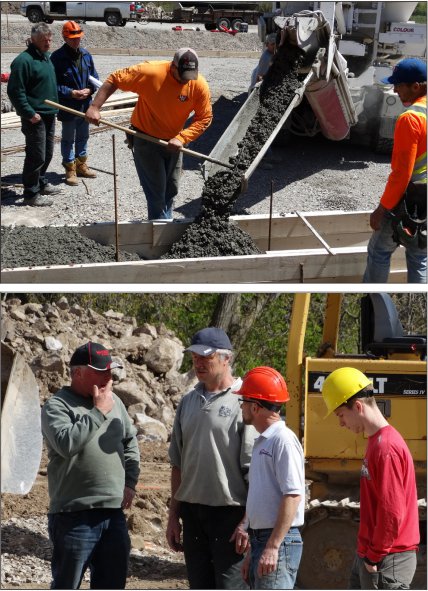 "I'm totally amazed at how people from our community and surrounding churches are affected by our church building project. My brother who hasn't served in church for ten years, told me after our sod-turning ceremony and celebration, he was going to start volunteering in his church. A local pastor, who was really discouraged, attended our ground-breaking program and left fired up. He asked me to come to his church and share what God is doing in our church. A lady said, 'I don't know what it is you have in your Baptist churches but I just love the spirit, the preaching, music and friendliness.'" Terry Stinchcombe (Building Committee member in charge of finances)
The church began in 1962 and met in the Orange Hall, then in the Town Hall. In 1983 God enabled them to buy a small church building. As the congregation grew, a piece of property was purchased in 2008. They sold the outgrown church building in early 2010. Since then they meet in the high school.
The congregation prayed, planned, and raised money for their dream project: a ministry centre in the heart of their community — a visible presence of Christ's love in action as we use our building to make His love known in our community.
"This year everything began to come together almost effortlessly as if God was saying, 'Now is the time to build. Are you ready? Everything might not be in place right now but I will provide, all you have to do is trust and obey.' That's exactly what we've been seeking to do by God's grace. He has provided far and above what we could have ever asked or imagined!" Pastor Harry Toews
When Pastor Harry arrived in 2013, he told the Building Committee about a 1993 "Quick Build" project at Fairway Baptist Church, Woodstock while he was Pastor there. The program provided an opportunity for churches who didn't have their own building to have one built over a two-week period with volunteer labour from the Fellowship.
Claire Miller, an experienced Fellowship "Quick Build" worker (a young 90-year old) and Mark Hicks, the church architect, has enthusiastically supported the Madoc project.
"God's timing is perfect. I looked in my briefcase one day and saw a set of plans I'd never seen
before. Those plans turned out to be the perfect plans for our church." Andy Logan (Steering Committee chairperson since the beginning of the process, 10 years ago)
"We've been completely amazed at the impact this is having on our community and the surrounding area. People are shocked that a congregation is building when so many church buildings are closing. It's been a real witness for the Lord. It's also brought our church together—the whole camaraderie of working together, enjoying fellowship with one another and sharpening one another in our walk with Christ." Ron Lott (building contractor, member of the construction committee, 25-year church member)
A small rural church. Financially challenging times. A dream aligned with God's Heart. Nothing is impossible for our awesome God!
http://www.madocbaptistchurch.org
Save
Save