Kolkata Hope Rising in the Slums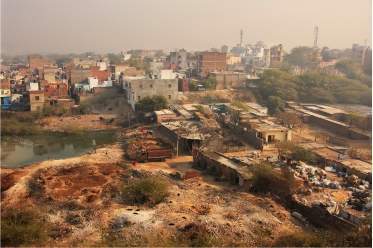 Over one million people live in the slums of Kolkata, with 4.6 million in core population.
While Lorraine Chen's husband, Jack, was serving as Senior Pastor at the historic Carey Baptist Church, Lorraine's heart was breaking after seeing the way many of these slum-dwellers — especially the children—eked out a meager living on the streets of Kolkata.
These kids live in their ramshackle hutments, usually a 10 x 14 foot "room" bereft of electricity, running water, and toilets. Baths are usually taken, fully clothed, on the street beside a faucet that will run city water for an hour twice a day. To use the toilet, they will need to pay the equivalent of five to ten cents to use a "pay and use" facility about 300 feet from where they live… every time. Many of these families earn less than two dollars a day in wages!
In November 2016 Lorraine launched the Kolkata Hope Rising in the Slums project (KHRIS), which began sponsoring 10 needy and wonderful girls from the streets of Kolkata. The sponsorships would help them to complete their high school studies and go on to College, with the ultimate goal of landing good jobs that would empower them to move their families from slums of Kolkata.
The goal of KHRIS is to enable these girls to complete their Grade 10 exams. Considering the vast hurdles they face, this is quite a challenge. Imagine, if you can, sitting at the doorway of their hutment to study in the light of the street lamp while the constant noise of traffic and pedestrians — which can be likened to the sound of baseball fans pouring out of the Rogers Center after a Blue Jays game —flows over them. In summer this would be in stifling 35 degree temperatures and often 94% humidity, and all the while there are flies and mosquitoes buzzing. Yet in the midst of this, they complete their school homework, housework, and then study for their exams! Add to this the need for extra tutorial help, as most have parents who are illiterate. The recent results reflect the effects these challenges have had on our girls. Of the four girls who appeared in their Grade 10 exams this year, only one passed while the other three have to redo a couple of subjects each. Nisha and Puja, who are in their second and third year of College, have also had their share of hurdles. Puja finally passed two subjects and was able to move onto her third year. Nisha has great interest in serving the Lord and is constantly involved in on-campus evangelistic efforts organized by the Indian arm of Campus Crusade for Christ.
KHRIS helps with the girls' school fees, their extra tutors' fees and simple food rations twice a month to ensure they have some nutritious food to keep them healthy enough to not miss classes or their studies. This year's heavy monsoons have wreaked havoc with their hutments and the girls' families needed some financial help to get some sturdy tarpaulins to put over their roofs to keep the rain out.
Lorraine Chen was diagnosed with stage four kidney cancer in March of 2017 and went home to be with the Lord on September 2, 2017, but the vision and ministry of KHRIS goes forward. Her husband Jack Chen has taken over her role and will oversee this project during his trips to India to train pastors.
Our special thanks to God for His marvellous provision, our faithful sponsors who have given, and to those who continue to give on a regular basis.
— Jack Chen is a Fellowship International missionary and Pastor of Pastoral Care at Morningstar Christian Fellowship in Scarborough, ON.