SMT: Operations Manager - Serving the National Office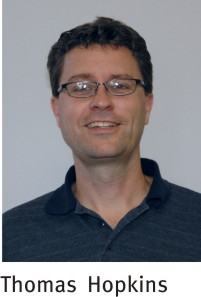 Transition is a popular word around our office these days. On the presidential front, we have been in a time of transition since April of last year. While transition can be filled with uncertainty, it can also present opportunities for positive change and advancement. I believe we have captured a number of these types of opportunities in the last fourteen months, and it has been a pleasure working alongside Ernest Kennedy, our interim president, during this time. It is with excitement that we head into the final stage of this transition as our new president Steve Jones comes to provide leadership.
My wife, Rhonda, and I have lived in Guelph for our entire married life. We have three children that add lots of fun, laughter and growing moments to our life. We worship at Calvary Baptist Church in Guelph, where I enjoy serving as a director with the Upward Sports ministry and as a member of a worship team. Rhonda serves on staff at Calvary as the Children's Ministry Director.
I have degrees from the engineering and mathematics programs at the University of Waterloo and have spent most of my career in manufacturing, beginning with engineering work and moving into operations and management. This experience has been an asset in my role as Operations Manager at The Fellowship, where I have served for the past two years. In this position, I report to the president and assist him in achieving his current priorities as prescribed by the National Council, provide leadership to the Senior Ministry Team, and work with the staff to build a unified team.
I also run key operational projects that involve one or more of the departments and monitor progress on key goals. Ultimately much of my role involves serving and coming alongside directors and staff to help them be successful, and I have the privilege of serving alongside the regional directors as part of the Fellowship Leadership Team.
The obvious exciting challenge ahead is transitioning the organization efficiently to the leadership of our new president. I have had the privilege of serving at The Fellowship with our past president, our interim president and now I am looking forward to working with Steve, the new leader the Lord has set in this role. Please pray for wisdom and discernment as we embark upon this new chapter.