In the Grip of Famine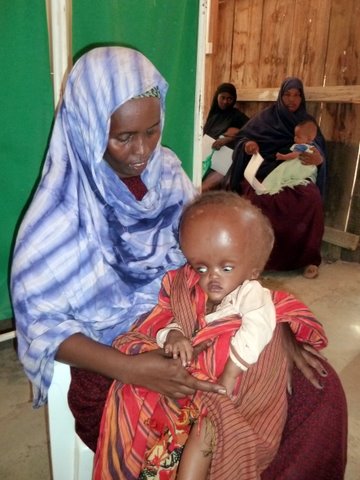 Somalia is once again in news headlines as the country spirals into a full-blown famine. Tens of thousands of Somalis have already died from starvation and dehydration due to lack of rain and failed crops. The UN reports that the last time conditions were this bad was in 1992 when hundreds of thousands of Somalis starved to death.
The difficulty lies in getting aid to those in greatest need. Militants controlling southern Somalia have severely limited the ability of Western aid organizations from providing relief to the starving and dying. In fact, many of these organizations that had been forced from the country in 2010 were only recently given the green light to return. However, few have responded because of the complications and danger posed by dealing with the militants.
With rains not expected to start falling until October at the earliest, a significant number of Somalis are literally fleeing for their lives to surrounding countries including Kenya where many settle into refugee camps like Dadaab, one of the largest refugee camps located on the border of Somalia and Kenya. This camp is currently home to an estimated 350,000 refugees with about 10,000 new arrivals each month—many of these children.
FAIR's RESPONSE

FAIR (Fellowship Agency for International Relief) is initiating a partnership with BethanyKids Hospital (http://www.bethanykids.org) to assist in a unique ministry in which they provide much needed medical attention/surgeries to children at risk. Teams from BethanyKids Hospital visit Dadaab refugee centre every other month to assess the needs of children. Neither the UN (United Nations) nor any other organization in the region have funding for these surgeries so the work done by BethanyKids Hospital provides a vital link for those children at risk. Once assessed, the UN transports the young patients and their caregiver to the Kijabe-based hospital (in Kenya) where they receive specialized pediatric surgical attention and care prior to and following surgery. Malnutrition and dehydration have weakened these young patients to the point where they usually need to remain in hospital for 2-4 weeks. BethanyKids Hospital is able to provide most surgeries for an average of $400 per child but even with this modest cost is unable to meet all of the potential present needs or those on the horizon as this crisis unfolds.
FAIR is also pursuing additional partners who are, or will be, addressing the other emergency needs of immediate food, water and shelter within Somalia or in nearby locations. These arrangements will take time to establish with the creditability and effectiveness that FAIR intentionally seeks in all its projects. Updates will be provided on The Fellowship's web site: www.fellowship.ca.
How Can I Help?
Donations towards the "Somalia Crisis" can be made by:
making an online donation—CLICK HERE to be redirected to the secure credit card section on The Fellowship's web site, or
phoning your credit card details to The Fellowship office: 519-821-4830 (ext. #259), or
mailing your donation (made payable to "FAIR" marked with a memo—"Somalia Crisis #3209") to: FAIR, P.O. Box 451, Guelph, Ontario. N1H 6K9.
Registered Charity No. 10808 2025 RR0001
"...I was sick and you looked after me, I was in prison and you came to visit me.' Then the righteous will answer him, 'Lord, ... when did we see you sick or in prison and go to visit you?' The King will reply, 'I tell you the truth, whatever you did for one of the least of these brothers of mine, you did for me.'" (Mathew 25:36,39,40)