Quebec Culture at the Lord's Service in France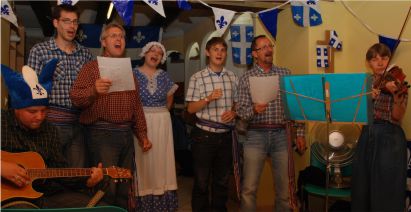 (

Left to right): Raphaël Asselin (seated), Matthieu Laberge,
Jean-Pierre Gagné, Jessica Healy, Joël et Pierre B. and Rachel,
an american missionary playing the violin.
JBEQ (Evangelical Baptist Youth in Quebec) was involved with STMConnexion (Fellowship International's short-term mission) this summer. Three "JBEQuers" along with Jean-Pierre Gagné, president of the directors' team of JBEQ-AGEEQ (the Quebec's association of evangelical students groups) went to France.
From the end of June to the end of July, this group helped several French churches in their outreach efforts. They planned their work around four projects to be carried out in the suburbs of Paris, in Provence and in the South of France. Including the coordinator, the Fellowship's missionary, Pierre and his son Joël, this team summed up to six dynamic workers.
Their main objective was to encourage on site churches by sharing the Gospel in a wide variety of ways. They used wrist bands with the five significant colors: black, red, green, white and yellow. They shared the Gospel tirelessly with various mimes, songs and hymns.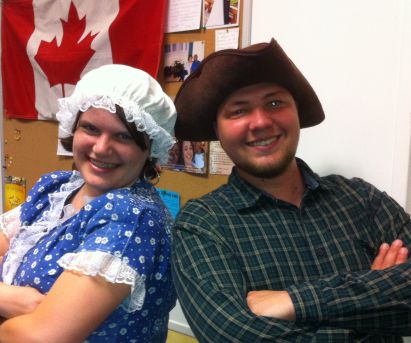 Jessica Healy and Raphaël Asselin, in period costume.
They also organised special evenings flavoured with Quebec culture, with team members dressed in folkloric costumes. They sang various well-known songs from the Quebec repertoire, using a guitar, a violin and spoons. The set-up was complete: decorations, videos on Quebec, folk dances, maple syrup tastings, a fun quiz and draws were organised. In the second half of those evenings, sketches were presented by the team, including testimonies of members followed by Bible explanations.
They had a variety of means in their field of action such as coffee bars, places where beverages were served and where people could have conversations about the Gospel. The team also went to public markets, where they invited people to these Quebec evenings. The "JBEQuers" were also at work Sunday mornings in the local church, where they conducted the worship service with some special music. They visited newcomers, talked about Jesus, shared the Gospel and did a few follow-ups.
Days were quite filled, starting at nine in the morning until midnight. The Lord fortified all the team members, renewing their energy every day.
They continued their journey to the South of France, in Provence. They arrived in a very multicultural city, and they gave help to the Oasis ministry, operating in that region. They distributed videos in an almost hostile environment. For several team members, it was a complete cultural shock. But armed with perseverance, they continued their work following the Spirit's guidance; they saw the good hand of God within their team, working in those less easy moments, under the pressure of some forms of intimidation. The team members understood that in spite of apparent scepticism, people had an open heart for the Gospel and were looking for Hope.
The country has a genuine spiritual thirst. During those three weeks, 20 persons showed a real interest toward Jesus Christ. The churches of France were very much encouraged by the JBEQ team's work. They were touched by the blessing of God. These churches needed encouragement, to help them to persevere in their collective mission to share the Gospel and to present Jesus to the French society, whether it is in Paris' suburbs or in Provence.
During the month of July, the team saw their faith and perseverance grow as they saw God at work within the various communities of France. Jean-Pierre Gagné shared with Thrive his desire to go back in that country, mobilizing teams from Quebec, since France is open to the Gospel. It is possible to help France's churches in accomplishing the Great Commission with a wide variety of means, particularly using culture and people from Quebec.