A Promise Fulfilled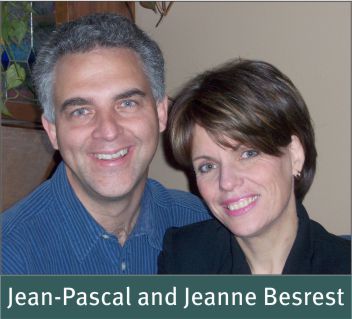 The story that I have to tell you is one of prayer, perseverance and the fulfillment of God's promises. The setting is the town of Baie-Comeau (pop. 25,000+) situated on the rugged north shore of the St. Lawrence River, some five hours northeast of Quebec City. Baie-Comeau is definitely a "working man's town," a deep-water port focused on iron ore, hydro-electricity and aluminum production. This remote town was well-known as the home of our 18th prime minister, Brian Mulroney, (The Boy from Baie-Comeau, GoodRead Biography, PB edition, 1985).
However, what's happened at Baie-Comeau in the past seven years is of far greater eternal significance than any industrial or political victory of the past. To the glory of God, we've seen a church (Église Évangélique Baptiste de Baie-Comeau) more than quadruple in attendance to the point where it is now ready to stand on its own as a fully self-supported Fellowship Baptist Church as of the end of January 2012. Praise the Lord!
It wasn't always like that. In the fall of 2004, the church had not had a resident pastor for more than four years and thought was actually being given to "closing the doors." Over the next few months, God used Cléo and Huguette Leblanc (who were facing medical challenges of their own), to step in and stabilize the work in preparation for a permanent pastor. Then, in answer to prayer, God led Jean-Pascal and Jeanne Besrest to serve as Fellowship French missionaries at Baie-Comeau in late summer 2005. The wonderful promise that God gave them as they stepped out by faith was, "You will keep him in perfect peace, whose mind is stayed on you, because he trusts in you." (Isaiah 26:3) O how God kept that promise for them, just as He will for us.
At that time, the congregation numbered about twenty, but under Jean-Pascal's pastoral leadership the work more than doubled within the next year. A strong emphasis was placed on prayer and the proclamation of the Word of God, coupled with a missionary zeal to reach Baie-Comeau and the surrounding towns with the gospel. Over the next several years the church conducted many evangelistic events, including an exciting "Evangelism Camp" under the auspices of Aujourd'hui l'Espoir, plus much door-to-door evangelism with help from teams of summer student evangelists (JBEQ). A missionary outreach was also launched to Forestville, a largely unreached town situated about 100 kilometres away. The result was that literally hundreds of people in Baie-Comeau, Forestville and elsewhere, heard the gospel for the very first time!
In 2008, the church passed a significant milestone. After having met in the basement of the English-speaking Anglican church for years, they were able to purchase their very own building in an industrial park. God used that purchase to give much greater visibility to the work. Outreach to their community then expanded through a vibrant youth ministry, coffee house and by just caring for people's needs. The church kept praying and people kept coming so that by the end of 2011 attendance was averaging close to the 100 mark each week—all to the glory of God alone!
In a recent prayer letter Jean-Pascal wrote:
"Have you ever wondered what a healthy Christian church would look like? Personally, I imagine it to be people full of enthusiasm for God, full of life and joy, thanking and praising their God whole-heartedly. I think of it also as a beehive in which there is constant activity, where the Christians are at work in various ways to take care of each other, not concerned about the time or money that is required. I see Christians leaving church meetings eager to put into practice what they have heard, and full of zeal to share their faith with others. I would also expect to see many unsaved people come to church services to hear God's message of love and hope, and experience deliverance from their sins, and healing for their bodies and souls.
"I don't pretend that our church has arrived in all of these areas, but I can tell you that I like what I see happening in our church. I would love for each of you to be with us on a Sunday morning as we worship the Lord. As you enter the building you would feel the warmth and the energy in the air. You would see joyful Christians expressing their love and gratitude to God. You would hear them telling about ways God has intervened in their lives; about answered prayer, and about witnessing to unbelievers. You would see believers serving God in many ways. You would witness a time of intense fellowship during the noon meal after the worship service. You would be surprised to notice that every Sunday there are people that come to visit our church – no, not multitudes, but they come regularly. Many are individuals who have been beaten down by life. They come to find refuge within our walls, drawn by our love and compassion, not to mention all the other ministries that are being developed in order that our church might be relevant in the 21st century."
Please join in celebration by praising God for the wonderful truth that the Baie-Comeau work is now becoming a self-supported Fellowship church and will, by God's grace, continue to grow as they keep their minds "stayed upon Jehovah!"