Parents Forgive Their Child's Abductor
It's every parent's nightmare. Paul and Tammy Hebert, members of our Fellowship church in Sparwood, British Columbia, woke up one morning last fall to discover that their three-year-old son was missing from his bed. If ever there were promises from God fulfilled in someone's life, we find it here in the Kienan's story and the grace that God gave his parents during the ordeal.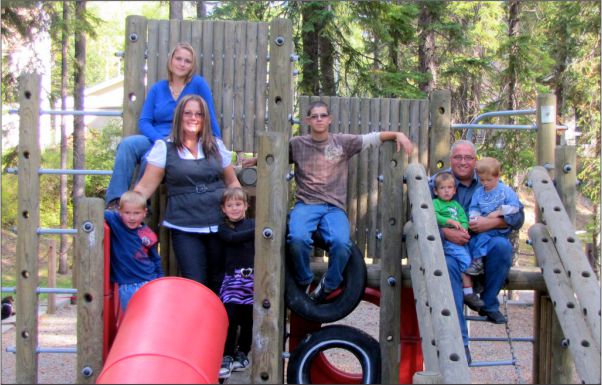 Paul and Tammy Hebert of Sparwood, B.C., credit their faith with sustaining them through their three-year-old son's abduction, and with giving them the strength to forgive the perpetrator upon Kienan's return. "Faith is always easy when you need God," says Hebert, a sales director, in an interview with Faith Today. "It's hard when things are going well."
This isn't the first time the father of eight has had to trust God with the life of his child. Caleb, their six-year-old son, was born with a heart defect and has undergone multiple surgeries. "Every day was a new day, and we figured life was a gift, whether it was short or long," says Hebert. "We were able to separate our wants as humans from our needs as God's disciples. The more you learn about God through the Bible, the more you realize He's with you."
It was this deep knowledge of God's character that provided peace to the couple when they discovered Kienan missing from their home the morning of September 7, in a missing child case that quickly gripped Canadians. "We knew right away that someone had taken him because three blankets were missing, and you know the habits of your children," says Hebert. "We've always left our doors unlocked in case someone needed a place to stay. We never thought someone would take our kid."
The distraught couple – who moved to the small coal mining community two years ago – contacted the RCMP. Search and rescue teams immediately began looking for a little boy in Scooby-doo shorts. "Investigators can state that this is a case of child abduction," said Cpl Dan Moskaluk, spokesman for the BC RCMP. "It is not a matter of a child walking away from the home. Kienan was abducted. The person who abducted Kienan . . . did enter the Hebert home and removed Kienan from the house."
Four days later at 3 a.m., Kienan was returned. The word miracle was used.
In 26 years of policing, Moskaluk – one of many police lining the road to the Heberts' house when an anonymous call informed them Kienan was back home – has never seen a child returned by the abductor, let alone unharmed. "I truly want to smile about this because it's not very often that these types of things happen in these types of investigations, frankly," he said. Kienan's return occurred just 12 hours after the Heberts issued a tearful plea to the suspect, broadcast from the white tent that served as headquarters for the search and rescue teams.
"Kienan is only three years old right now," Hebert told cameras. "And as you know, and we know, he can't speak. He can't tell us who you are. This is your chance, right now, to get away. All we want is for Kienan to come back with us and to be safe in our arms again."
After receiving the anonymous phone call, police alerted the Heberts who were staying at a friend's house. Rushing home they found Kienan asleep on a chair with his three blankets. "He was sleeping on the chair as if nothing had happened," recalls Hebert. "It was as if God was saying, 'Here is your son back. Thank you, faithful one.'" The quiet boy is reported to have run to his mother and thrown his arms around her. Within hours he was playing with Silly String with his brothers and sisters.
"To the person who returned Kienan safely, I would like to say thank you," Hebert said in an emotional public statement. "It was the right thing to do. I thank God that Kienan was returned unharmed….He is happily home and playing….Thank you. Thank you."
When Paul called his pastor, Ron Rutley of Sparwood Baptist, to tell him, "Kienan's back!" Rutley was shocked. "They never gave up hope that he would be safely returned," says Rutley, who has served Sparwood since 2008. "I've certainly seen God's hand on this and His presence with the Hebert family."
In a message to his congregation that Sunday morning, Rutley urged congregants – who had surrounded the family with meals, prayer and volunteered in the search – to continue praying for the suspect. "We don't love our neighbours as we should," he said, "and this man is our neighbour. We need to pray that his heart would be changed."
In spite of the trauma inspired by such an event, Hebert says they've already forgiven the suspect. "I would be a hypocrite if I asked God to forgive me and I didn't do the same for this man," he explains. "We're very thankful to him for returning Kienan, and willing to help him find his path back on track. Hopefully he finds the Lord through this as well."
Throughout the ordeal Paul and Tammy – who now lock their doors at night – say they never knew anything but peace. "We just knew through the whole thing that God was going to take care of Kienan."
Even now, weeks later, it seems their three-year-old was largely unaffected by the event. "It's as if he had a playmate for three or four days," says Hebert. "Nothing's troubled him. He's living as if everything is okay."
For Rutley this is proof of the "bigness" of God, of His ability to take something as horrific as Kienan's abduction, "something as terrible as every parent's nightmare," and turn it into good.
"But we might never know the reason why, this side of eternity," Rutley adds. "It might be that a generation yet to come will look back at the events of this past week and see the reason behind them. But we can't. We are too close to them."
—Reprinted from Faith Today, November/December 2011 with the permission of the author.