Looking Toward the Goal Line
"And the peace of God, which surpasses all comprehension, will guard your hearts and your minds in Christ Jesus." Philippians 4:7
At the beginning of each year it is common, even for Christians, to make all kinds of resolutions. Statistics show that only 6% of those who make them will really keep them.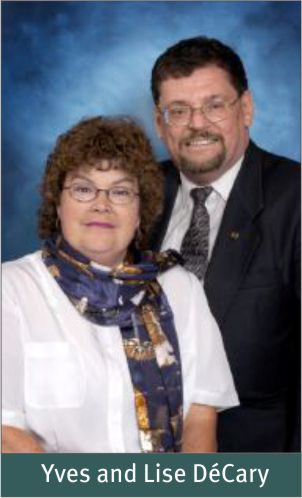 Yves Décary, pastor of Sorel-Tracy Evangelical Baptist Church in the Quebec Region, has often preached about God's promises and how, as Christians, we can rely on them. Instead of making resolutions we will not keep, he said, why don't we rely on the 7000 promises given by God in His Word? If we rely on God's promises this year, His work will be accomplished and He will be glorified. During the tests of life, God forms us, revealing Himself to us and strengthening us.
Yves and Lise Décary know firsthand what relying on God's promises means. Since Christmas 1999, when she had her first heart attack, Lise has almost died at least 50 times. The promises on which this special couple rely are found in Philippians 4:5-7 and in James 1:2-5.
The first five verses of James 1 are the biblical passage of choice for Yves and his family. According to Yves, people often tend to read verse 5 without taking into account the context of verses 2 to 4. In times of distress and trials, we must go further than asking God to remove the challenges and temptations and ask for the strength to persevere so that He accomplishes His work in us. When our faith is challenged and we experience His grace, we are better able to understand His intervention in our lives.
People often ask Pastor Décary how he copes with his situation. His answer is: He said that he observes the Apostle Paul's attitude which is similar to that of a marathon athlete who wins only when he reaches the finish line. We must keep our eyes on God, knowing that the challenges of life are only temporary. Indeed, what are 60 or 70 years when we consider eternity? From the moment we become Christians, the only really important thing that counts is the work of Christ, what is coming, rather than the present things that we face. Yves certainly doesn't avoid good times when they occur, but believes that our utmost hope rests in Christ. We must constantly repeat this to ourselves, because as humans, we are drawn by success, and attached to the present. Yves has often observed that Christians are devastated by trials and says that they must see these trials as a way to seek the light. These experiences allow us to grow and become more and more like Jesus Christ. This is why God allows trials in our lives. We will understand much later the true meaning of these trials and we will be encouraged when people see in them the work of God. His promises are essential for every Christian who wants to go from victory to victory.
"Lord, to whom shall we go? You have words of eternal life." John 6:68
—Yves and Lise Décary minister at l'Église Baptiste Évangélique de Sorel-Tracy, in the Québec Region. They have two adult children.