Yes, You Can!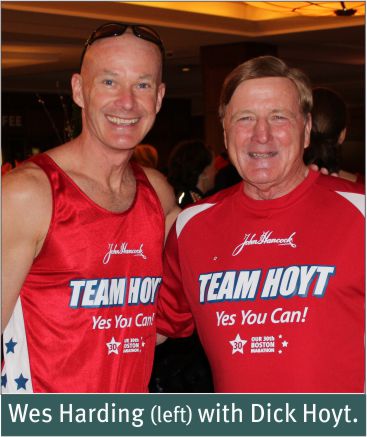 When the gun sounded to mark the start of the 116th running of the Boston Marathon on April 16, 2012, Team Hoyt runner, Wes Harding, from Sarnia, Ontario, completed a four-year journey that has been well worth the "weight."
For much of his adult life, Harding filled many days with a heaping helping of "Yes, You Can,"—"yes, you can Super-size it," "yes, you can pass me the gravy," and "yes, you can give me an extra scoop of ice cream on my hot fudge sundae."
The elementary school teacher and principal at Temple Christian Academy in Sarnia, tipped the scales at 210 pounds, with occasional gusts up to 220 during the holiday season, and viewed himself as more of a couch potato than a marathon runner.
One December day in 2007, Harding sat quietly reflecting on his life while watching a video presented as part of the morning service at Temple Baptist Church. The video was entitled "Yes, You Can," the story of Dick and Rick Hoyt. One single word scrolled across the bottom of the video screen. "CAN." That simple three-letter word helped transform Wes Harding from an overweight couch creature to the man he is today, a highly competitive marathon runner.
"When I turned 40 years old in 2007 I knew that life's journey was about half over for me," explains the husband and father of four teenage daughters. "The question I had for myself was: 'What do you want to do with the second half of your life?'"
"I was overweight and I did not look or feel good and something had to change. Some people, when they turn 40, buy corvettes or take trips, but I wanted to start 'living the dream.' I knew that God had more for my life than sitting on the couch watching TV and doing nothing."
"As an educator, I tell students every day to 'live the dream' but I myself was not doing what I preached."
Harding began taking the steps to turn his dream into reality that very day and left church determined to begin a healthier lifestyle filled with better food choices, daily exercise and making a difference for the Lord. Never one to do anything in moderation, Harding set his sights on, not simply running, but marathon running.
"A deep desire of mine was to run the Boston marathon as a qualified runner, but unfortunately I was no runner. With Boston's strict qualification times I knew this dream was just a dream. This incredible feat seemed nearly impossible, but I knew that with hard work, a lot of determination and with God's help I could do this."
Harding's journey towards his goal began with a single step as he laced up his running shoes and made his very first footprint into the frozen snow outside of his Sarnia home on that cold December morning.
Harding, who today weighs in at sixty pounds lighter than when his journey began, said: "The snow was blowing and the temperatures hovered around –15C but I knew there was no turning back. My dream had started."
In order to achieve his goal, Harding had to overcome not only his poor physical conditioning, but also several other mental and physical obstacles. But with support and encouragement from his family and his own inner resolve, Harding refused to suppress his dreams.
Harding also had to overcome a major physical obstacle when he collapsed during a 10 km race. This was actually a blessing as it led to a diagnosis of heart/valve disease, which Harding continues to be treated for. As he continues to train, his doctors believe his heart has actually gotten stronger and have given him a clean bill of health.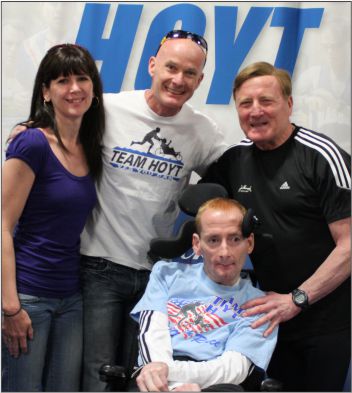 Since Harding saw the Hoyts' video four years ago and began living life as a thin guy, he has run six marathons and has run Boston as a qualified runner.
As an educator and molder of young minds, Harding uses the Hoyts' "Yes, you can" message in daily interactions with his students. "Sometimes when we are surrounded by what appear to be many difficulties, we may in fact be surrounded by many opportunities…students are inspired by the special bond between a father and a son….The Hoyts' story is a great picture of what our Heavenly Father does for us!…God has made each person special and has given them special gifts and talents to be used to make a difference. God wants each of us to make a difference wherever we go."
On April 16, 2012 Harding completed his dream of running the Boston Marathon as a member of Team Hoyt in a time of 3:36:10, placing 3908th out of 23,000 runners. Harding has aspirations of competing in his first Ironman Triathlon this July in Lake Placid, New York.
http://www.teamhoyt.com/ http://www.youtube.com/watch?v=acall-Z6lYI&feature=youtu.be