God's Promises and Answers for Your Life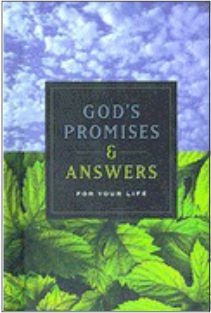 Thomas Nelson
1999 396 pages
ISBN: 0-8499-5581-5 (hardcover)
ISBN: 1-4041-0321-X (softcover)
How many of us have said: "What does the Bible say about…?" Often, asking that question, or being asked that question, leads to a frantic fumbling through the pages of Scripture looking for the perfect verse to meet the need. For those who are familiar with Scripture or who have spent the time to memorize passages that answer the dilemmas of life, "What does the Bible say about…?" isn't necessarily a big deal. But for those who are just beginning their spiritual journey and haven't yet acquired skills in handling the Bible, or for those who want a handy reference, God's Promises & Answers For Your Life might be an excellent solution.
This little book is the compilation of two prior works. The first, God's Promises For Your Every Need was complied by Dr. A. L. Gill and the second, God's Answers For Your Life was put together by Kay Wheeler Kilgore. The editorial staff at Thomas Nelson put the two works together to create a comprehensive look at the promises of Scripture.
Basically the book is pure Scripture. No notes, no explanations, just verses categorized to respond to some of the myriad of questions and needs that surface in our lives. It's one of the those books that can be tucked away in a purse, kept in the glove compartment of a car or in a briefcase, handy for an emergency.
The book is divided into sixteen main categories that are then divided into sub-categories. For example, one of the main titles in the section on promises: WHAT TO DO WHEN YOU ARE… is followed by these subjects:
∙ Experiencing Fear
∙ Emotionally Distraught
∙ In Need of Courage
∙ In Need of Patience
∙ In Need of Peace
∙ Lukewarm Spiritually
∙ Grieving
∙ Doubting God
After each subject several verses dealing with that issue are provided.
The second half of the book, which deals with answers to life's needs, is almost a discipleship manual. It takes the reader from verses on salvation through themes such as assurance of salvation, maturing in Christ, serving the Lord, understanding basic theology, and being united with Christ.
God's Promises & Answers has a presentation page to facilitate gift-giving and would make an excellent book to give to a new believer, a student heading away from home, someone in hospital, or simply to keep as a handy reference.
My one word of advice would be to encourage the recipient of the book not to settle for just a "handy reference" but to develop a working knowledge of the Bible itself.
—Reviewed by Lynda Schultz