Confronting the Unique Challenges of Pastoral Ministry
Dangerous Calling 
Author:  Paul David Tripp
Reviewed by Lynda Schultz
I felt a little like a peeping "Thomasina" as I read this book—after all, it was meant to be read by pastors. However, as one who has spent a few decades in ministry, I had plenty of "ouch" moments that applied as much to me in ministry as to a pastor in ministry.
Tripp's introduction explains the basis for the book: "This is a diagnostic book. It is written to help you take an honest look at yourself in the heart-and-life-exposing mirror of the Word of God—to see things that are wrong and need correcting and to help you place yourself once again under the healing and transforming power of the gospel of Jesus Christ."
It is written for those who don't listen to their own sermons.
It is written for those who don't think they need grace as much as the people they minister to.
It is written for those whose devotional life is constantly high-jacked by their preparation.
It is written for those who think they've arrived.
It is written for those whose ministry has become their identity.
It is written for those who believe that theological education and Biblical literacy equal maturity.
It is written for those who may have mastered the Book but haven't yet been mastered by the God of the Book.
It is written for those who have lost their awe of God.
It is written for those whose faith has been replaced by fear.
It is written for those who want out because of the unrealistic expectations they have placed on themselves.
As is true for everything else I have read by Tripp, it all comes down to an issue of the heart. The book is laced with practical advice for dealing with the issues that plague our church leaders and ultimately affect the church. Every pastor, every Bible College and Seminary student thinking of becoming a pastor, should have a copy of this book.
---
Finally Jesus: Engaging the Story of a Written God
Matthew Fraser
2016
230 pages
eBook AISN: B01EQ2LRIQ
ISBN-10: 978-1481248969
Available through Amazon
When a person has their mind and heart together and releases both in tandem on paper with great skill, the result can be a delightful work of art.  So is "Finally Jesus: Engaging the Story of a Written God" by author Matt Fraser.
"Finally Jesus" is a must read for those who take an understanding of biblical theology seriously.
Matt Fraser's love for God and His Word together with his grasp of God's presence being progressively revealed in the course of history is firmly pronounced in the pages of "Finally Jesus".
So often in the study of the Scriptures, systematic theology is the invention.  There is a desire to place truth into systematized categories.  This in itself may be good.  However, it is refreshing to have a clear biblical theology carefully laid out.  This is the case in "Finally Jesus".  We can thank Matt Fraser for such an approach.
In his Preface, Matt says, "A good part of this book represents my journey in understanding the Bible and the God who stands behind it, not always finding the simplest answers but always looking for the most biblical."
It is argued in "Finally Jesus" "that one story, a true story, the biblical story gives our world coherent meaning.  All history, sacred or secular, is written into the very chronicle of God."  It is further stated that "in this story, the cross takes on special significance as the climax of all that has ever happened or will happen.  If biblical history is the history of God and the history of the world, the cross of the Christ is at the very centre of the meaning of reality."
Matt traces the story of the Written God through the Old and New Testaments, showing how God has always been pursuing the same goals, and that these goals come together in Jesus.  Throughout "Finally Jesus", Matt, with careful precision, journeys through the Scriptures while outlining major themes of the Scriptures  ̶  namely, the presence of God, the kingdom of God, the covenants of God, sacrifice from God and the mission of God. 
Interwoven in the progressive revelation of the Written God and well-defined and discussed by Matt are pertinent subjects in God's redemptive plan such as truth, depravity, justice, covenant, grace, worship, judgment, authority and mission.  Ultimately, it is in the coming of Jesus Christ that the Word became incarnate and that the Written God spoke loud and clear.
Enjoy your reading; journey with Matt through the pages of Scripture and experience afresh the presence of God, who is on mission.
Matt is a graduate of Heritage College and Seminary, Cambridge, ON.  Matt and his wife, Kristen, have served as missionaries in Zambia and are now serving in Eastern Europe.  Recently he was ordained by Emmanuel Baptist Church in Barrie, ON, within The Fellowship of Evangelical Baptist Churches in Canada. 
Reviewed by Lance C. Johnson
---
Calm Coloring: Faith, Hope & Love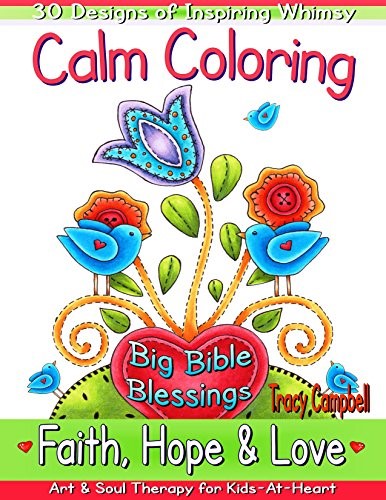 (Art and Soul Therapy for Kids-at-Heart)
Tracy Campbell
Heart for Ewe Publishing
2016
63 pages
eBook AISN: B01G68FXDI
eBook ISBN: 978-0-9940337-0-3
Paperback ISBN: 978-0-9940337-1-0
Available through Amazon
Some scoff, but doubters take note: Colouring is a good stress reliever and we all know just how stressful life can be.
But CALM COLORING isn't just your average coloring book. It is meant to encourage faith. Each design by artist Tracy Campbell is accompanied by a verse from Scripture and provides an excellent means to help children of any age to memorize the Word of God while they are enjoying the benefits of a creative activity. Considering how important the Word of God is to all of us, memorizing while colouring is just as good an idea for adults as it is for the kids.
Here are three comments from those who are enjoying the experience:
June 7, 2016
"I love coloring as a form of relaxation. Calm Coloring: Faith, Hope & Love is a perfect way to add an element of fun to your stress reduction. What better way to prepare your mind and body for deep prayer and reflection than by stepping away from your busy life for 15 minutes and diving into this coloring book for all ages. The best part is the artwork is whimsical and fun and can actually be completed in one sitting."
June 8, 2016
"Tracy Campbell draws in a wonderfully carefree but purposeful manner. You will be thrilled to see the colouring pages, but the scriptures chosen bring a special dimension to the experience. By using a variety of different versions of the Bible, Tracy expands my knowledge of each scripture — and her artwork expands my thoughts and ideas as well. Well done. Now to get colouring."
June 8, 2016
"I am an atheist and I love Tracy Campbell's Calm Coloring book. Hey, we atheists need help too! I also love to draw and color and Tracy's beautifully crafted art is just the thing. How do I feel about the religious/spiritual nature? Like the art, it is gentle, thoughtful, and comes from the heart. What's not to like? This is something we all need in our lives, a calming, joyful, act of artistic expression. I hope you all enjoy and appreciate what Tracy Campbell has accomplished."
Tracy Campbell is a native of Timmins, Ontario, and is a published artist of calendars, wrapping paper, and gift cards, and an author of how-to-paint magazine articles.  She lives with her hubby and fur baby in Wasaga Beach.  She expresses her hope for CALM COLORING in this statement: "My hope is that believers will rediscover God's Word in a new light through Calm Coloring: Faith, Hope & Love and that this coloring book will reach non-believers too."
Now, if you'll excuse me, I'm off to sharpen my colouring pencils.
Reviewed by Lynda Schultz
---
Rethinking Baptism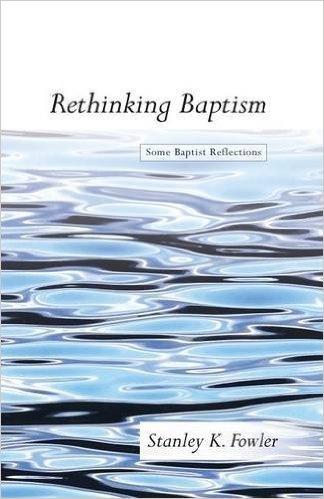 Stanley K. Fowler
Wipf and Stock Publishers
2015
ISBN-978-14982-0967-0

This is not a book for theological wimps. This summary of Stanley Fowler's earlier work, More Than a Symbol: The British Baptist Recovery of Baptismal Sacramentalism (Paternoster, 2002), may raise the hackles of some, but it certainly forces all students of Scripture to take another look at a subject that is of primary importance to us as believers and as Baptists.

Fowler's statement in the Preface to this little book explains much: "Baptism is not the most important issue confronting the church today, but I am sure that it is designed by God to be an important part of Christian experience. If so, then there is value in rethinking our understanding and practice of baptism. Scripture is infallible, but our reading and application of Scripture are very fallible. I hope that this small book will in some way facilitate a fresh encounter with Scripture and reformation where possible" (pg viii).

RETHINKING BAPTISM begins by explaining Fowler's own journey of faith as it related to what he has come to believe about baptism. One of things I personally appreciated was how he dealt with, and gave insight to, those verses of Scripture that I have often tried to avoid referring to in my conversations with unbelievers and in discipling new believers.  I didn't have a satisfactory explanation as to why baptism was included in the repentance-salvation formula. And whether I fully embrace Fowler's explanation or not, I am still grateful for his fresh, logical perspective on the subject.

Fowler doesn't shy away from dealing with the Biblical texts—we wouldn't expect him to. Much of the book is dedicated to examining those passages and to developing a higher view of baptism than we, as Baptists, are inclined to give it. But Fowler is clear that he is not promoting baptismal regeneration. Rather he views baptism as a way of translating "belief into action and respond to Christ as an embodied person," similar to what happens when a person is asked to respond to an altar call (pg. 31).

The third chapter of the book deals with a series of questions related to the subject. For example"

Does this view of baptism deny that we are saved by grace alone through faith alone?

Will this sacramental view of baptism cause people to trust in baptism rather than trust in Christ?


How can this view be called Baptist, since Baptists have always considered baptism to be a symbolic ordinance, not a sacrament?   

In his conclusion, Fowler argues once again for a higher view of baptism, one that goes beyond looking at it as simply an act of obedience, or a necessary step to becoming a member of a church. While I confess that I "worried" through some of the book, wondering if I was correctly understanding what I was reading, I was encouraged to allow space in my mind to wrestle with the views expressed by the author. Michael Haykin from The Southern Baptist Theological Seminary, added this comment to his critical acclaim, included on the back cover of Rethinking Baptism: "I cannot say I agreed with everything in the book, but without hesitation I can say this is an excellent, profoundly thoughtful study that I highly recommend to anyone desiring to think seriously about the important topic of baptism."  

I echo those thoughts.

Stanley K. Fowler, well-known among Fellowship Baptists in Canada, is Professor of Theological Studies at Heritage College and Seminary in Cambridge, ON.

Reviewed by Lynda Schultz
---
The Problem with Christianity
—Six Unsettling Questions You Have Asked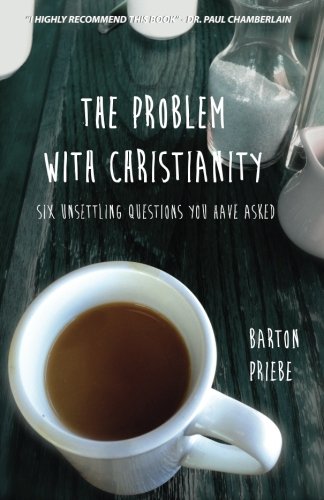 Baton Priebe
Createspace
2015
ISBN-10: 1511756284
ISBN-13: 978-1511756280

We're all acquainted with the standard objections to Christianity and how these objections reflect the state of the society in which we live. Without distracting us with mumbo jumbo, Priebe proceeds to give largely satisfying and easily understood answers to the following questions:
1. Why does God seem to be against gay people? [Homosexuality & God]
2. Why should I believe in miracles in an age of science? [Science & Miracles]
3. Why should I worship a God who commanded genocide? [Violence &
God]
4. How can there possibly be only one way to God? [Exclusivity & Intolerance]
5. If God is good, why is there so much evil in the world? [God & Evil]
6. How can a loving God send people to hell? [Love & Hell]
 
Number five, concerning evil in the world, is the weakest, but even there he suggests helpful avenues of thought. But even here it is a very helpful book. I trust many find it useful in seeking to communicate with friends and neighbours in an increasingly hostile culture.  

Barton Priebe was raised in British Columbia and southern Alberta. After working four years at Trinity Western University and thirteen years in Vancouver at Dunbar Heights Baptist Church, he became the lead pastor of Central Baptist Church in Victoria. He is currently working on his Doctor of Ministry at Northwest Baptist Seminary.

Reviewed by Eric Wright
---
Dancing in the Rain
Our Family's Journey through Grief and Loss
Lisa Elliott
Word Alive Press
2014
ISBN: 978-1-4866-0686-3
I was reminded that I hadn't finished reading Lisa Elliott's sequel to The Ben Ripple: Choosing to Live Through Loss With Purpose, when Lisa's daughter, Natalie, and her husband, Josh, had their first child, just days before the anniversary of Ben Elliott's death. Lisa remarked on FACEBOOK that Seth's birth was "God's redemptive timing."
Elliott's new book is all about redemption. Dancing in the Rain is a sequel to the story of Ben's cancer diagnosis and his death. It chronicles the journeys of Lisa, her husband, David, and their remaining children, Erin, Natalie and Jacob, as they dealt with the aftermath of Ben's passing. The book includes excerpts from the personal journals of all of the family members.
There is also a study guide included in the book along with practical principles and practices for anyone who is working his or her way through a time of loss. The openness of all the members of the Elliott family to sharing some exceptionally personal struggles tells me, as a reader, that although the journey through this storm has been a difficult one, they have all come to understand in a new way that God sends the rain as well as the sunshine and both have divine purposes in our lives.
Dancing in the Rain abounds with the sunshine of God's grace in times of despair, loneliness, anger, grief and transition. It will prove to be an encouragement and a blessing to those who read it, and learn from it.
—Lisa Elliott's ministry, Straight from the Heart, has impacted the lives of many over the years. She is a pastor's wife from London, Ontario, mother, and now a grandmother, as well as an award-winning author.
---
We've Lost. What Now?
WE'VE LOST. WHAT NOW?
Practical Counsel from the Book of Daniel
Wayne Baxter
Wipf & Stock Publishers
2015
ISBN 13:978-1-62564-776-4
"The church once ministered from a position of strength: it was a widely respected institution whose basic tenets were near givens for much of society. Now, however, having been shoved to the edges of society, the church ministers from a position of weakness characterized by society's ambivalence, distrust, and even open animosity toward it. If the church is to bear in this present day the abundant fruit that Christ desires, then it needs to learn to minister from this position or status of exile. I believe that the book of Daniel, whose narrative setting is exile, is especially tailored for a socially and culturally exilic church, and therefore offers important lessons for bearing fruit in exile." (Preface, pg. xv)
So begins Baxter's treatment of the Book of Daniel as it relates to the state of the church today. For most of us, other than a brief foray into the first few chapters of Daniel to enjoy the wonderful adventures of the intrepid quartet of young men taken from their homes and transported to Babylon, the Book of Daniel represents too much mystery for us to wrap our heads around. But Wayne Baxter does what he says he will do and takes both the stories and the mysteries, unwraps them, and reveals their practical application to our current reality as Christian communities.
How did Daniel act and react as an exile living on the margins of a society foreign to him and to his principles? That question becomes a question for all of us: How do we need to act and react as exiles living on the margins of a society that is foreign to us and to what we believe as Christians? Some of us remember the children's song we learned in Sunday School, Dare to be a Daniel, and this is the call of We've Lost. What Now? It is a call not to a fortress mentality, to a "circle the wagons" kind of thinking, but a call, as Daniel did, to "witness wisely in our society, and thus minister more effectively from the margins" (pg. 7).
The book is practical and includes discussion questions at the end of each chapter. It is at once scholarly but also easily understood. It is a call to transparency, to integrity, to mission, to believing that even from the margins of society, God has a sovereign plan and isn't finished with us yet.
Baxter plants this interesting and invigorating question: "Could one of the ironies of our exile be not the reestablishment of Christendom after its demise, but the formation of a marginalized church that exhibits and walks in more of Christ's likeness and more of his power than at any time during Christendom?" (pg. 87)
Wayne Baxter is Associate Professor of New Testament and Greek at Heritage College and Seminary in Cambridge, ON. He formerly pastored churches in Windsor, Ottawa and Toronto and is the author of numerous articles for academic journals as well as the author of Israel's Only Shepherd: Matthew's Shepherd Motif and His Social Setting (2012).