Replant: How a Dying Church Can Grow Again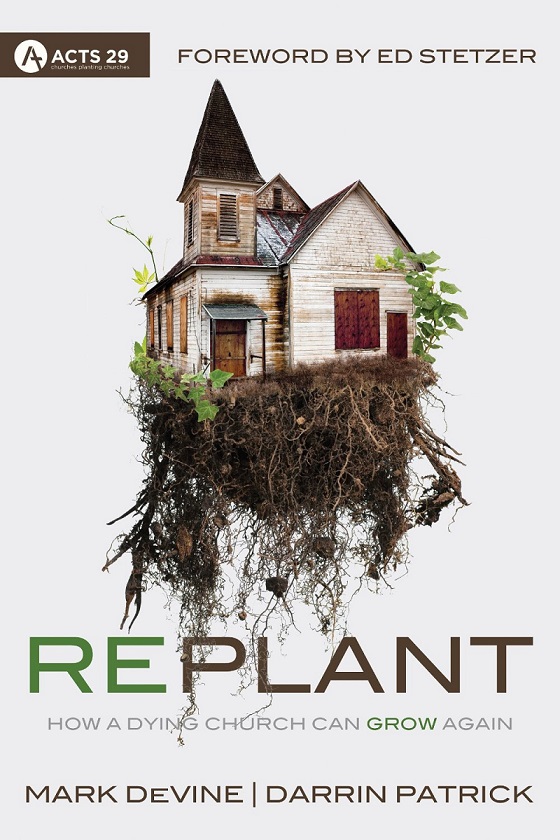 Replant: How a Dying Church Can Grow Again
Mark DeVine and Darrin Patrick
Colorado Springs, CO: David C. Cook, 2014
175 pages
ISBN-10: 0781410320
ISBN-13: 978-0781410328
Kindle editions are available through Amazon.com
This is not the normal sort of book that I read. I am not a church planter and have never been a pastor, but I am a church historian and am fascinated by the history of local churches. This is very much the story of how a theology professor at Midwestern Baptist Seminary, Dr. Mark DeVine, was enabled by God's grace to oversee the replanting of a dying inner-city Southern Baptist church during the 2000s. I found it to be a page-turner that is filled with rich wisdom about the way churches die and are reborn.
Like far too many Baptist churches, the congregationalism of First Calvary Baptist Church, Kansas City, had become toxic for pastoral leadership by allowing a small "lay ruling elite" (p.158) to effectively control the church and treat the pastoral staff merely as paid employees. Key to replanting this work was the congregation's acceptance of strong pastoral leadership (p.54) and the removal of this "lay cartel" (p.46–49). The latter was handled with genuine integrity and Christian love, but with the firm recognition that unless this group of unelected power-brokers were dealt with, there was no future for the church.
I especially appreciated the wisdom regarding church life that DeVine plants here and there throughout the book. For instance, he is deeply aware of the importance of local congregations remembering their own history as a church: "one of the most frequent complaints of God to His people throughout the Scriptures is that they fail to remember. The perspective God expects of us and provides to us brings wideness of vision not only in space but in time, not only future time but also past time." (p.98). He notes the importance of knowing the local culture when planting a church—or replanting, in the case of First Calvary Baptist (now Redeemer Fellowship). Culture is not to be considered a source of revelation alongside scripture but is nonetheless to be taken seriously. Two frequent approaches to culture—the church against culture (summed up possibly by the scriptural command "be ye separate") and the church naively plunging headlong into culture (a misunderstanding of Jesus' command to "go ye into all the world")—are rightly ruled out as misguided if taken in isolation. The balance is found by taking culture into serious consideration when doing church, for it is "the context where effective churches must be planted and flourish indigenously" (p.110).
Two appendices—one dealing with the importance of church buildings (p.149–155; I loved this discussion of why we need to never lightly abandon buildings where God's word has been preached and He has been worshiped by his people over the decades) and the other dealing with the Baptist business meeting (p.157–161)—round out this tremendous story of how God's grace resurrected a dying work. Now, as Redeemer Fellowship, some sixteen hundred gather each week to worship the living God. I highly recommend this book!
—Reviewed by Michael A.G. Haykin, Professor of Church History & Biblical Spirituality, & Director of The Andrew Fuller Center for Baptist Studies, The Southern Baptist Theological Seminary, Louisville, Kentucky