The Word is Out!
(Winter 2015)
The word is out! Working together is work effectively carried out. These stories from our Fellowship Regions prove the point.
Be Warmed and Filled
Fellowship Prairies—When you hear "Fort McMurray", you do not normally picture homeless men and women. But this prosperous city is witness to the truth of the words of Jesus, "For you always have the poor with you." For over 20 years, Fellowship Baptist Church, a "church in the heart of the city with the city in its heart," has been providing full nutritious meals to the poor along with a side dish of Gospel. This ministry has brought plenty of kudos, significant favour and a dash or two of criticism over the years. Many great stories, along with accounts of tragedy and heartache, could be written.
One of the big positives has been the partnerships formed. Apart from our part-time Director and part-time cleaning help, the entire operation is done by volunteers. Various churches (or groups of churches) take responsibility for one day each week. The Salvation Army covers the days when we do not operate. Businesses and school groups send teams to help from time to time. The number of individuals and groups that have participated in this ministry, many of them not Christians, can hardly be calculated. Many patrons and some volunteers have come to Christ over the years.
One of our goals is to go out of business but, despite valiant efforts to eliminate homelessness, we still fill a significant need here! We still have the poor with us and are seeking to serve them in the name of Jesus. Our church also birthed a daytime drop-in shelter 9 years ago. In 2013, that shelter, the Centre of Hope, became a separate charity … but that's another story.
—Rev. Brent Carter, Fellowship Baptist, Fort McMurray, AB
Improv Comedy Reaches Out!
Fellowship Prairies—How easy would it be to fill your auditorium if people knew they were going to see two grown men walk on a stage full of hundreds of live mousetraps? What if the two men in question were barefoot and blindfolded?
Since 1995, Canadians Dave Lane and JD Hollingsworth have been performing improv comedy. In 2008 they formed THE fidgets and along with fellow comedian Chris Reid, have been blazing a trail of laughter through churches from Winnipeg, Manitoba to Nashville, Tennessee.
Most audience members can't believe their eyes. "For some people, it's just too much—like watching a car crash ..."
Since THE fidgets moved into the world of church outreach, churches have been using this unique way to reach out to their communities. The shows are guaranteed to be family-friendly and pain-in-your-side funny! 
They even gained the sponsorship of the Victor Pest Company, who now supply their mousetraps. "People laugh when they hear about our newest sponsor. We could have gone to Coca Cola or Pepsi but where is the fun in that?" 
---
Triple Header in Ontario 
FEB Central—Partnership and outreach describe the Soccer Camp held in August at Church of the Ward in Guelph, ON.  Fairview Baptist Church in Lindsay, ON partnered with the Guelph plant as part of their Go Mad (Go Make a Difference) program and provided assistance. Forty-five local youth attended – only 10 of whom were churched.  They were invited via relationships with people in the church as well as through Crestwicke Baptist Church's (Guelph) partnership via their Onside Sports Ministry. 
Another part of Fairview's ministry to Church of the Ward during Soccer Week was to build a deck for a family in the neighbourhood.  Pastor Matt Naismith's 'little brother,' whose mom had been saving money for the materials, needed someone to actually build it and approached Matt for help.  The Fairview delegation put a number of their group to work on the project. At the end of the week the family had a deck and were thrilled with the help they received.  
The Soccer Camp was also a huge success.  The parents were overwhelmed by the organization, quality, and enjoyment provided by the experience.  Matt and his wife hosted a block party with a bouncy castle on the final Friday night. A good majority of the families and players came out.
This cooperative effort has had a major impact in the community of Church of the Ward.
—Pastor Matt Naismith, Church of the Ward, Guelph, ON
---
Multicultural Partners
AÉBÉQ—The L'Annonciation Church of Rivière Rouge, a church of 20 to 25 people, held a pig roast on July 26. Half of the 157 people who attended were non-believers. A former police officer partnered with the church and delivered a powerful testimony at the event. The next day six new people came to church; and five made a public profession of faith.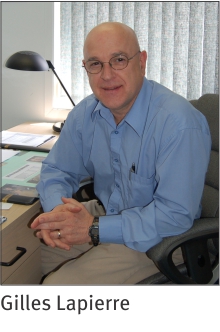 The Churches of Plessisville, Granby and Saint-Césaire combined to produce "I love my neighbour." This program allowed for the creation of personal contacts with those in their immediate area.
The Montreal-North Church were finally able to occupy their new building. Its purchase and renovation was facilitated by a donation transacted through the National Fellowship. The auditorium is almost filled with approximately 250 people in attendance.
The Quebec Evangelical Baptist Youth group (JBEQ - Jeunesse Baptiste Évangélique du Québec) helped eight churches in Quebec and one in Belle River, Ontario. This collaboration with a church of Ontario is a first. The team was composed of five Quebecers, four Americans and three French citizens. A team of two Quebecers, François and Nastasia Provencher, also made the trip to France to serve with Fellowship missionaries, Pierre and Jeannine Bolduc.
—Gilles Lapierre, Regional Director, AÉBÉQ
---
The Hero of the Story
Fellowship Atlantic—It started with a pack.  Instead of giving street people money, some of the teens attending Pax North in Halifax put together a pack of toiletries and supplies as a loving response to the needs around them.  Through social media, a small group in New Brunswick learned about what had been done and thought it would be wonderful to try to help out a sister congregation by duplicating the idea.  Before long that whole church was involved and, instead of just sending some Pax Packs, ten people volunteered to deliver them—with a twist.
That's why on a Saturday night in June, a former airplane pilot and a paramedic were standing on stage encouraging people to try karaoke.  A medical professional and a masonry businessman were serving sweets.  A high school student and an artist were sitting with Pax people and homeless people, listening to their stories.  Each person received a pack and some food, and many had a great time singing.  It was a partnership for the Gospel. It allowed the congregation in Halifax to love their community in a practical and fun way and it encouraged not only the group of ten, but the whole congregation in Sackville, NB as they returned and shared what they had seen and heard.  Both congregations saw God as the hero of the story, and it was very good.
—Glenn Goode, Regional Director, Fellowship Atlantic, with Andrew Swanson
Riding the Waves
Fellowship Atlantic—Partnering in ministry is very important to the growth of the Kingdom of God — we are much more effective when we work together. Lake Echo Fellowship Baptist Church has had the pleasure of partnering with Christian Surfers Canada. The connection with the Christian surfing community has helped them to establish their first chapter here on the Eastern Shore of Nova Scotia. This ministry relationship has been growing for ten years now. Each summer the church has run Worship on Waves, a Surfing Retreat for youth. The retreats are a great way to impact youth with the Gospel and to invite youth to connect with the ongoing ministry of Christian Surfers. Lake Echo has also been able to assist Christian Surfers in reaching the surfing community, providing them with Bibles and other resources, and assisting in events like a surfing community pig roast. God is blessing these ministries as the church and Christian Surfers partner together for the glory of God.
On a special note, this ministry partnership has provided the opportunity for two of the church's youth to qualify and go to the World Junior Surfing Championship held in Panama. They represented Christ as they represented Christian Surfers. God has much more in store for the surfing community in Atlantic Canada, and Lake Echo thanks Him for His work through this partnership.