Asking for the Nations
They've dared to ask, and our Heavenly Father has wonderfully answered by sending the nations to them! In a recent conversation with Pastor René Frey (Église Baptiste Évangélique de Rosemont), he reminded me of a key messianic text in Psalm 2:8 where God the Father invited God the Son to "Ask of me, and I will make the nations your inheritance…" René said, "At Rosemont, we ask the Father for the nations to come to us, and if you ask, they will come!"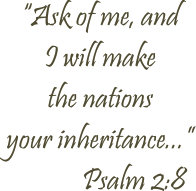 And come they have. At the present time there are approximately 32 different nations represented in this multicultural church family of more than 350. Every Sunday a beautiful mosaic merges at Rosemont. Peoples from all over the world join together in worship through their faith in the Lord Jesus Christ.
The Rosemont church is strategically situated in Montreal's east end, not much more than one kilometre from the Olympic Stadium. Rosemont is not only a multicultural church, but it is also a mother church having given birth to five other Fellowship churches in the Greater Montreal area (Longueuil; Verdun; Rivière des Prairies; Montréal-Nord; Côte-des-Neiges). Each one of those distinctive daughter works has a multicultural openness and a missional mind-set for reaching their spiritually needy city. Praise the Lord!
Pastors René Frey and Dominique Guichard shared with me some of the strategic keys to effective multicultural ministry which include:
1. Multicultural Leadership - Within the Rosemont congregation there are large language and ethnic groupings of people (eg. Spanish-speaking; Haitian; African etc.) that need to be visibly represented as part of their leadership team so that those groups feel vitally connected. As pastors, they intentionally and prayerfully seek to identify and train spiritually qualified leaders from within these people groups to serve as part of their elders' team.
2. Celebration of Ethnic Diversity - At Rosemont you will often hear various stanzas of a hymn or worship song being sung by the congregation in several different languages, and from time to time choirs are formed from within the various people groups. Geographically the members of the church family come from various places within the Greater Montreal area, and so their 19 Home Bible Study Groups are very important for maintaining cohesion and encouraging spiritual growth. A number of these home groups are in other languages such as Portuguese, Congolese, Haitian/French etc., even though Rosemont is a French-speaking church, and all of the worship services are in French.
3. Balance between the People Groups - Within all of that joyful celebration of culture and ethnic diversity, a great need for wisdom is prayed for on the part of the leaders so that one group doesn't become dominant while others feel neglected. To maintain that delicate balance requires much spiritual discernment, avoidance of partiality and a willingness to address problems quickly. Such is the challenge and cost of multicultural leadership.
4. Dynamic Missions Program - People from other nations that join a multicultural church want to see that church reach out internationally to other nations. Rosemont has a dynamic missions program as a sending church, and they have even adopted an unreached people group in South East Asia. They are not just asking God to send the nations to them; they are also seeking to go to the nations.
To learn more about this beautiful church family, visit their website www.eglisederosemont.ca. More importantly, dare to ask our Heavenly Father to send the nations to your church, and be prepared to pay the price when they come. As Pastor René says, "If you ask, they'll come!"
David Dobson is director of Fellowship Ministries.