Eco-Bricks: An Alternative Development Project
Colombia occupies the unique position of being Latin America's oldest democracy while also being afflicted with the longest-running civil conflict in the Southern hemisphere. An especially pressing challenge the country is currently facing is the internal displacement of peoples (IDPs) due to the ongoing conflict. According to the International Displacement Monitoring Centre, some 89,000 people were displaced in Colombia during the first half of 2011, bringing the total displaced to 5.2 million since 1985. Indigenous and Afro-Colombian populations are most affected by displacement and often live in remote areas where social assistance is unavailable. This displacement on such a massive scale has produced serious humanitarian concerns.
I observed the reality of the IDP situation on my first day in Medellín. As Colombia's second largest city, it is home to nearly 110,000 displaced people. The centre of the city lies in a valley while shantytowns cling to the surrounding mountainsides on precarious slopes. Most houses are made of concrete blocks with tin roofs. Others have plastic or cardboard walls. Basic services like electricity and transportation reach some of the communities, but amenities such as running water, rudimentary sanitation and waste disposal are not available to all. These shantytowns are the result of the influx of rural IDPs to cities like Medellín. In many areas this urban growth has resulted in overcrowding and inadequate housing, as well as increased violence and gang warfare in many communities. Barrio Pacífico is one such community, situated just east of Medellín.
On my stay in Colombia I visited the Fellowship's newest FAIR-sponsored project site in Barrio Pacífico. Through the sponsorship of a newly formed non-profit organization called Menosbasura (which translates to "less waste"), the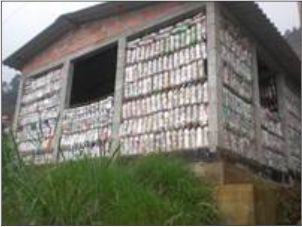 Fellowship is aiding to improve conditions in this particular community. Menosbasura does this by recycling waste to produce "eco-bricks" to be used in place of traditional bricks in the construction of benches, walls and houses. The eco-bricks are created through the collection of used plastic bottles, which are then packed with nonperishable waste until they are nearly as solid as bricks. Menosbasura's slogan is "transform your world, one bottle at a time."
The first initiative Menosbasura has undertaken is to build a house made of eco-bricks for a woman named Doña Marta in Barrio Pacífico. Displaced by the conflict and forced to leave her rural home years earlier, Doña Marta was a pioneer of the community. Having lived with her children in a shanty made of cardboard walls on the community's steep hill for 14 years, Marta is a deserving candidate for the new initiative.
While at the site, I discussed the project with Tania (daughter to Fellowship International missionaries Diego and Claudia Cardona), the co-founder and leader of Menosbasura. Tania told me that the whole idea behind eco-bricks is to encourage development with an environmental focus. They also aim to inspire locals to treat their waste better and to teach children better habits in waste management.
The environmental benefits of the project are obvious: bottles that would otherwise end up in landfills serve a purpose; CO2 emissions are reduced in the condensed release of emissions in the processing of bricks; and, because eco-bricks as insulation are bio-climatic, power consumption in the new structure is reduced. The social benefits are also evident in that it is addressing the community's need for improved waste management in a unique way, while also directly aiding a member of the community.
Development is traditionally understood as the achievement of suitable living standards and high productivity in a society. More recently, however, the idea of development has incorporated nonmaterial aspects of well-being, such as opportunities in education, modern health care, and access to employment, democracy, civil rights, and a healthy environment. I would classify this unique initiative as an alternative form of development, one that looks beyond the improvement of basic living standards and productivity, and acknowledges the overall health of the community and environment in enabling development. As a grassroots project, Menosbasura also looks to the surrounding community to lead the project instead of putting the responsibility into third party or far-off hands.
What I experienced in Colombia came to exemplify much of what I had researched about the country. The voices of pain and devastation, injustice and discrimination, resistance and struggle due to the ongoing conflict are everywhere. Nevertheless, prospects for development (alternative and distinctive projects, as evidenced in Barrio Pacífico) are beginning to emerge.
—Katelyn Jones, daughter of Fellowship President, Steven Jones, travelled to Colombia in January 2012 to observe FAIR's primary humanitarian projects in Colombia. She also conducted interviews with individuals involved in international development assistance as part of her research toward an academic credit through the University of Western Ontario.