The Arts and the Gospel
The remainder of the unfinished task of taking the Gospel to the nations rests in the hard to reach and resistant countries/cultures of the world—the tough places. The questions have to be asked:
• How are we going to gain access and have opportunity to connect in those cultures?
• How will we engage them in significant conversations?
It has been my experience that the arts can help provide us access and opportunity.
Turkey is arguably a gateway to the 10/40 window. It sits at the end of Europe and connects to the Caucuses, the Middle East and Asia. It has a population of 72.5 million people, and 99.8% of that population is Muslim. Though it is a secular republic with constitutional guarantees of freedom of religion, it is a country (and a culture) that is very resistant to the Gospel. That resistance can be seen in different ways – sometimes it is the unfair treatment of believers; or it is in the limiting of freedom of expression for Christians, and sometimes it is in the direct persecution by the authorities, the surrounding community or both.
The national church is small, 4000 to 5000 believers. There is fairly good unity among the churches, but they are under pressure and under attack. Ministry in Turkey is very difficult, and finding positive ways to connect in the culture about things of spiritual importance can be very challenging.
During our time in Turkey with a creative arts outreach ministry, my wife Sara and I were impressed at the ability of art to communicate the Gospel and to allow us to engage in significant conversations. Even in resistant places art can be effective because:
• It's a public Witness - From music to an art show, from a play to a book, art is put on display for many to see and engage with.
• It is indirect – Art can get right to the inside around the barriers we've put up because it speaks to the heart, to the soul. Authentic art is capable of touching large numbers of people through its indirect, metaphoric communication of truth.
• It raises questions (that need to be answered) – "…good art may raise more questions than provide simplistic answers. Good art can deeply engage dialogue that wrestles with the core issues of humanity" (Makoto Fujimura, Refractions – a journey of faith, art and culture).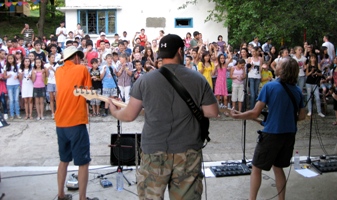 Because of the opportunity that art provides in a place like Turkey, I will again be leading a creative arts outreach team as one of Fellowship International's STM (Short Term Missions) Connexion "Plugging In" opportunities. This year's team will be made up of five students from Heritage College and Theological Seminary (http://heritagecollege.net/) and four artists from OM (Operation Mobilization) Arts International. We will head to Turkey on April 22, for 2 and a half weeks. Our team will work alongside the creative arts outreach ministry on the ground and connect with local ministries and churches across the country. We want to introduce those we meet to churches for follow up.
Our team is very excited to creatively communicate and connect with people who have never heard the Gospel before and to prayerfully watch God work as we serve with our partners in Turkey.
This is a great opportunity for artists to minister together and see the place that the arts have in reaching the world for Christ. The Gospel and the Kingdom are bigger than our words, and the church should use all the resources at its fingertips to describe it.
"Create we must, and respond to this dark hour. The world needs artists who dedicate themselves to communicate the images of Shalom. Jesus is the Shalom. Shalom is not just the absence of war, but wholeness, healing and joy of fullness of humanity. We need to collaborate within our communities to respond individually to give to the world our Shalom vision" (Makoto Fujimura, Refractions – a journey of faith, art and culture).
Chris Middleton is the Coordinator of STM Connexion (short-term missions) for Fellowship International.