14 Lessons on Love and Loss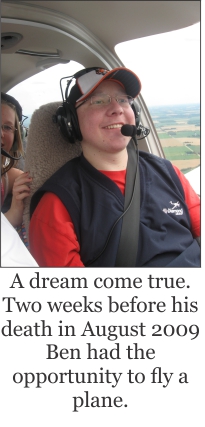 Letting go of someone you love is perhaps the most difficult thing to endure; especially when it's one of your children. On August 12, 2008 my 18-year-old son, Ben, was diagnosed with leukemia. He died one year and one week later on August 19, 2009. In his last days, Ben and I shared a significant conversation that I'll never forget. I assured him that when the time came for him to go, it was okay to simply slip away rather than holding on for our sake. I explained that when he was young, ninety-five percent of his dad's and my ability to go out and enjoy ourselves came with knowing we were leaving our children in the hands of a trustworthy babysitter. Then I told him that as hard as it was to let him go, somehow we'd learn to carry on without him, knowing we were leaving him in Jesus' trustworthy hands. Ben responded by telling me that he and his father had had a similar discussion in which his dad told him that children are on loan from God. "So Mom," he went on to say, "When you think of it, you and Dad have really been the babysitters." God taught me how to love Ben by letting him go. He also taught me many other invaluable things that assured me of His love in the midst of loss.
Trust God even when things don't make sense. (Prov. 3:5, 6) God is in control when life is out of control. He has a purpose bigger than our human minds can fathom this side of heaven. We need to trust Him.
Live life in the moment. (Jn. 10:10) We have no guarantee of tomorrow. Focus on 'what is' rather than regret 'what was' or worry about 'what may or may not ever be'. "In the moment" is where Jesus lives. He has a purpose for the past, He has a plan for the future, but He lives in this moment. Seize, cherish, and thank God for each moment that He gives you.
Meet God in your pain. (2 Cor. 12:9, 10) God wants opportunities to enter into our lives and His best access route is through our pain. As our suffering increases, so too does God's grace. Believe me when I say that God's grace is enough!
Find a friend. (Heb. 10:24, 25) Find people you can trust who will allow you to work through your raw emotions, provide support and encouragement, and speak truth into your life.
Take the time to taste the tears. (Is. 53:3) We can get stuck in grief if we don't allow ourselves the necessary time to shed and taste the salty healing power found through our tears.
Experience joy and pain simultaneously. (Phil. 4:4-7) Joy and pain can co-exist. You can smile and shed a tear at the same time. Joy does not equal happiness. Joy is not a feeling, it's a knowing. Joy is what enables us to take the next step.
Drop expectations. (Rom. 5:5) "Expectations are premeditated disappointments." Therefore, we must set realistic expectations, hoping for the best but preparing for the worst.
Talk about the elephant in the room. (Eph. 4:14, 15) Addressing difficult subjects allows us to share intimate, valuable and often necessary moments with our loved ones.
Take care of yourself. (1 Cor. 6:19-20)Caring for ourselves enables us to effectively care for others. Set healthy boundaries. Exercise. Eat properly. Invest in people and activities that recharge rather than drain you.
Forgive. (Eph. 4:32)Holding grudges is exhausting and wastes energy we don't have, especially when we're in crisis. Forgiveness frees and energizes us. When we forgive, we set a prisoner free and realize the prisoner is us.
Keep the main things the plain things. (Phil 4:8) When the end is near things become clear. Focus your attention on people and things that matter to God.
Find purpose in your pain. (2 Cor. 1:2-4) God doesn't waste our pain. There's a sense of purpose that comes with investing in the lives of others.
Invest in your relationship with the Lord. (Matt. 6:33). Set intentional and regular time to be alone with Him to reflect on His faithfulness and feed off His Word. Pour out your heart to Him and receive His comfort.
Praise God in the storms of life. (Ps. 100:4, 5) We are not required to praise God for our trials, but we can learn to praise Him in them.
—Lisa Elliott is a gifted speaker and author of the award-winning book, "The Ben Ripple". She also speaks at conferences, retreats and special events. Lisa's husband, David, is pastor of Knollwood Baptist Church in London, ON.
The Ben Ripple; Choosing to Live through Loss with Purpose (ISBN: 978-1-77069-430-9) can be purchased:
· through Lisa at lisakelliott22@gmail.com
· greatcanadianauthors.com
· Amazon.com
· Christian bookstores across Canada and US
· Coles, Chapters/Indigo